Where did you grow up, and how were the arts a part of your childhood? I grew up in western New York, south of Buffalo and Rochester. I wouldn't say that the arts were part of my childhood; my parents weren't artists and I was not exposed to art through them. But I did lead a very privileged childhood in that I grew up on an 80-acre plot of land, and I was an only child until I was seven. We didn't have a lot of money or anything, but I had a lot of attention from my parents and I had a lot of space to play. We had a very wooded plot where my dad built a log cabin, with a grove of apple trees and an old kitchen to play in. Looking back, I can see how much that freedom, independence and sense of wonder influenced me to become an artist.
That must have been a really idyllic childhood! It was. It certainly wasn't perfect but I'm very grateful for it. I'm from a very loving family and my extended families on either side have been very involved in my life. I don't think you can ask for much more than that, whether you're in the city or the country.
Another influence for me was that I went to a private academy for high school—a boarding school for international kids (even though I was local). I had a lot of friends from other countries, and I think that really helped open up my world view and got me interested in the arts.
Where do you live now? I went to college in western New York and my husband did as well. And after college we stayed in the area for a little bit, and then we settled in the western part of the state of Tennessee. We live about two hours west of Nashville, and two hours north of Memphis. My husband is a college professor and we love it here. We made a very intentional plan to move here. We're really happy. We've been here for three years.
We live about 10 miles outside of a larger town, in a house that was built in the 1880s. It's a big old farmhouse on a plot of about six acres. We have chickens and a big garden and our dog, a Great Pyrenees.
In a way, it sounds like you're transferring your childhood to your kids. In a lot of ways I think I am, but doing it in a different way. Instead of just being independent in the big woods, my kids are much more focused around our home life and a more rural, agricultural area than what it was like in New York. We really love it here, and definitely the nature and simple living is very much a part of our life.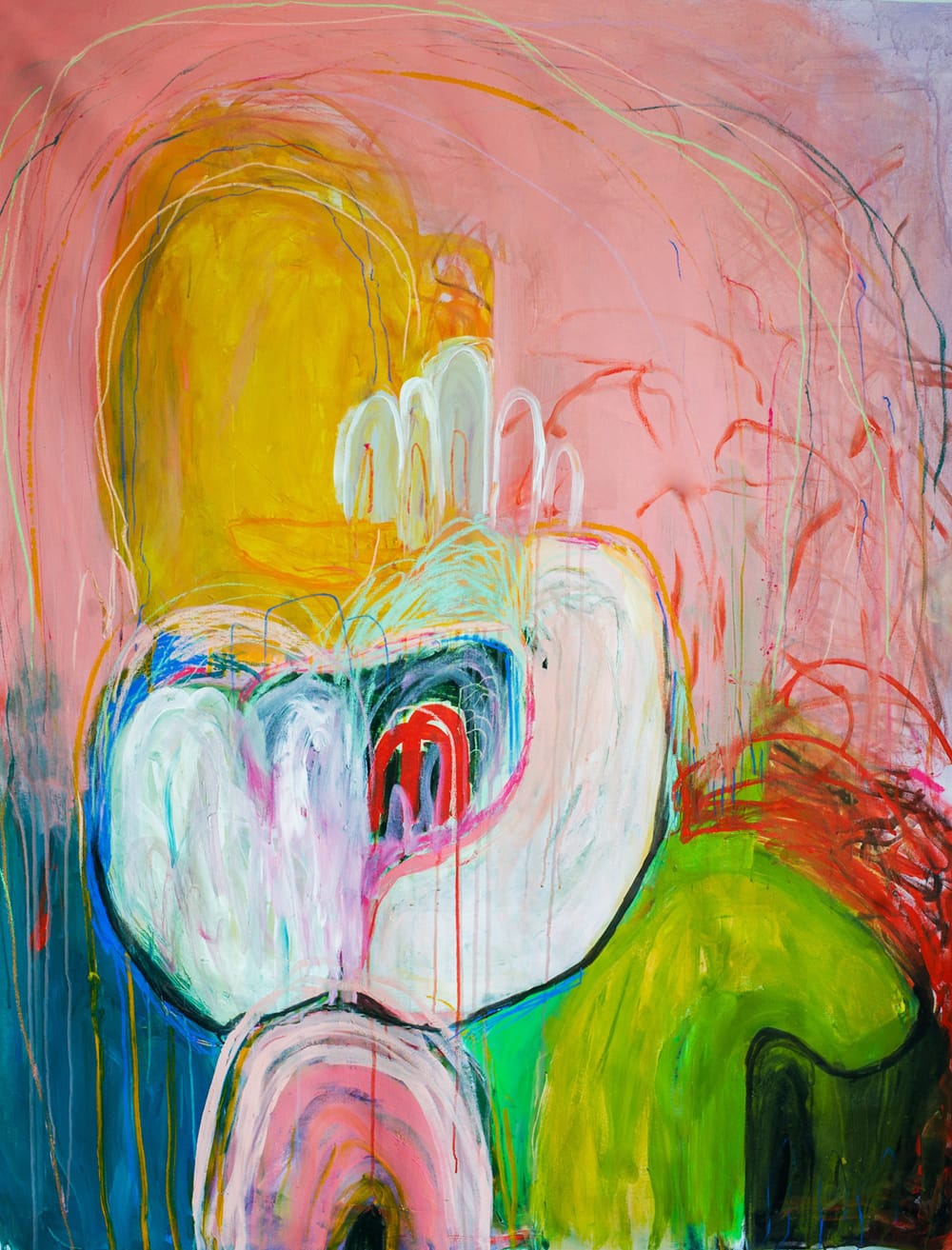 How many children do you have? I have two kids. A five year old, Finley, a boy, and a daughter, River, who just turned one.
Did you study art in school? Yes. I have two undergraduate degrees: a BS in communications and a BA in studio art, with a focus in photography. I took some painting and printmaking classes and a little bit of everything, but I ended up graduating with a photography degree. After that, I ran my own business as a wedding and portrait photographer for five years. Basically, I would paint on the side for stress relief.
I was super burnt out and didn't feel like I was an artist. Not saying that photographers can't be artists, but it was a commercial business. I didn't feel like I was making art from inside of me. I felt like I was making art about other people, and I could only be as good as what was presented in front of me in a way. I worked really hard to develop my skills as a photographer, but once I got to a certain level I felt like I wasn't being pushed to grow, and I wanted something different for my family life.
When we transitioned to moving to Tennessee, I decided to leave photography behind and pursue painting full time, rather than just doing it on the side. I decided to really commit to that by applying to a few MFA programs, and ended up starting my MFA a year after we moved here.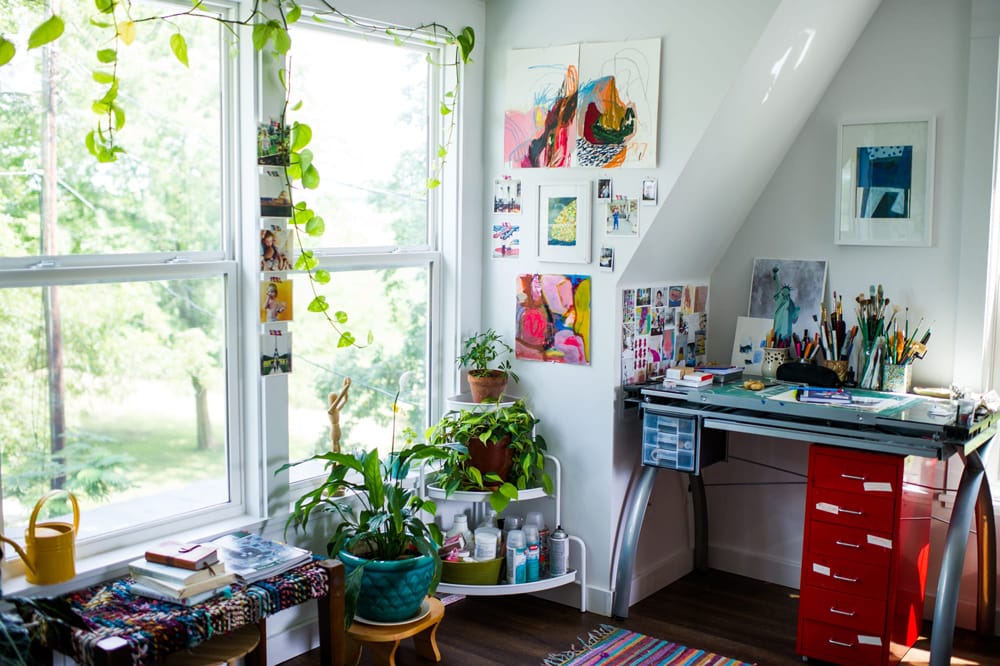 Where was your MFA program, and how long was the program? I did a low-residency program out of New Hampshire Institute of Art in Manchester, New Hampshire. Having kids, I couldn't commit to moving somewhere to do a traditional full immersion program, so I chose to do a low-residency program.
Each semester I go up to New Hampshire for a very intensive 10-day residency, and then, during the semester I work at home in my studio with a mentor. It's amazing. I like the structure and I think it's really transferable to real life. It's such a different experience to just be in grad school full time. We've already established our lives, so having a program that helps merge school and family life has been helpful. The program finishes with an exhibition show, a thesis defense, and an artist talk, much in the way that any other program would.
It's a two-year program, but I ended up doing it in two and half years because I took a semester off when I had my daughter. I just graduated at the end of June.
When did you decide to start a family and how did the transition to motherhood happen for you in relation to your career? When we decided to have our first child, I was doing commercial photography and I was about a year into building my business, which meant that I was basically underpaid and working my butt off, and hustling.
The year before I had Finley I shot 11 weddings. The year that I had him I shot 17. And then the next two years I shot around 30 weddings each year. I also went to work eight weeks after I had him, and all of that is what really ended up pushing me over the edge. I felt like I couldn't keep doing that particular job as a means of supporting our family.
I was making more money than my husband at the time, and it just felt like I needed to make as much as I could and push myself. At the same time, he was working a full-time job as well, so it was really hard to balance a creative business at home while raising a kid.
"I thought about what I wanted to be, and how I could use this transitional moment to reset and restructure the rest of my life."
I never wanted to work full time. I always wanted to be at home with my kids the majority of the time. And I realized a few years into the business that I couldn't maintain the level of sanity and time and energy that was required. I really sat down and thought about the future: Did I want to be a wedding photographer for the next 30, 40, 50 years? No. I thought about what I wanted to be, and how I could use this transitional moment to reset and restructure the rest of my life. And that was basically when I decided I really wanted to pursue being a painter. I also felt like painting could maybe afford me the opportunity to be more present with my kid.
I always envisioned having a home studio. It just feels like a much more direct outlet for me. I can paint about my life, and I can process things differently than commercial work allows.
And this way, your kids see you working in real time. Yeah, Finley has a desk in the studio with me, and he's a big part of my painting practice.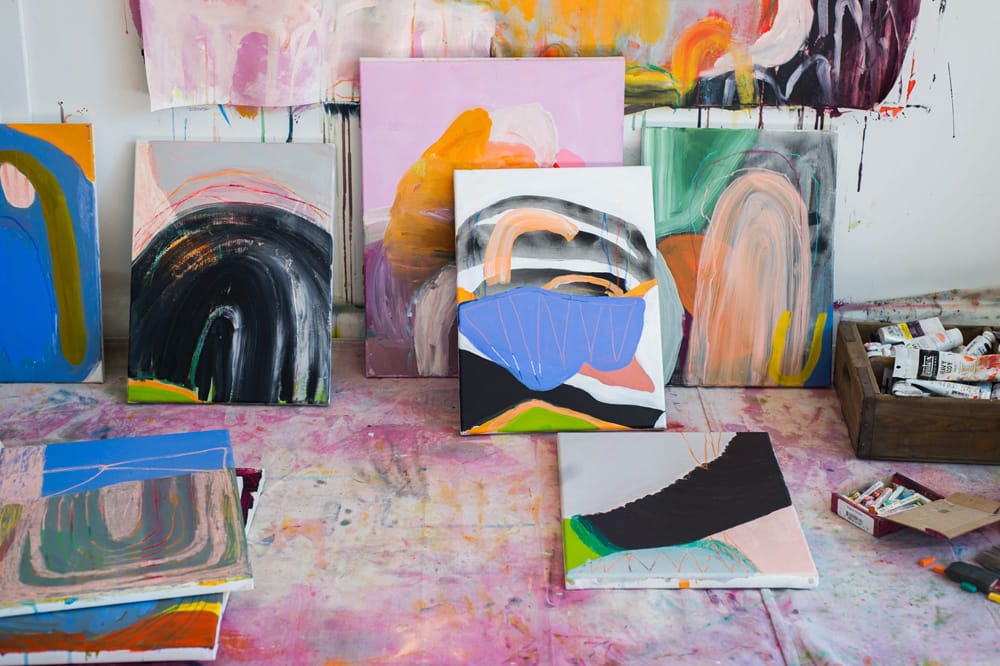 You had Finley while you were a photographer, and you had River while you were a painter. What was the difference for you in both of those transitions? The first time around I felt a lot of outside pressure to be and perform and do all of these things that other people expected of me. I was making for someone else versus making for myself. I went back to work way too soon the first time. I was also younger; I thought I could do it all. We needed the money more. And there were a lot of other factors at play.
And then when I had River, my husband and I had already kind of built this infrastructure around our family. Things were already in place for me to have a better sense of recovery. I had decided to take a semester off from grad school. If I had been in my early 20s, I don't know if I would have done that.
My husband is a college professor so he's home during the summer. We purposely had River at the end of May, so he would be home for three months after she was born. We had a home birth, and that really helped us feel like we were already transitioned to being home with another kid. The pace of our life was much slower and simpler based on the work that we had done when we transitioned to Tennessee.
"After River was born, I wanted to paint almost immediately."
After River was born, I wanted to paint almost immediately. A big part of that was just feeling like I finally had an outlet that was very personal, meditative, freeing and expressive. So when I did experience something very big and life-changing, I immediately was drawn to using painting as a way to express that.
The paintings you did right after you had her are sort of like a time capsule. Yeah, it's really interesting. One in particular really emphasizes that time. The piece was the first painting I completed after I gave birth to River at home in a birth tub. We didn't know she was a girl and as soon as she was out of my body I remember feeling that I wanted to name her River. She was born in such a flowing, peaceful way. This painting juxtaposes that emotion with the physical feeling of giving birth.
Do you feel like the reason you went back to work so soon was because of a pressure you felt from the outside? No. My photography career was much more ego-driven than my painting career is. I put a lot of pressure on myself to be a successful, career-driven person, and I think that really influenced my inability to be present with Finley when I first had him. That's something I regret, pushing myself so hard, so fast, because it really affected things in a much bigger way than I realized. For example, we didn't breastfeed for as long as I would have liked, and I don't have super vivid memories of my first year or two with him, even though I was home with him the majority of the time. I just felt like I was constantly working. I didn't have a good understanding of setting up boundaries for myself. I was 25 when I had him, so some of that was inexperience. I also tend to be the type of person who thinks that I can handle a lot more than I really can. I really like to push myself to take on as much as I can, and I've had to learn over the years to set some limits for myself.
How do you see your work as a painter influencing your kids and their personalities? I think about that a lot. I don't really know yet with River because she's only one, and not able to be in the studio with me, but it definitely influences Finley. I think children are naturally expressive and more in tune with their inner-selves than adults are. Finley recognizes that art can be both an outlet for working through something and expressing himself, but also he's just really drawn to looking at things and saying when he thinks something is beautiful or interesting. I really try to not just do art with him, but also talk about art.
Around two or three, kids tend to draw lines or shapes or scribbles, and as soon as they can understand that they can draw a form that they recognize, they immediately shift to everything being, for example, a house or a person. Finley definitely has gone through that phase, but he also will still make a lot of drawings and paintings that are purely abstract, and he understands when he's painting something abstract. It's nice to see him already having that freedom to feel like he can make what he wants to make, and not feel like it has to fit into a certain category of language.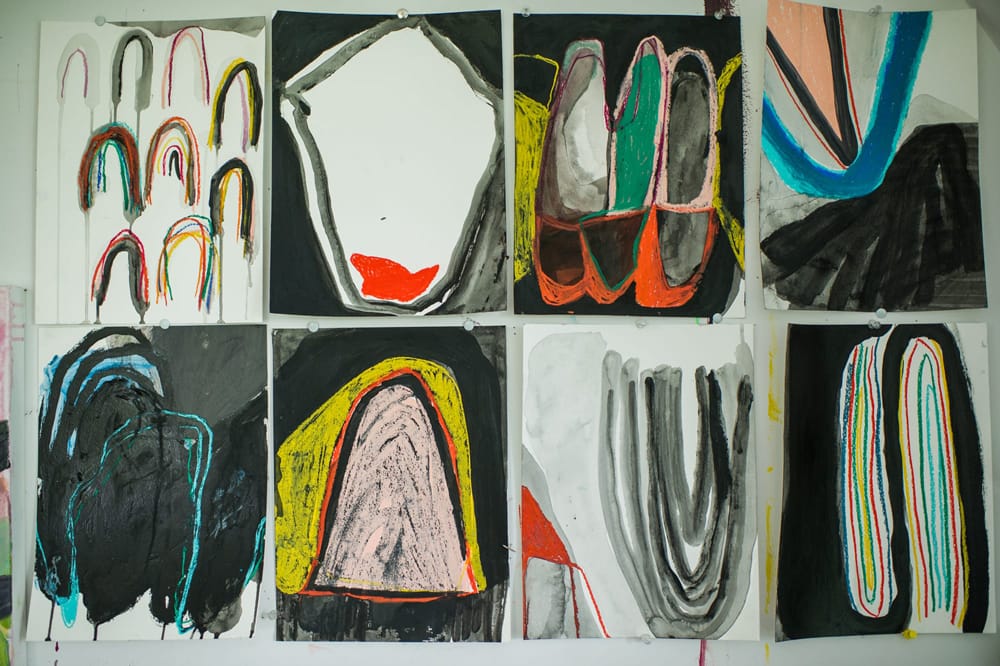 What does a typical day look like for you? I have a babysitter that comes two mornings a week for three hours. On those days, my husband and I get up when the kids get up, around seven. My husband usually makes coffee and breakfast, so usually I try to use that time to just read a book next to the kids, or we will go out to the screen porch and do something more low-key. If I have a lot of work I need to catch up on then I'll take a half hour and go bang out a few emails, but more often it's much more relaxed than that.
On the days that our babysitter comes, she arrives around nine, and my husband is usually gone for work by that time. Our babysitter watches the kids for three hours, and she usually does a few homeschool activities with Finley. She's great because she doesn't let them come up and ask for me.
During those three hours, I hole myself away in the studio and get some work done. I try to prioritize painting during that time because when I sit down and go through emails or get on Instagram or update my website, my painting time becomes much more limited. I like the creative work to be the priority that everything else is grounded in. I usually paint anywhere from one to two hours, depending on how I feel, and then I use that third hour for doing admin work or social media.
After the babysitter leaves I eat lunch with the kids, and from around one to three, Finley has quiet time and River naps. Every day is different, but that's kind of the ideal. I've already felt like I got my painting time in, so during that time I usually do things around the house or the garden, things that don't need such focused attention.
When River gets up from her nap, it's full speed ahead with the rest of the day. Finish dinner prep, playing…My husband comes home around three-thirty or four, and I don't know where the evenings go! That time between three and seven seems like a lot of time, but when you're being present with your family it's no time at all. It's just life!
I do try to hop back on the computer after I put the kids to bed if I need to. I try not to be super responsive on my Instagram feed until I'm zapped of energy, because I don't want to put my full energy into my online life.
Then my husband and I usually watch an episode of something; right now it's Girls or Game of Thrones. I try to go to bed by ten and I usually read for about a half hour before bed. I function way better when I have really good sleep and I really try to make that a priority.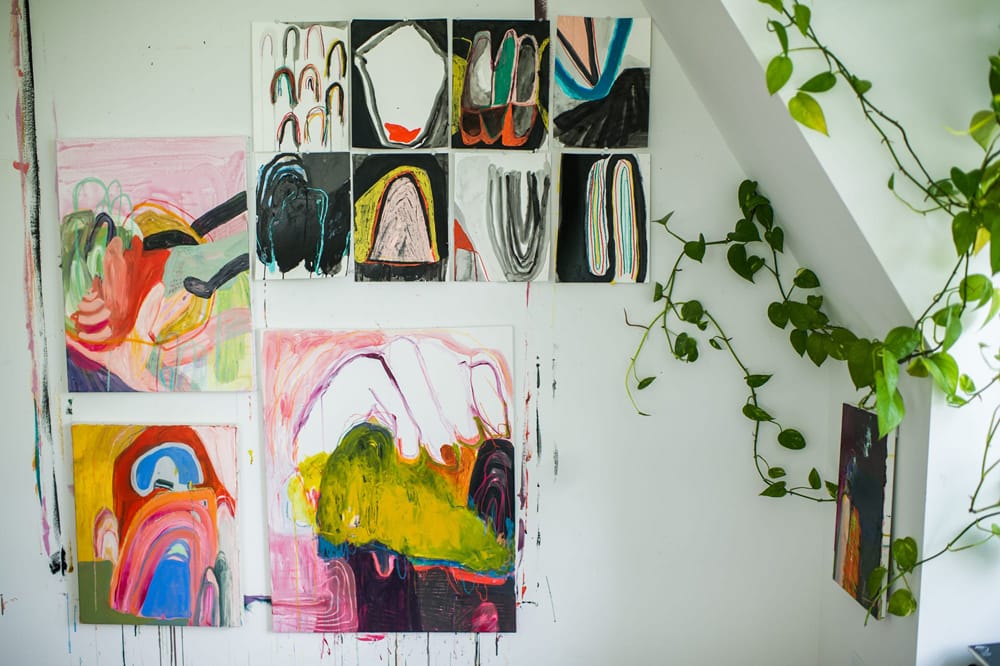 Do you have any other projects that you spend your time on, outside of your painting? The other big thing that I'm working on right now alongside my own career is a new business I've started with my friend, Meredith Bullock, called Courageous Creative. It's a group effort to create a community of creatives looking to connect and be encouraged and inspired by one another. We aim to expose creatives who are new in their careers to contemporary art. We also are working on some helpful resources for creatives, including a studio planner, and spaces for artists to communicate. We teach workshops and host a yearly retreat for 10-12 women that covers all of these topics and more. Our next retreat is in spring of 2018.
Do you have any advice for other Mother Makers? Don't put the pressure on yourself from the beginning to make a lot of money, if you can help it. That focus on money really influences your work. I say that as someone who had aspirations to be an artist and let a commercially driven career take over. For me, that was very unfulfilling.
Even though I would really like to contribute financially to the family through my painting career, we kind of restructured our life in a way. That restructure came with a lot of sacrifice, but we chose a very specific house in a very specific location. We live a very specific lifestyle so that I don't have that pressure. Part of that is because I want to be home with my kids, but also a big part of that is because I don't want a commercial art career. I want a fine art career.
It's so easy to slip into looking at what everybody else is doing and compare yourself. Particularly in visual arts, it's very easy to slip into making what sells, because you want to make money. And while that's a very noble cause—and if that's your situation, then of course that's something you need to be mindful of—but I think it's difficult to reign all of that in while being authentic to yourself and the art that you need to create.
If it's at all possible, spend a long period of time, several years, making art without the need for it to be a part of your finances. Let yourself develop as an artist and find your voice without all the pressure from everyone else and the commercial world.
I also want to emphasize painting first, or playing your instrument first, when you have time. Do that even if you work a full-time job and only have an hour before you're burnt out and ready for bed. Don't get on the computer. Prioritize your creative work when you have the energy to do it, rather than letting other things get in the way. Stick to carving out time for yourself so you can use your best energy and your best self to focus.
Kaylan's book recommendations:
The Artist's Way by Julia Cameron
Art and Fear by David Bayles
The Crossroads of Should and Must by Elle Luna
Daybook by Anne Truitt
The Mother Knotby Jane Lazarre