Where did you grow up, and how were the arts a part of your life as a child? I was born in Córdoba, Argentina, but we lived there for only two years. My parents moved a lot, so when people ask me where I'm from it's hard for me to answer. I have lived in Bariloche, Pinamar, Mar del Plata and Buenos Aires. I grew up in small towns, where there weren't many organized activities to do, so we had to find ways to keep ourselves busy, being creative and inventing things to have fun. My father taught us to paint with oils, a hobby he had since he was young.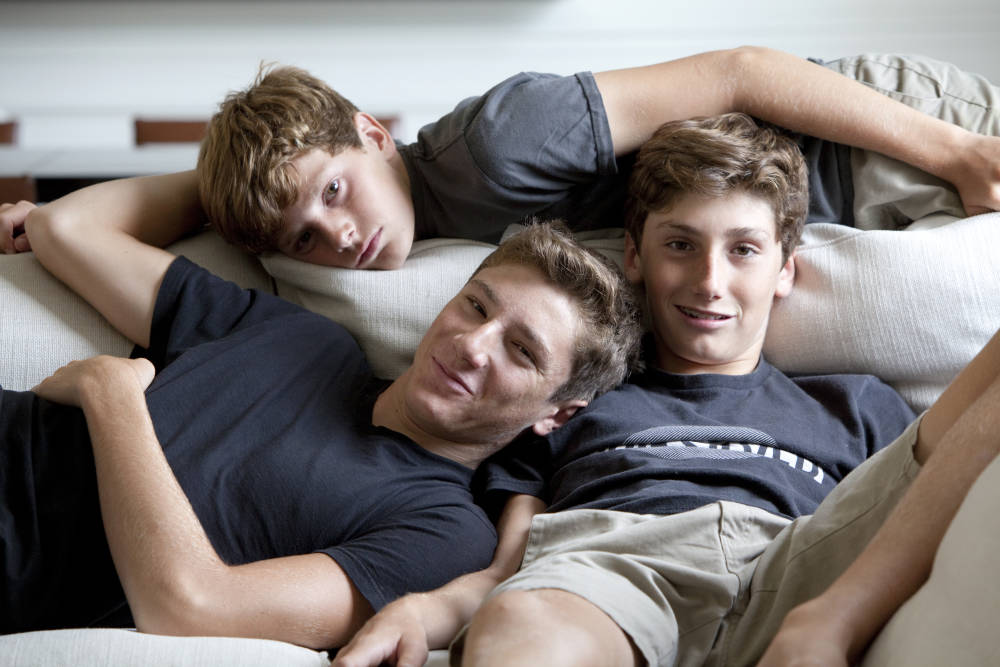 Did you go to school for art? I studied design at the Escuela de Artes Visuales M. Malharro in Mar del Plata, Argentina. I was exposed to photography and sculpture and I joined the local photo club. In my family, making art for a living wasn't considered an option. It was when I moved to the United States that I decided to go back to school for my MFA, specializing in photography.
What brought you to the United States? I followed my husband who was doing his graduate studies in Boston. It wasn't my plan, I just followed him. While I was waiting for my papers to be able to work, I studied English, and I kind of rekindled my love for photography. The first thing I did was buy a camera, because I had a lot of time on my hands.
I started photographing again, and when my husband graduated we took a backpacking trip to India. In my bag, I had one change of clothes and lots of film. The whole month that we backpacked through India became a photography trip for me. I loved it so much that when we moved to Miami for my husband's job, I decided to go back to school.

At first I enrolled as a non-degree seeking student, just to take classes. I used that time to develop all of the images I had taken in India, and one of my professors encouraged me to make a portfolio out of them. With that portfolio I applied to graduate school: an MFA, specializing in photography at Barry University in Miami.
We had talked about having kids, but hadn't made a plan because I was in school. But I got pregnant with my first baby, and before he was born I spent a summer in Paris studying photography. Once Maximo was born, I took a couple months off, and then went back to school, taking classes at night when my husband returned from work.

I found a group of professors and mentors that were so understanding and supportive. For that I am very thankful. In one particular class, I had an agreement with the professor that I could bring the baby to class with me, but that if he cried I would have to step out. He was so generous to let me do that and I am eternally grateful. The baby never cried. He became the mascot of the classroom and everybody loved him. It was just amazing to have that experience of being able to take him in and pursue what I wanted to do.

I also would take him into the dark room at night, carrying him in a baby carrier. Of course I asked the pediatrician if it was safe because of the chemicals that you use, and he said it was fine as long as the room was well ventilated. So I would take him into the darkroom and develop. That was my first baby, and I was 28 years old.
How old are your kids now? I have three boys. Maximo is 19, Geronimo is 17 and Manuel is 15.
How was it for you in the beginning, pursuing your MFA while raising your kids at home? Combining both things wasn't easy. It's not that it is impossible, but certainly not easy. Especially since I had just moved to Miami, I didn't have any family or anybody to really help me take care of the kids. But if I had to do it all over again, I would. I love the way everything evolved. My life as a person and as an artist is enriched so much from my experience of being a mother. I wouldn't change it for anything.
How long did it take you to finish your degree? It was a three year program, and I did it in almost seven years.
Were you working at the time as well? For the first three years I didn't work. I had an 18 month old, and then my second baby was born. He was a high risk baby, and needed kidney surgeries, so I was focused on that. I spent a lot of time at the hospitals for months in a row, so I wasn't working.

I started working again after my third baby was born. I worked part time, doing my own work on the side. I opened a photography studio with a friend, doing portraits of kids and families. It was a way to pay the bills, and we did it for ten years. Even though I really enjoyed doing it and I met incredible people, I was very frustrated with myself for not having the time to do my own work. In 2009, when I finished my thesis, I knew it was time to be an artist full time.
So all that time you were raising your children, did you know you were going to come back to art? I didn't know if I was going to come back to my art, but I always felt a calling to be an artist. At the time I was feeling very frustrated and I didn't know why. I had a beautiful house, beautiful kids, and a very supportive husband, but I wondered why I couldn't be 100 percent happy. There was something inside me that wasn't content. I realized that it was because I was not doing my own work. I use my work as a way to express myself, to explore my identity and who I am. I explore things that are universal, but I always start from personal experience. That part of me was "put to sleep" in a way.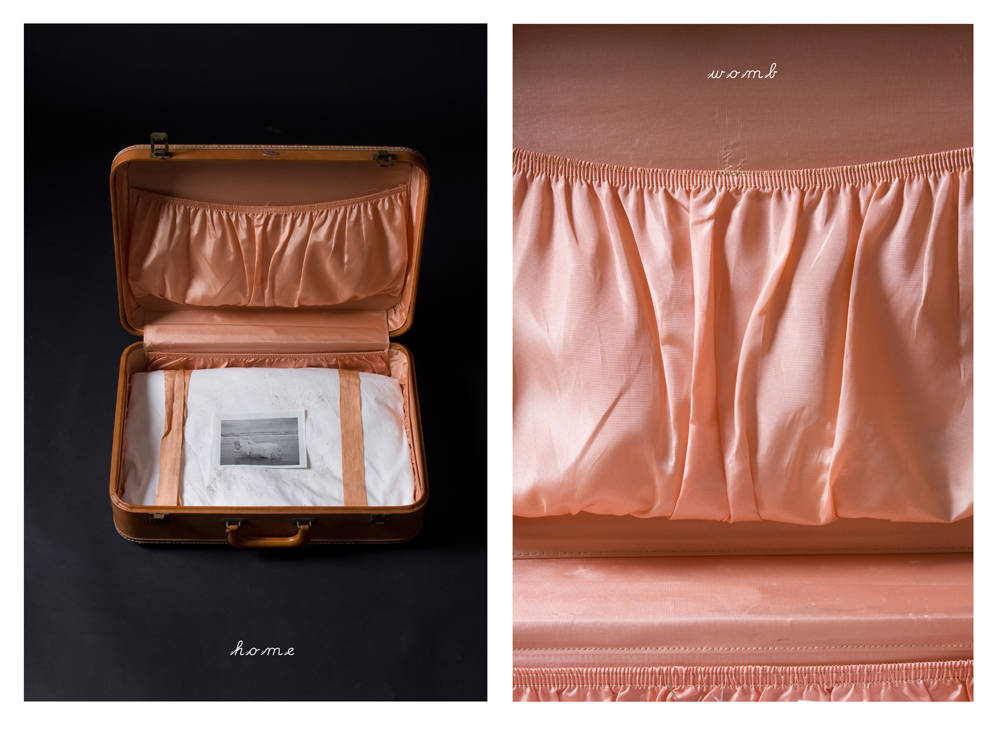 Your artistic vision was rooted in photography. When did you start working in installations and fine art? Since I was young, I've always been attracted to working with my hands. My dad worked designing and building houses and we were always surrounded by sketches and blueprints. He would often ask us for our opinions on our next house, so we were always involved in the conception of space. We would often go to the construction sites with him and build things with the leftover materials just to play. When I did my MFA thesis, I combined photography with wood construction and it had a lot to do with my childhood.
My professor, Maria Martínez-Cañas, really influenced me in my way of looking at photography, and she is now my dear friend and mentor. She showed me a different way to think about photography, with the photograph as the starting point, and not the end point. In each series of my work, I try to find a visual solution that best expresses the concept I want to portray.
My work is very much about identity. I grew up in Argentina and I was born in the 70s. My dad came from a military family and my grandfather was a general. And the other side of my family are British descendants. My mom grew up in a community where everybody spoke English. During the Falklands War, my family was divided between two different sides of the same story, two different ways of viewing the world.
My grandfather led the conversation at the table. The women were always silent, behind the scenes. Witnessing that influenced me to do work about women in my art. I wanted to give women the voice that was missing in my childhood.
Was that same childhood experience the inspiration behind your Domestication series? Yes, definitely. In each of the photographs there is an object in front of the face, blocking the identity. There is a specific person that inspired me to do each particular image.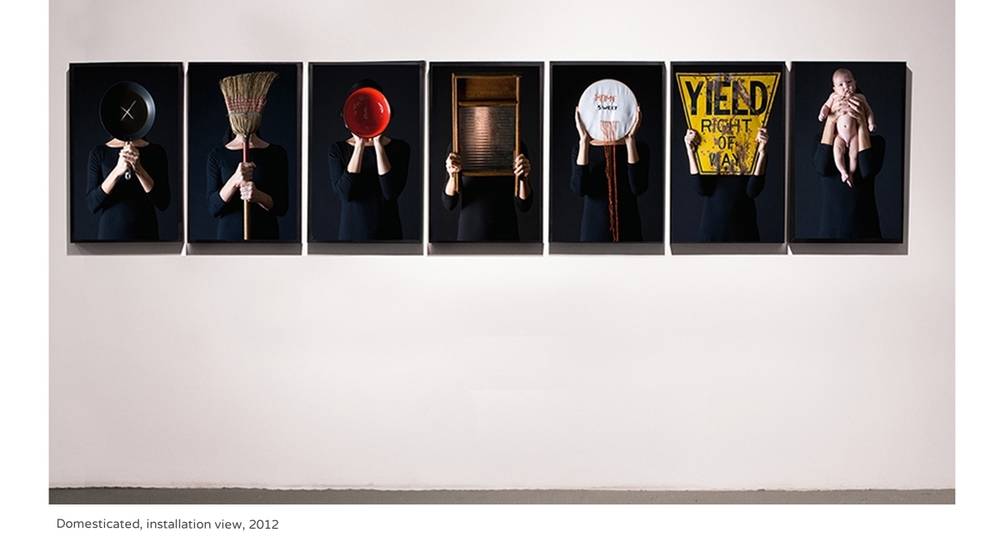 When I moved to Buenos Aires for college, at first I lived with my grandparents until I was able to find a job to rent my own apartment. But three weeks later, my grandfather died and I couldn't leave my grandmother alone. I stayed there with her, just the two of us.

After my grandfather died, my grandmother immediately started opening up, and I discovered this incredible woman that I would never have discovered otherwise. During those years, she was writing poetry, making collages, watercolors of her dear Córdoba, the place where she was born. I saw a woman who had a very different side of the story, and a vision of life that I wouldn't have discovered if I hadn't moved in with her, or if my grandfather had still been present.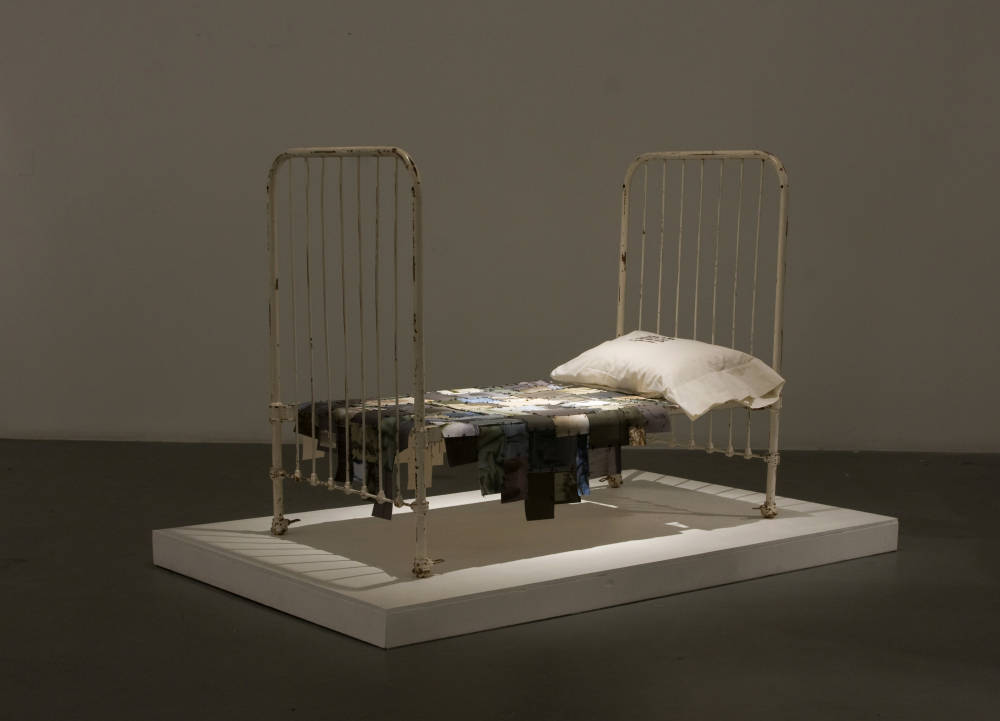 Has the memory of your grandmother found its way into your work at all? Yes, there is a lot of her in my work. I have an installation called The Oneiric Memory that is a child's bed with a quilt on it. I made it just after she passed away, in her honor.
My grandmother would sing us lullabies when we were little that were supposed to be soothing but in reality they were horrifying. Basically, they would say, "if you don't go to sleep, the she-wolf will come and get you."

I learned about the beautiful tradition of quilting when I moved to the U.S. and for this piece I was more interested in the concept of the quilt, not necessarily the technique. I made a patchwork quilt as a memory of dreams—not actual things that happened, but memories of dreams and nightmares. I printed photos on canvas and manipulated them in Photoshop to give them the feeling of sepia prints and cyanotypes, like the old antique photo processes. I sewed the photos together with embroidery thread, using an old surgical stitching technique, with the knots exposed. And I embroidered a lullaby on the pillow with black thread. Making that piece was a way of mending and healing those wounds. A way of healing, finding peace.
"I really want my children to see that women have a voice."
How does the experience of watching your grandmother be in the background, only getting to know her after her husband died, affect the way you raise your children? So much. I really want my children to see that women have a voice and a presence. I have a completely different approach than what I was exposed to growing up. I feel strongly that as a mother of boys, I have a responsibility to raise not only smart, but loving and caring and respectful boys.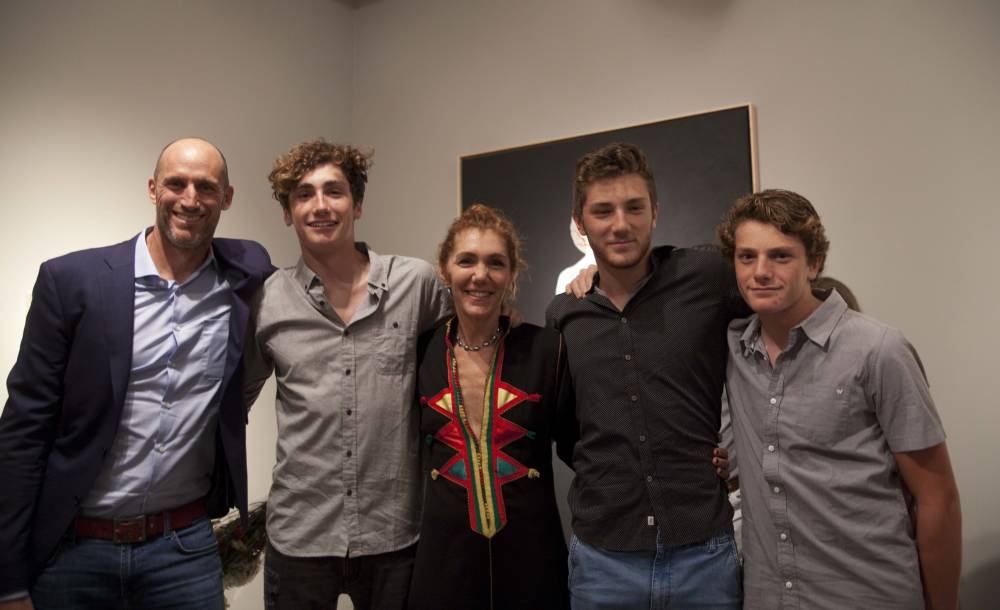 How does it feel to know that you've made a career out of doing what you love, and that you're setting that example for your children? I wanted them to explore different things. From the time that they were little, we were always doing projects around the house. All three of my kids played music and were in art classes all the way through middle school, but when they hit puberty they stopped. They are all very athletic and compete in windsurfing. They are attracted to the adrenaline and competition of the sport.
"Whether my boys decide to be artists or not, they will always have a creative side."
Now that my oldest son is in college studying environmental design, we are having the longest conversations about it. The first year they don't do anything on the computer; everything is by hand. I am thrilled that he is discovering that side of himself that I always knew he had.

Whether my boys decide to be artists or not, they will always have a creative side. Or, at least an openness to see and to try to understand someone else's artistic expression.
What are you excited for for the future? I am very excited about the launching of my first monograph. It is a collaboration with Dina Mitrani Gallery and Minor Matters Books. I am enjoying the whole creative process of it. It is very different to experience the work on the walls versus in book form. Exploring that physical space and the rhythm of the book has been extremely interesting.
There is a physicality in my work that I want to be reproduced in the images, the embroidery, for example. So we are trying to work with choosing the right paper, creating closeup images, paying attention to those details so that people who see it can almost feel that materiality in the print. It's also hard to reproduce the sense of scale. I have works of all different sizes and I want people to appreciate the work without losing that sense of scale and proportion.
The book is called Anatomy is Destiny and just launched through Minor Matters Books, an independent publisher founded by Michelle Dunn Marsh and Steve McIntyre. Their model is to develop books with artists and then promote for a three-month period of time to secure 500 pre-sales, a requirement for publication. Everyone who purchases the book during this period is listed by name in the book as a co-publisher. (Please consider purchasing the book to bring it to reality!) The hardcover book with jacket will be 10 x 12 inches, 80 pages, and will include 40 to 50 illustrations.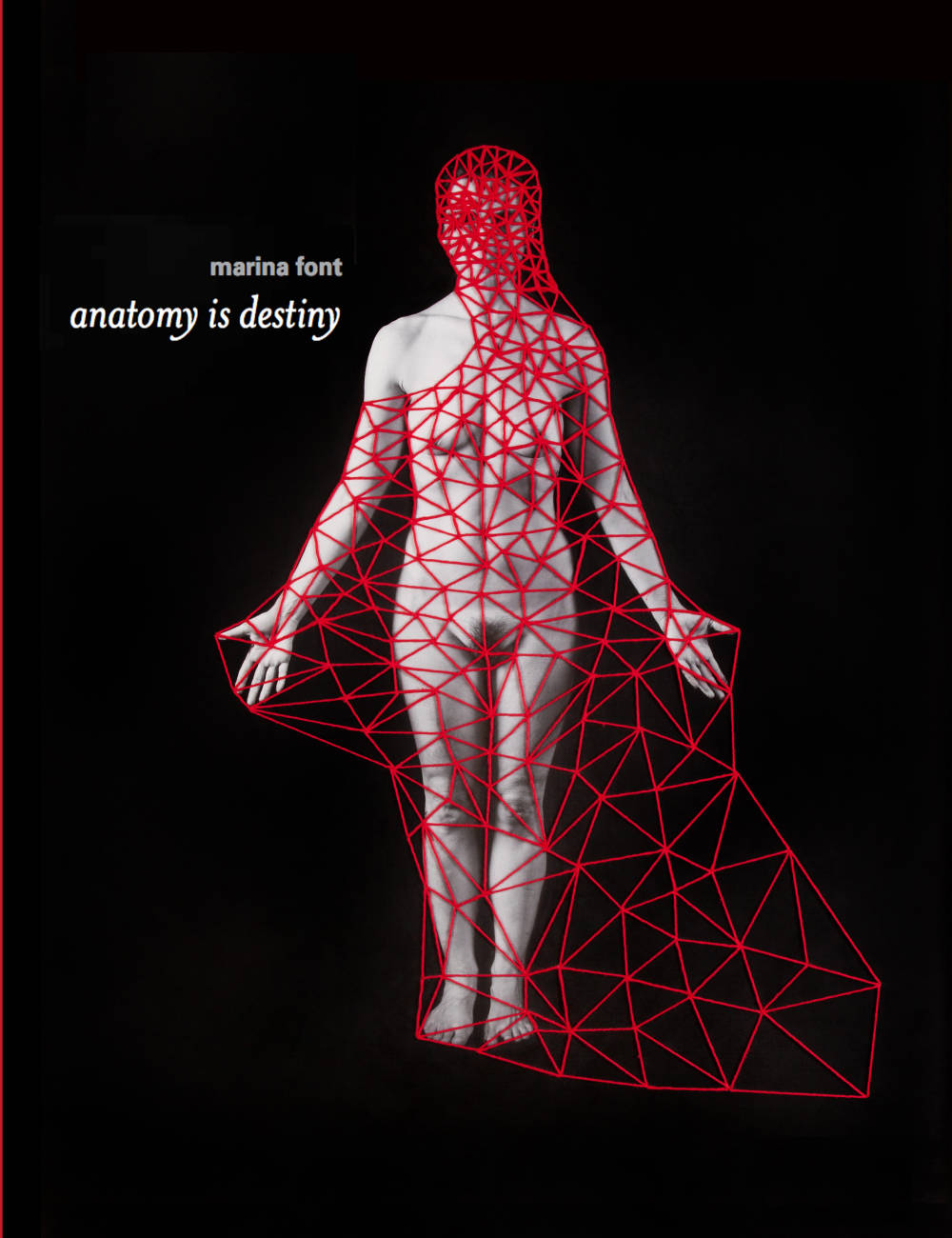 Where did the title, Anatomy is Destiny come from? My work is influenced by psychoanalysis and the forces of the unconscious. Growing up in Argentina, psychoanalysis is extremely popular and common. I have always been disturbed by Freud and his writing. I have named some of my series after his quotes, in a way to open a dialog and challenge his ideas.

"Anatomy is Destiny" is one of his quotes, in which he claimed that one's gender determines one's personality traits. I wanted to open the conversation about culture versus biology, nature versus nurture.

Freud called female sexuality the Dark Continent, a term he took from Colonialism meaning a place that there is very little known about—the unknown. It was a very male way of seeing women. One of his theories is that women have a castration complex because we don't have a penis. That there is always something missing in our lives, and our personalities come from that. Karen Horney, one of his female disciples, argued that it wasn't coming from the anatomical experience, but the social experience. How men at the time (and still to this day, but less) have the freedom to choose if they want to study or not, if they want to marry and who they want to marry.
"If you have that fire inside, just allow yourself to do it."
What advice do you have for other Mother Makers? I have a friend who is an amazing artist, but doesn't believe she is an artist. And I always tell her, "If you have that fire inside, just allow yourself to do it. Try to find the time—whenever it is—because it's something about you that has to grow with you." Even though sometimes it takes away from your family, it enriches them in so many other ways. Also, you are enriched as a person. I am a happier mother when I do my art. I am a happier person in general. Whatever your medium is, art can only enrich your family life.
Marina's new book 'Anatomy is Destiny' is available for presale through Minor Matters Books. To order your copy and become a co-publisher of the book, click here.