Where do you live? I live in Salisbury, Maryland, which is a teeny-tiny town on the eastern shore of Maryland. We're between the Chesapeake Bay Bridge and the ocean, on a little peninsula.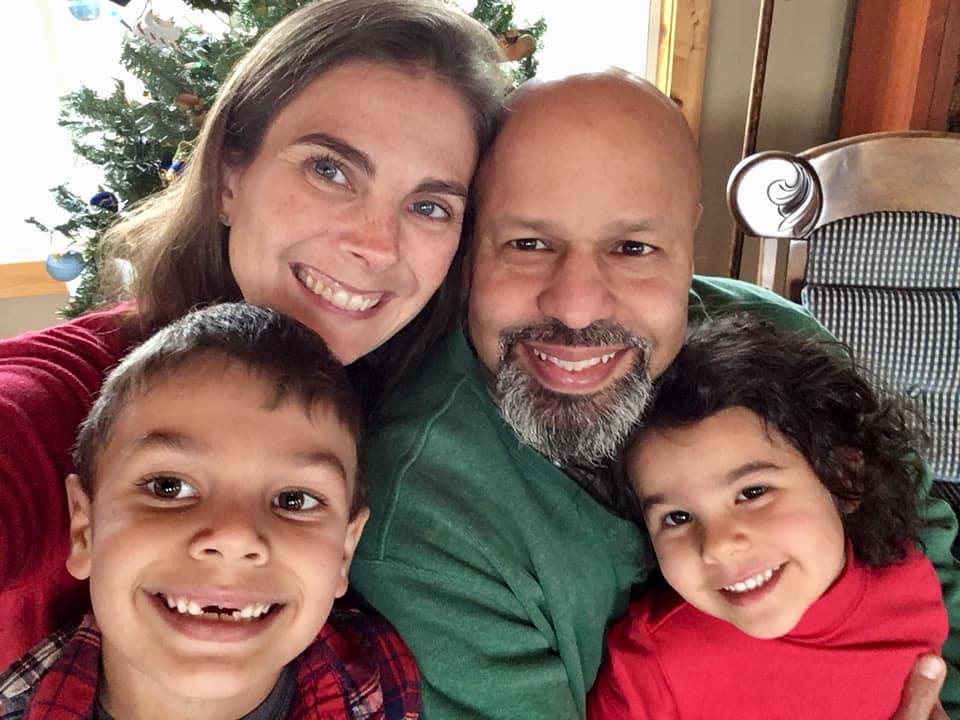 Where did you grow up? I was born here, and then we moved just about everywhere else. We moved to Kansas and Ohio and Tennessee, and then when I was 14, my mom remarried. Her husband, my step-dad (they'd been married for ten years at that point) decided to come down to Salisbury because he had a business partner that had just moved here, and it just happened to be where I had been born 14 years earlier. And so, I grew up in Salisbury, and then moved away, met my husband, and then convinced him to come back. So lots of transitions.
But it must feel like home to you. Yeah. I really do enjoy living here. It's nice. When my step-dad was invited to move back here to start the business, his business partner said that you could throw a rock in any direction and hit water. That's very true, and that's my favorite thing about living here.
How were the arts part of your life growing up as a kid? Almost everyone in my family is somehow involved or interested in the arts. I guess the two or three most influential people in my family that kind of helped to shape my interest of the arts growing up as a kid were my grandfather, my mom's dad, who was an art therapist. My mom's mom was also a painter, but she was an elementary school teacher and didn't really paint professionally. And then my aunt, who worked for Hallmark Industries as a greeting card designer. So all three of them, in their own ways, encouraged me along when I decided to be the only one of the grandkids to actually major in art in college, and do anything with it. So I was the first of our generation to keep it going in the family.
Do you have siblings? I do. I have one brother, and he's four years older than me. He went into computer science and mathematics. It was in 2014 when my grandfather passed away that my brother and I made a promise to each other that we would start painting again.That was kind of how all of this whole adventure started again. He's started to pick up his paints and learn how to paint, and I've picked up mine again, and we've tried to honor our grandfather in that way in the last few years.
Where did you go to school? I went to the local university, Salisbury University. We actually live just three blocks away from it right now. It's kind of a sleeper school for art. It's known for business and nursing and all these other things, but the art program is actually an excellent program, and they have—I would say—over-qualified teachers for the university. I've been very, very thankful for the training that I had there.
What did you think you were going to do with your life when you were going to art school? That's a great question. I started my art degree as a photography major, and I was deep into a serious relationship with my college boyfriend, who was living in Santa Fe, New Mexico at the time. I had these dreams of being a National Geographic photographer and moving to Santa Fe, and about three years into my four-and-a-half year degree, I changed my major from photography to painting, because I had taken all the photography classes that I could, and I still had a year and a half left. I ended up enjoying painting even more, and stayed an extra half semester to get the "F" in the BFA degree.
And did you think you would be painting full-time? Absolutely not. No. Definitely no. And still to this day, as thankful and as excited as I am that I get to do it as much as I do, it's like I have to pinch myself all the time that I'm actually doing it.
How many kids do you have? I have two. Christian, our oldest, is five. He'll be six next month, and Mia is three. She'll be four in March.
What stage in your artistic or non-artistic career were you in when you became pregnant with your son? I was in a non-artistic career completely. I had graduated from college in 2002, and then went a completely different direction. I ended up in retail management for almost 15 years. I totally neglected my art background. Honestly, I did not believe in myself as an artist at all. I was actually a retail manager when my husband and I found out that I was pregnant and decided to move our family to Virginia Beach. My husband and I talked it through and decided that instead of taking on a new job in retail management three months pregnant, I would just stay at home and be a stay-at-home mom.
That first year of being a stay-at-home mom was honestly the worst year of my life. I went through mental things. I went through physical things. I went through pressures I've never dealt with. It was a complicated year, because I was so happy to be a mom, and so thrilled to finally be able to have a child, something I'd always wanted. But I was in a pretty bad place mentally. I was trying to figure out who I was, and what I was going to do with my life, how to stay motivated and excited every day, and I went through a pretty hard time. It was when my son was about two-and-a-half that I actually started painting again. I picked up the paints during his nap time one day, and that was the end of it.
"That first year of being a stay-at-home mom was honestly the worst year of my life."
Isn't it funny how different reality is than the expectation? You just think, oh yeah, I'll just be a stay-at-home mom. It'll be easy. It'll be fine. Oh gosh. It's so different. I think the hardest parts for me were never any of the physical things I had to do. It was all mental. Every part of it was the mental stress of figuring out how to be my best for this little thing. And also to figure out how to stay excited and interested and all of that when I had come from a corporate world that was full of constant accolades and pats on the back. I could work towards a raise or I could get a better position, and all of those things could show up on paper that showed how hard I was working.
Then all of a sudden I was in this position where all of my hard work and all of my intention and ability was not to be measured. That was really hard to figure out how to deal with. I would tell my husband, a high school teacher, at the end of his days, "You have students that tell you 'great job,' or 'I understood that lesson,' or whatever it may be, and I don't have any of that."
Painting kind of started as a way to have something to be proud of, to be honest. To have something that was just mine. Even though it reflected my relationship with my kids, and motherhood, it was a way for me to just have something to take care of for myself.
So two and a half years in, what did it look like the first time you picked up a paintbrush again? Oh man, it was bad. And when I look back on it now, it's so funny to think about the timeline of things. My grandfather had passed away in April, and I did start picking up my paints pretty soon after that. I inherited paints from him. I pulled out his supplies and worked with those for a little while, and then around July, I walked into this coffee shop and saw this sign that said "Featured Artist" on the wall. And I asked the lady behind the counter how I could be the featured artist. And she said, "Well, send me an email and a couple pictures of your work, and I'll consider you."
At the time, I had three little six-by-six inch paintings that I had done, and everything else had been painted when I was in college. I couldn't show work that was 15 years old; that was just not going to happen. So I sent her pictures of three paintings and she said, "Yes! Be my featured artist!" Then I was overwhelmed with the possibility of needing to fill this wall less than two months down the road. I just started cranking out these little six-by-six inch oil paintings, kind of crossing my fingers that they would look halfway decent in the end. And that was the beginning of it. I tried to do a six-by-six inch painting everyday or every other day while my son was napping, and when it really got down to the wire, sometimes I'd put him in his high chair out in my studio and let him watch a cartoon on the iPad while I finished something up. It was a pretty messy beginning.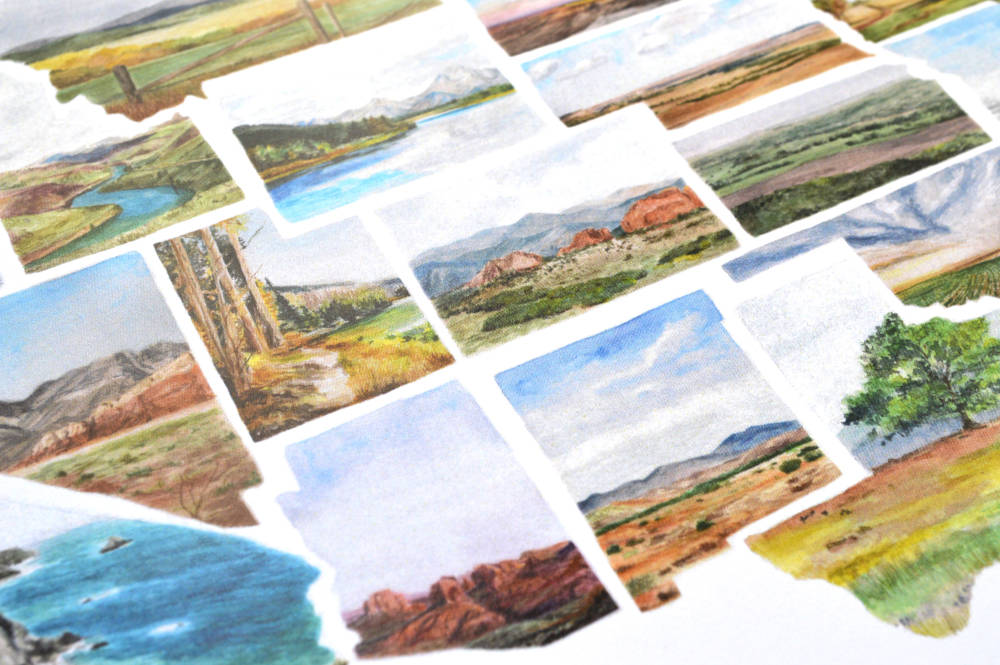 But it became a crucial part of your day. It did. And it's kind of hard to explain. Talking to you, I'm sure that you understand, but it's been kind of hard to explain to people who are not artists or creatives that it was a necessary part of my day. It was just as necessary as drinking a cup of coffee, or taking a shower or brushing my teeth, or eating a meal. It kind of became a way for me to hit the reset button and have a moment for myself to just completely check out mentally from all the responsibilities, and just focus on whatever I was working on. Every mother hears "when the baby sleeps, you should sleep." I am not that kind of person. I would find myself cleaning or trying to do housework and stay busy the whole time, and I would never rest, mentally or physically. And when I sat down to paint—when that was finally part of my daily routine—I really felt rested at the end of that hour, hour and a half. It was the only way that I could find that would let me forget about the stresses of being a mom, and being a wife, and doing all of the things at home. And just take care of myself for an hour and a half.
During that time, did you ever have any feelings of guilt associated with attending to that need to paint? Oh gosh, yes. And I still battle that, to be honest. In fact, I was just on the phone with a really great friend of mine the other day, and she brought up a really great point. She said, "We're raised to believe that we can go for our dreams, but if you happen to be one of the few that actually figures out what your dream is and you go for it, then it's almost as if the rest of society holds it against you that you found that joy." When she said that, it was like a lightbulb went off. That's part of the reason I feel guilty: because I am surrounded by so many people who may not have found their thing. I'm still figuring out how to do mine, but I do feel that I've finally tapped into something that I've been dreaming about doing since I was probably six years old. There is some shame associated with that.
I'm not "hitting the grindstone" and I'm not showing up for work every day with my "game face" on. But for some reason, because there's so much joy, I feel like I should feel a little guilty about indulging in so much freedom. But I do think that if everyone was able to tap into whatever it is that their dream career is, it should be full of joy.There shouldn't be any guilt associated with it. I really endeavor when I'm presenting myself online and social media to share that joy and be open about how thankful I am that I'm here right now. I didn't figure this out when I was 20. I was 35 when I finally started painting. So I did my fair share of boring days at the job.
And this is a better life. Oh, yes. And it's not more money. I made a lot more money before, but I think that now, every single part of the task—and it sounds silly to say—but even paying taxes or doing the menial grunt work that comes along with running a business bring me joy. Every part of it brings me joy because it just reflects back to the fact that I finally jumped for my goal and didn't look back. That's a good feeling.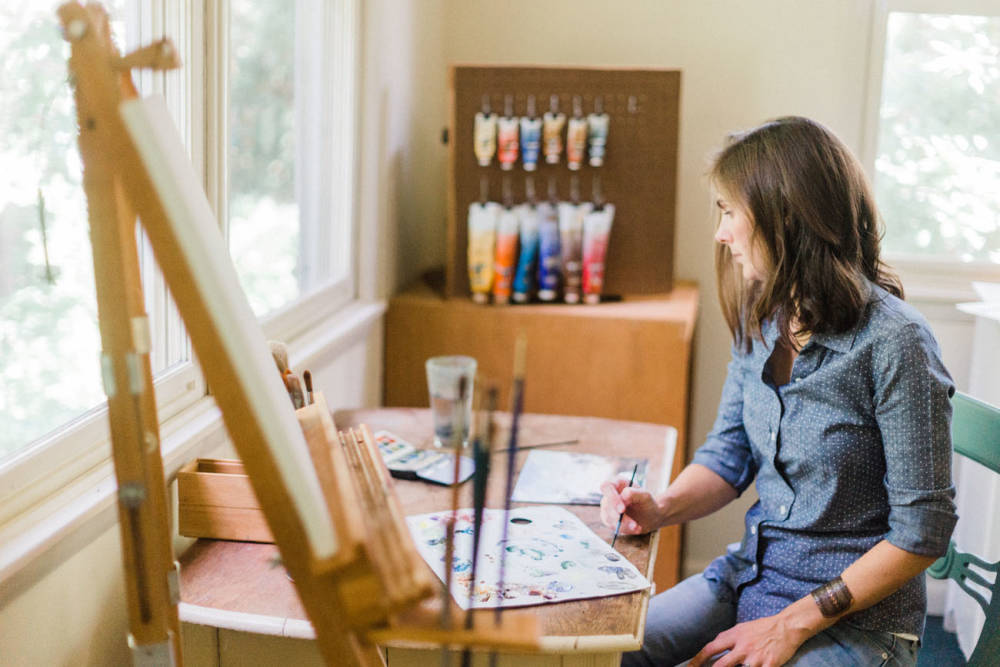 Was creating a business and an income out of your painting a natural progression for you? It was kind of an unusual circumstance. I had a very small Etsy shop that I opened up: The Naptime Artist. I opened that up right after I was a featured artist at the coffee shop because I had about 15 paintings that didn't sell that day and I needed a place to sell them. I had heard of Etsy, and so I set up an Etsy shop.
I didn't know what the heck I was doing, to be honest. I knew nothing about product photography or SEO or how to even write about my work or talk about myself. I didn't know anything, and I'm still learning all of that. But about six or eight months into that journey, someone contacted me to do a painting of saltwater taffy. We happen to live near a touristy area that sells saltwater taffy, but this particular customer lived all the way up in Wisconsin, I believe, and saltwater taffy had a very special meaning to her and her partner, and so I did this painting for her of saltwater taffy. It was the first food painting that I had ever done, and it occured to me after I finished it that I should contact our local saltwater taffy company that had been in business for almost a hundred years and see if they would let me paint their brand. I reached out to them, and they gave me their blessing. In the process of doing the painting for them, they ended up wanting prints and notecards and postcards of this series to sell in all of their shops. The owner of the taffy business said "You should really have a website to be able to direct people to you if they purchase something in one of our shops and then want to find you." And I was like, uh… What? Have a website? Um, I don't even know… So I went on to godaddy.com and bought a template website and started a business online, and that was kind of how it all happened. It happened in about three weeks. I went to the office downtown and got my business license, and I thought, well, I'd better get official. So that's how it all came about. I still see the taffy owner every once in awhile and thank her for putting a fire under me to get official. That's the short story.
I first found your work through your United States series. How did you get the idea to do that, and how did it blow up? That was also another Etsy customer. This particular person was a family friend of ours, and she had hired me for a couple of custom pieces before. She reached out to me and said, "I have this friend who is in the coast guard, and she's retiring from her position. I'd like to get her seven state paintings of places that she has been sent to in the military. She had sent me some pictures of general watercolor washes of states that she'd seen on pinterest, and I said, "Those are really pretty, and I could do those, but to be honest, I'd rather try to paint a landscape in the state shape if that's okay with you. I feel like anybody could do the watercolor wash." I asked if it was available for me to try to paint inside the lines, and so I did those seven states for her, and they were so much fun. They were really challenging, and they required a lot of forethought as far as where the subject was going to sit inside of the lines, and how was I going to balance the scene. I did those seven for her, and then I thought, what would it be like if I just did all 50? And so every day, during those nap times for about five and a half months, I just got serious about painting them. It became an addiction in a way, and I got to travel the U.S. from my studio table.
What does it mean to you to be showing your kids a mother who is following her dream? I tell my kids that all the time. I know that they are young. Thankfully I grew up in a family where my parents never once put any sort of pressure on me to be anything. They were very open and receptive to the idea of me majoring in art, but unfortunately, at the college that I went to, I had a lot of friends in the art school that had grown up with parents who wanted them to be lawyers or doctors and some of them had become artists out of spite or rebellion. My heart went out to those kids. How could their parents pigeon-hole them into this career that they had no interest of ever going into? It's been really important to me as a mother to show that I finally reached for something that I've wanted to do. I'm open with them about how it's an unusual path that I'm on. This isn't typical. I don't go out of my home to go to work. I don't get dressed up every day, and do all of the things that a lot of their other friends' parents do. I don't know if they'll go the route of art, or math or science or whatever, but whatever it is, I really hope that they're seeing in me that I will be totally receptive to whatever their plans and goals are.
What inspires you in your work? As I'm speaking to you, I'm looking out this big wall of windows in front of me, and every day I am inspired by the greatness of the world around us. Just how huge it is, and how much variety and color and shape and texture and size and just everything about everything I get to look at every day. I think that all of that is magnified when you're looking at life through the eyes of a five or a three year old.
I've done paintings after we signed up my son for his swim classes for the first time, and I've done paintings the day that my daughter discovered color in the leaves at the playground, and I've done paintings of donuts because my son picked up that prop to paint that day. So much of my work is definitely inspired by my role as a mom, but I think even bigger than that, it's inspired by the humility I have to be in this beautiful world, surrounded by so many things to celebrate.
That makes me want to cry. Just thinking about what a change it is. Thinking about that first year, and how hard that first was for you (it was really hard for me also) but that there's such a great reward through the journey. In everything we do, and how we live our lives, and how we make our work. The role of being a mother informs what we do in such a bigger way. That hard year becomes totally worth it and more. Yes. It forms who we are as an adult, I think. I am a completely different person than I was before I was a mom. I feel like it's highlighted a little bit to me how selfish I was, which I didn't think that I was. It's also shown me to be full of grace for myself, and to be patient with myself, and to be patient with my kids, and to enjoy the little things.
What's your favorite thing about being a mom? Giggles. I just can't get enough of them. I will embarrass myself. I will make silly faces. I will stoop down to the lowest levels. I will do things unimaginable to get a good giggle out of my kids.
What are you most looking forward to in your career and in your family? For awhile in this journey, I kind of got into this trap where I was looking forward to the day when the kids go to school full time and I could paint full time. As I look back at pictures, sometimes Timehop will show some picture of my child a year ago, and then it resonates with me how quickly this time is flying, even though it feels like it's going at a snail's pace. I think the thing I'm looking forward to most is just slow, steady growth. Growth as a person, growth as an artist, and continuing to take on challenges and things that I would have said no to before. And to just keep trying my best to put boundaries around my stress levels and the things that I accept, so that I can make sure that my priorities are in check. I'm an artist because I'm a mom. And I'm a mom because I'm an artist, and they all are so interwoven that I don't want anything to get out of bounds, and I really try very hard to try to keep it balanced. And I think that's something we'll all be trying to work on for the rest of our lives.
"I'm an artist because I'm a mom. And I'm a mom because I'm an artist, and they all are so interwoven that I don't want anything to get out of bounds, and I really try very hard to try to keep it balanced."
What advice would you give to other Mother Makers? Number one, have a lot of grace with yourself. Be patient with yourself. You don't become an artist overnight. It's a culmination of things from a whole lifetime, and especially when you're learning to run a business on top of that. Being an artist and being a business owner are two completely different things, and so you have to be willing to put in the due diligence to learn both of those things, and that takes a lot of patience.
Also, don't be afraid to put up boundaries to protect your stand as mom. Don't put so many things on your plate that your time gets stolen away from this precious time. Really enjoy and celebrate this role that you're in because I just feel like sometimes it's not just a joy to be a mom. That is an incredible privilege, but to be a mom and an artist at the same time is just incredible. I wouldn't want anything to hinder either one of those roles. Have grace and patience, and take it one day at a time.