Tell us a little bit about yourself, where you live and your family. We live in Clarke Square, about three blocks away from my studio. My husband Matthew and I started having babies really young, unplanned. I'm 34 and my daughter Mara is turning 12 in March. My step-son, Elijiah, is 15 and we also have two boys: Makai is eight, and Solomon is six.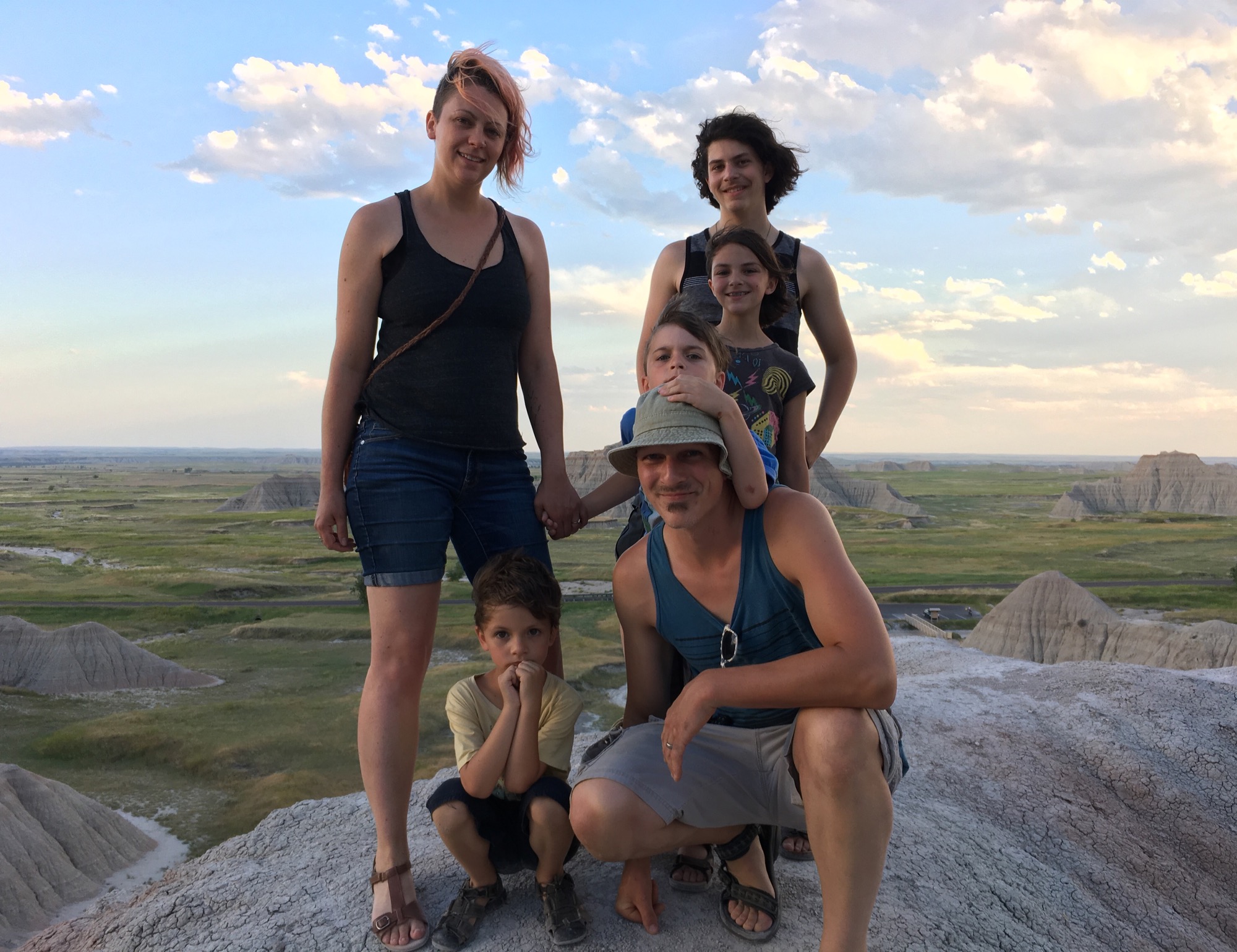 How would you describe your work? I work in fiber and ceramics to make sculptures. My work is a spectrum from homegoods and functional work to fine art and one-of-a-kind pieces. The functional work, the things that I reproduce, is my bread and butter. That's how I make a living. Those are things like air plant vases, cups and dishes as well as jewelry and wall-hung little pieces that mix fiber and ceramics together. I sell my work at boutiques throughout the US and on my website.
What I'm trying to do more and more of right now is make more challenging work, both in its construction and conception, so that I can show in galleries. I've done a sprinkling of that here and there over the years, but right now I'm trying to really push for doing more by talking with different galleries.
Where were you in your career when you started having children? I was only 21 when I got pregnant, and it wasn't part of the plan. Matthew and I are perfect partners, and we got married when Mara was two and a half. At the time, Matthew and his brother had just bought a house together, and we were working on fixing that up. We moved into that house only three days before Mara was born.
I had gone to Milwaukee Area Technical College just to try to figure out what I wanted to do. I knew that I really wanted to be an artist, that I probably should pursue art. But the thought of the debt that I would incur in art school terrified me. I didn't have a career at the time. I was a just a kid really.
I had a little clothing line, and I also made jewelry, and that was the beginning of my creative path. I continued to try to make that work, selling at craft fairs and waitressing at the same time. Then Mara was born and I felt kind of a sense of urgency. Either I needed to figure out how I was going to make money doing this, or I just needed to give it up and get a practical job.
Having been so young when you got pregnant, what were your expectations of what motherhood as an artist was going to be like? I was scrambling. I really had no idea. I thought, "What am I doing? Do I even want to become a mother right now?" Matthew was such a wonderful father to Elijiah, and because I already saw him with his son, I realized that there was no way out of this. I thought, "We're a family, and this is going to happen and everything is going to be ok, because I have an awesome partner."
I just kind of trusted that everything would work out. I asked Matt to support me in trying to continue to make work and he was totally willing to do that. He made sure that I had time when I asked, whether I was making money or not .
"We're a family, and this is going to happen and everything is going to be ok, because I have an awesome partner."
That support is a big part of it, and making sure you have the courage to ask for time. In the beginning, what were the logistics of making sure you had the time and space to actually make work, and why was that important to you? That's a good question, because it's hard to ask for that. You don't know that it's worthwhile. It feels frivolous to a lot of people who are creative, like it's just a hobby. Matthew was just so supportive, and I feel like that's what gave me the courage to ask for what I wanted. He just kept trying to tell me everything was going to be all right and we were going to be a happy family. I would say, "What about who I am? How do I continue to be who I am?" And he'd say, "Whatever you need, just ask for it."
Luckily we had a lot of room in our house. I had a bedroom where I was making: my "sewing room." For the first six months after Mara was born I was still making stuff. I made time while she napped and after she went to bed. I got back into it in what felt like right away. I was surviving off of very little sleep, which you can do when you're 22 years old!
Then I started a business, which blows my mind. Some other women and I started talking about opening a store, and in November after Mara was born (she was eight months old), we opened a little boutique. We sold handmade Milwaukee-made clothing, jewelry and gifts in Bay View, Wisconsin. There were four of us women as business partners, and because we were signing the lease and writing the business plan, it felt like it was something that I was committing to. It gave me even more confidence to say "I'm doing this thing," and Matthew once again was totally supportive in that. We did that for three and a half years.
So how have things changed for you in your work since that time? My work has changed. I'm not making clothing anymore. I feel like I started it all from a place of, "How do I make money while being a maker?", which is a weird place to start. I feel like some people go to art school and they get conceptual, and their professors ask them to talk about the work and write about the work, and they are challenged. Then they get out of art school and they only know how to make work that goes in galleries and museums without knowing how to sell their work. I came at it from a functional perspective, always asking, "How do I make a business out of using my hands?" And now I'm going back to the other side of the spectrum, working backwards.
How did your other three children come into the picture in your career? Elijiah is my oldest, my step-son. I feel like his role is significant in my career because I just get to be a good role model for him. His dad and I are both self-employed so we get to be examples of how you don't necessarily have to follow a certain "go to college, get a job, work up the ladder" path.
Do you see that in his way of life as well? Yeah. I see that specifically in Elijah because he doesn't like school. He doesn't seem like the kind of kid that is going to just jump into a career. It's a safe place for him to be with us, and for us to support him if he decides not to go to college.
How amazing for him to have that support. To be that for him, and to let him know it's okay for him to make his own path. I would never discourage my kids to go to college, but if they don't belong, I want them to know that they're not less valuable than other human beings if they don't follow that path. They can make their own way.
Makai, my eight year old, was the reason I got out of the store business. We weren't making much money and it was a lot of commitment, and by that time all of my business partners had left. So it was just me running the store with volunteers helping me during open hours. When I got pregnant with Makai, I decided it was time to give that up, so I sold the business.
Solomon came right after him, just 20 months later. I was hitting refresh during that time. Just starting over and really trying to figure out what I wanted to do. I was figuring out that making and selling clothing wasn't going to be sustainable, and I wasn't feeling like I was getting enough creativity out of it.
And was Matt working as a woodworker at that time? Yeah. He had some odd jobs in the beginning, but he went right from working on our house to working on other people's homes. So he was self-employed the whole time, refinishing floors, repairing cabinets.
His career has evolved as well. He has gone from asking what would make money, to what would be the simplest work, to doing the more creative work that he does now. All the while we've been able to stay self-employed with support from our families.
My parents and his parents both are in town so we've always had free babysitters, which has been huge. And a loan every once in awhile. We wouldn't have been able to do it at all without them.
Can you talk a little bit about your daughter's business, Dye Young? Mara is a really special little lady. I'm blessed to have been matched with her. She's super down to business, and a really hard worker. She gets that from me, and I get that from my dad who also runs his own business.
"Mara is a really special little lady. I'm blessed to have been matched with her."
At the same time she is super creative. It's a really wonderful mix, because she has that balance of being able to play, but also get things done. She's done a lot of creative things in the past, but right now she's making t-shirts. She really enjoys bringing them to the craft fairs because it feels like a successful object to sell.
We go to thrift stores together and buy second hand t-shirts, and then we dye and print and stencil them. She makes her own stamps that she cuts out of foam, and then we print with print ink. It is really fun for me because I get to revisit all these fiber techniques that I love, but that I haven't been using that much. For awhile I would teach her a new technique once a week. We would grab a bunch of shirts and we'd be like, "let's do this to all these shirts, let's bleach them all…"
Was it her idea or yours to start the business? It was her idea. First of all, we wanted to be in her school craft fair. Every November her school puts on this craft fair and they really encourage the students to take part. They have professional artists and crafters, and then they have the students and parents, so it's a really cool mix of different skill levels.
Mara wanted to have a booth at the craft fair, and the year before she had made little ceramic magnets. She said, "This time I want to make something bigger, something I want to sell for more money." And I can't remember who came up with it first. I feel like it was her idea to stencil onto t-shirts and I was like, "What about dying? We could do all sorts of things to t-shirts."
So is she selling just in the summer or all year round? She does it whenever we have a craft fair. She wanted me to sign her up for more things. Last summer she did Maker Market at Colectivo twice, and then the school craft fair again. This year I think we'll probably find two or three craft fairs to do. We just have a running inventory left over from the last fair, and then before a fair we'll try to do around 20 new shirts.
What does it mean to you as a mother, to have had such a direct influence, and to see it manifesting in your children? It makes me really proud, super proud. It makes me feel like I'm just finally doing what I always wanted to do. For the longest time when the kids were young I would always try to run away from them so I could be creative. I was always disappointed in myself for not sharing that more with them. But life is so busy when you're trying to do something like run a business and be an artist. It's almost like you don't have time to do anything extra. You're just keeping your kids alive, showing them you love them, feeding them. But the time to make art with them is limited. So I really regretted that. When Mara showed an interest in making stuff I jumped on board and used that as my motivator: "I need to make time to do this with her."
How do you feel about being an artist in your community and how does your work fit into that? So many of my friends are artists, and we have something called "Art Boss." We get together to talk about our work, and how we're running our businesses around our work. We share resources and opportunities, which has been super helpful, and sometimes we just get together and chat, talking about our husbands and kids.
Sometimes you need to just be social. And sometimes you need to be part of a community that's organizing. But most of the time, if I'm stepping away from my studio, it's because I just need to talk to people and have fun with people.
So you have a business that you're running, you're an artist, you're a mother. You're doing all of these things. Is it possible to balance all of that or is it always a juggling act? It's always a juggling act. I always feel like I'm losing my mind. Every day.
You seem to keep it together from the outside! I don't know. I've been posting on Instagram less and less. Every day I'm like, "I didn't post today, I just can't, I just can't do another thing. What am I gonna post about, my kitchen? There are dishes everywhere. My studio's a mess!" People may get the idea that I have it together, but I'm always evolving and struggling and trying to grab onto whatever before it changes into something else.
It's really hard when you're completely in charge of your schedule like I am. I don't have any obligations, except I have to pick up my kids from school at 3:00 and I have to feed them dinner. Usually that's my only obligated time, between three and seven, but after seven anything goes. Some nights my husband and I play "Rock Paper Scissors" for who gets to go back to the studio, because we have more work to do.
We spend at least one night a week hanging out with friends and at least one night a week being together. Sometimes more than that, but that's a rule. Between picking up the kids and getting seven hours of sleep, all of this daytime is available to me and I want to get so many things done. I'm constantly juggling and rearranging and re-prioritizing what fires to put out, what things I need to aspire to get done each day. Sometimes I feel so dizzy doing it all.
What about things that have worked for you? What advice do you have for other artists who are trying to make that decision: "Do I continue making, or do I need to just go get a job?" I read Big Magic by Elizabeth Gilbert last year. She suggests that you have a job that ensures your bills are paid so that your art is just for fun. That way you can play and you can be free without any pressure.
I totally relate to that, but that's just not how it worked out for me. I felt like I just didn't have time to do all three: have a job, be a mom and do art. So, I've needed to have a lot of loans and credit card bills. We were just trying to make it work. If you decide that you want to start a business, especially a creative business, being an artist is that: "running a business." You need to put all of your eggs in that basket, because the more time that you focus on it, the faster it'll start rolling and start making you money. I feel like it would have just dragged on forever if I had only given it just a third or a quarter of my time. You have to just jump in. Nobody believes that there are jobs for creative people, so they are afraid to go for it.