Where did you grow up, and how was music a part of your childhood? I grew up in Elmhurst, Illinois, a suburb of Chicago. I've played violin since I was three years old, and I have two younger sisters who also play instruments. Ironically, we are all doing this professionally, which my parents never intended at all. They are both music teachers, but they wanted us exposed to it without at all encouraging us to do anything with it professionally. As you know, it's such a competitive, impossible career choice.
I played violin my whole life, and I was okay at it. I was never serious about it professionally, and in fact I studied political science and French in college. I didn't study music at all. I still liked to play; it was something that was always in my life that I enjoyed. But I didn't even know that you could make a living playing in an orchestra.
I actually worked in Washington, D.C. for a little while after undergrad, and I had this whole plan to go to law school. I thought I was going to change the world. This was all before September 11, so back then it was a fairly optimistic world. Washington, D.C. wasn't the scene for me, and it made me wonder what it would look like if I did try to do something new in music, at the age of 23.
"I actually worked in Washington, D.C. for a little while after undergrad, and I had this whole plan to go to law school. I thought I was going to change the world."
I knew it sounded like a crazy idea, but I wondered how it could possibly work. So I did the unthinkable, with degrees and honors and a resume: I moved back in with my parents. I nannied for a year to save money to even start taking lessons again. And then I applied to graduate schools for music. And it was crazy. I had to apply to specific teachers that would accept me more on potential than graduate level playing. I ended up at Carnegie Mellon University in Pittsburgh.
I also did a Master's degree in music at Carnegie Mellon. How was your experience there, not having gone to undergrad for music? I had a great time at Carnegie Mellon. I did a three-year Master's degree to try to play catch-up. My goal was very clear: I wanted to play in an orchestra. I was the first one in the practice room every day. There were freshmen who could play circles around me, so it was a very humbling experience.
I took my time, I was very patient, and then started the audition circuit, right after I graduated. I think San Diego Symphony was probably the eighth or ninth audition I took. It was a time when the San Diego Symphony had a lot of openings, so the whole orchestra here is quite young, and it's a beautiful place to live. It's very surreal, what my life looks like now, compared to 15 years ago. It's so interesting how this thing that has always been in my life has become my career.
What's nice about it is that I really consciously chose it at a certain point. It wasn't something that my parents pushed on me. I never went down the competition route. Music was always just there as something enjoyable. The fact that I can count on this now to pay my mortgage, and have creative flexibility to start things like my non-profit organization, Art of Élan, has been such a gift. I am incredibly lucky.
It is really rare for someone to decide at 23 to start a career in orchestral music. It is remarkable that you were able to do it. It's crazy. Ill-advised. My parents thought it was nuts, totally nuts. I would never encourage my children or students or anyone to do this. I think it's insane, really!
Can you talk about Art of Élan, and how it came to be, the motivation behind it, and the timeline of what it's become since its beginning? When I first got to San Diego eleven years ago, there was this influx of young talent in the orchestra, and everyone was hungry to do something outside of the orchestra hall. San Diego, compared to a lot of the other cities up the west coast, still has kind of a provincial, small town feeling. There wasn't anything—at least from what I could gather—going on outside of the symphony and the opera. So I had this idea along with Demarre McGill, the principal flutist at the time, to bring what we were so passionate about to different kinds of people.
Both of us grew up listening to a lot of different kinds of music, and maybe because of that I got very bored (and still do) going to classical music concerts. So, the idea was: how can we curate more engaging experiences? We wanted to take music outside of the concert hall and bring it to places that you don't expect to find it, like museums, warehouse spaces, art galleries, that kind of thing. Eleven years ago, there was nothing like that going on. We see this all the time now, and it's so awesome that there is this revolution to liberate music from the concert hall.
We got really lucky and teamed up with the San Diego Museum of Art. For me, it was important to connect the dots between the different art forms, which enhances everyone's experience of everything. We had this concert model that has become our signature now: one hour, no intermission, always a mixed soundscape. You're never going to hear just a string quartet the whole evening. Maybe the first piece will be solo marimba, then there will be a piece for flute and cello, then maybe a quartet. The idea was to present engaging experiences for both the audience and the musicians, in small spaces that encourage a synergy of visual art, music, and of course, hanging out afterwards.
It was slightly selfish. We just wanted to curate these concert experiences that we would be interested in going to, with the hope that other people would want to come. We didn't set out to be a contemporary music organization, but increasingly we've been doing a lot of commissioning. It has been fun to be able to put supporting new work at the forefront of our mission. What started out as a very specific concert series has now evolved into more of a brand, keeping classical music relevant in the 21st century. We just had our tenth anniversary celebration in June, and are going through strategic planning to look ahead now at the impact we want to have in the community here.
These ideas of transforming the classical music experience are a big interest of mine in my work with Cadance Collective, my music and dance collaborative ensemble here in Milwaukee. I think we live in a really exciting time for classical music. There are so many new ensembles and new ideas popping up everywhere, encouraging collaboration and accessibility. It's so much more satisfying for everybody, thinking about how the creative process evolves. People think that it's this mysterious thing, that artists have finished products on the wall or on the stage, but no, it's living and breathing constantly.
How did motherhood come into the picture for you? My husband and I just had our third anniversary. Our son is almost two years old, and we have another son due in early December. It'll be a lot of diapers!
I've always wanted kids, and I started really wanting children about ten years ago. I'll be 40 in March so everything kind of came later in the game for me. The one thing that my journey has taught me is that it's better to be patient with everything. And motherhood has certainly reinforced that idea day in and day out. I feel incredibly lucky that I had the patience to wait and find something that satisfies me professionally, and that I have this really strong marriage.
I was pregnant at our one year anniversary. We decided to start trying and see what happened, and again, we were lucky that it worked out. I have so many friends my age who struggle with getting pregnant. You can't take it for granted that it's going to happen if you wait this long.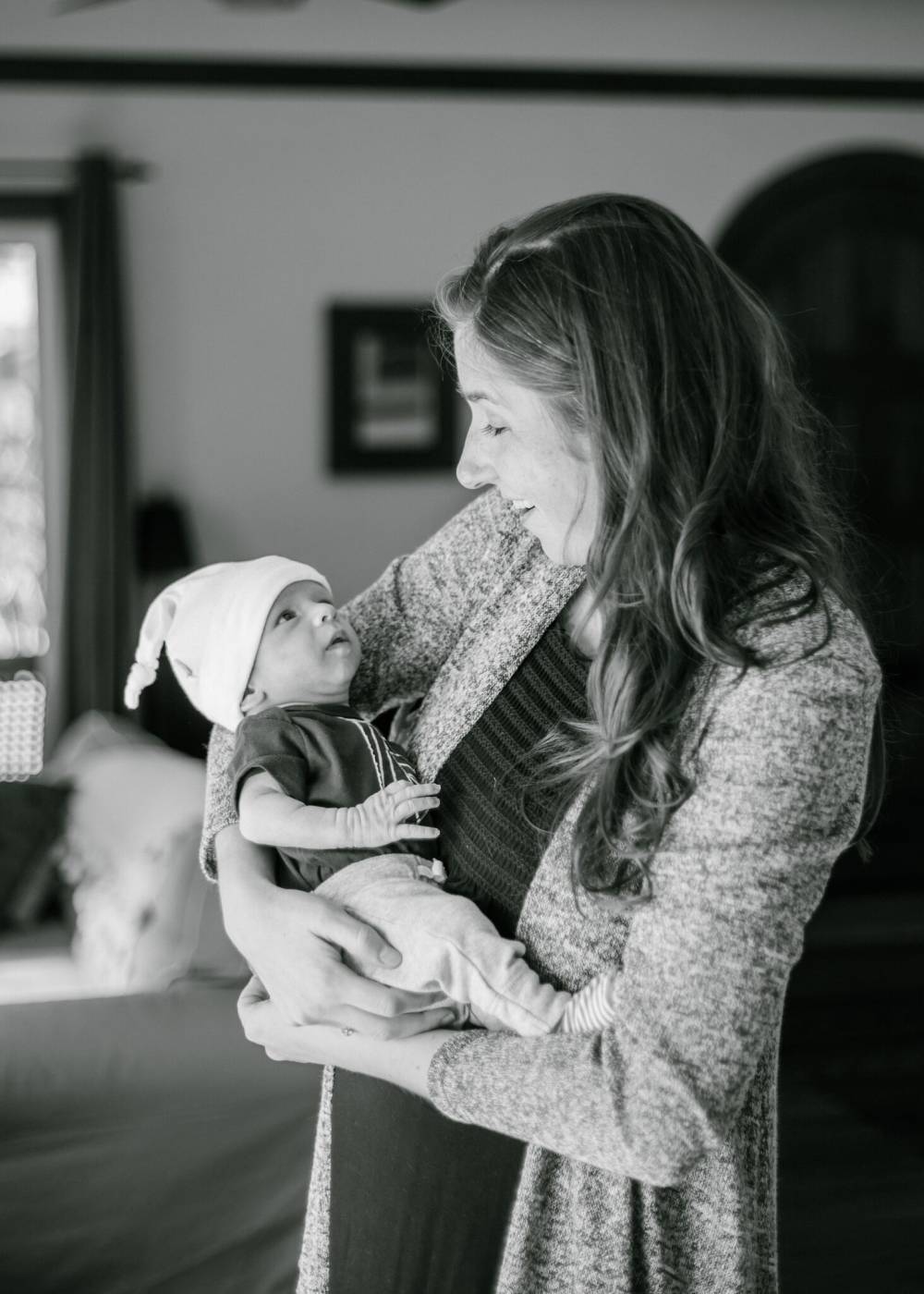 What has been the biggest surprise for you? I nannied a lot throughout my life. I've been around children my whole life, and I adore kids. But motherhood is a very humbling experience, even physically. Just the physicality of it, nursing, trying to keep something alive those first few months. I was not prepared for that. No amount of nannying or watching other people's children prepared me for the physicality of becoming a mother.
I had every nursing problem in the book, and I was so determined to stick with it. I came back to work at the symphony when my son was only ten weeks old; I didn't have any other options at the time. That was wild. The orchestration of figuring out how to pump during our mandated union breaks, and where to do it. It's so difficult. But in a way, it was a really beautiful perspective. There were a bunch of us in the symphony having kids at the same time. It was people that maybe you had nothing in common with before, and we're all just getting topless and finding these corners and spaces to do the same thing to nourish our children. And then, you go back on stage and put up this persona of the polished classical musician. It was really humbling. That's the only word I can think of to describe it. It's amazing how life just sort of re-prioritizes itself for you.
You said that you wanted to have kids ten years ago. Can you talk about the reasons why you decided to wait? I was pretty focused on the perfection of playing my instrument. I knew when I decided to do this and go for it, I had a very small window of opportunity to try to become a professional violinist. It certainly wasn't going to happen at 45. I was singularly focused at the time on that goal, and there wasn't much space in my life for the ability to even attract the relationships that would have been needed to have a stable family life. I was focused on music. Everything else was in the background.
I could feel that urge biologically, though. I nannied through college to pay for my Master's degree. I nannied my teacher's kids. In some ways I saw them more than he or his wife saw them. That was hard, but it wasn't the right time for me. What I was fearful of, and to some degree I still feel this way, is that I would have had so much more energy ten years ago than I do now. I feel tired. And it's hard when you're in a physical profession.
Even just the physicality of having to do what we do, and then carrying my 30-pound toddler around, and now being very pregnant, it's just hard. I have a feeling it's much harder than it would have been ten years ago. But, there's no question that it was better to wait. My home life is wonderful and stable and that has to be the case for all of the chaos that goes on outside of the house.
What kind of logistical challenges do you face as an orchestral musician? How have you learned to cope with those things? What tips would you offer somebody else? I think it's amazing what just becomes the new normal. This is true for anyone who finds themself in a challenging situation. What you never could have fathomed doing before suddenly you just do out of necessity. I nursed for quite a long time (we just stopped in July), and that took a lot of calculation. I had to learn not to be afraid to just whip my shirt off in the short 15 minutes I had for rehearsal breaks. I would set up my pumping stuff before the rehearsal even started so that I'd be able to run down and maximize every second of break time to pump. That was just one part of it.
My husband is a freelance musician, and teaches at one of the universities here, so we are really lucky because he is able to consolidate all of his teaching to one day a week. Because of that, he was able to be with Max most of the time. Of course, there's always the guilt of being gone for long and weird hours when we would use outside childcare. We were really fortunate that we were able to sort of play this Tetris game with our calendars to be around our child most of the time.
"What you never could have fathomed doing before suddenly you just do out of necessity."
Part of you can feel really selfish going off and indulging: "I'm just going to go play my violin." But there were days, even early on, where I was really happy to walk out the door and not have to deal with all the stuff that comes along with keeping a newborn alive for a few hours. But then there's always the guilt that's associated with that, as a mother. And as a female. We tend to want to take care of everything for everybody all the time. In a way it was crappy to go back to work at ten weeks, but in a way it was healthy too.
San Diego Symphony is a 42-week orchestra, so we're off in June and September, and the summer season is optional here, which is amazing. I've actually spent most of this summer not playing with the symphony, but doing other things: playing with summer festivals and focusing on Art of Élan, and actually spending a ton of time with my son. Now that he's older, and I'm pregnant again, it was really valuable for us to be able to have all this unadulterated time together.
It's the balancing of time. And the balancing of your needs and your priorities and what you should be doing for yourself versus what you think you should be doing for your family. And the first time around it's like, oh my god, we're just all making it up. Everyone feels like they're failing, all of the time!
And the reality is you're not failing. Again, just having patience. Prior to being a mother I kind of always lived my life thinking, "I'll get to a point when this will be settled and this will be organized, and then I just coast." Somehow that was this dream in my brain. Oh, we'll just get to this point and then it won't be so stressful. And then I realized, no. There's always going to be the next chapter. Especially when they're young like this, those chapters change very quickly. There will always be a new set of challenges and new things to get used to, and embracing that versus resenting it has been a game changer for me.
In your work with Art of Élan, in programming, or in the creative work that you do, have you seen your motherhood influencing the kind of choices that you make artistically? What has been really interesting—and this has permeated every area of my life—is that it's been really easy now to start letting things go that were not necessary to be dealing with. Life prioritizes itself for you. I am prone to multitasking and thinking I can do everything. Maybe it's also the old freelance mentality, thinking I have to say yes to everything because I want to take advantage of every opportunity that could lead to something else. Now, I see how that mentality can sometimes hinder you. It's a much simpler and more focused existence to just let all of those other things go.
"When I look at the kind of work I want to be doing for Art of Élan going forward, I desperately feel like we need to be doing something that has some long lasting meaning and impact."
I've pulled out of a lot of the committees I was in at the symphony. I've let go of some private students. I've even learned to avoid the mini dramas that are easy to get caught up in in any work place, whether it's Art of Élan or the symphony. This mindset has really simplified things. I just don't have the extra energy to allow myself to entertain all of these other things.
When I look at the kind of work I want to be doing for Art of Élan going forward, I desperately feel like we need to be doing something that has some long lasting meaning and impact. We have a ten year success rate now with sold out concerts, and a bit of national recognition after commissioning work from composers and artists in other cities like L.A. and New York. People know who we are to some degree. All of that feels great from an ego standpoint, but it's not what motivates me to continue on in the next ten years.
What type of work do you see Art of Élan doing going forward? We've been doing a lot more work with kids near the border here. San Diego is uniquely placed to affect change and shift the dialog, opening up the opportunity to collaborate with our neighbors to the south. In an era when everyone's talking about borders and walls, I feel that we have a moral imperative to do even more to break down that mindset. I think a lot of that stems from the devastation that we've been seeing in our world, and making the world a better place for our children to grow up in.
I am looking at ways that we can affect change right in our own backyard, starting with one interaction at a time. Doing work that is not just about selling tickets and growing a budget and raising revenue. That's been clarified for me. Whether it's motherhood or just the state of affairs, or just getting to a ten year milestone, I don't know. I sense it's a combination of all of that. I need what we're doing with Art of Élan to have some meaning, because otherwise why am I taking time away from my son and my family?
What about the opposite? Have you seen music influence your son in any way? Yes, of course! I was playing up until three weeks before he was born, and they always say that babies can feel the music even in the womb. My husband is a cellist, so Max knows what a cello is. He knows what a violin is. He is around instruments all the time. We have a toy piano for him. He has his own ukulele, his piano. He desperately wants to be playing violin, it's very clear.
That's another thing that I think is beautiful to be able to provide, just being able to expose your kids to music and the arts. We all have such short attention spans, but I really think you can get three year olds to sit through a Mahler symphony. I really do. It's only when they're 13 and they're programmed to 30 seconds on Twitter that it's much harder.
We've gone to mommy-baby yoga a lot together, and the shift in his energy is amazing. I'm sure it's because there's a shift in my energy. Being able to provide those kinds of experiences where you kind of just calm down, unplug, have a longer attention span for awhile, is so valuable for everybody. Toddlers have no problem with that, if they are just put in those environments.
Has Max come to any of your concerts yet? When he was little, we took him to everything because they sleep through anything. This summer we were at a festival in Breckenridge, Colorado. So we took him to one of the family concerts there and he sat in the front row. He's really into the music. He's less into the talking. If it's a children's concert where people are doing a lot of talking in between the pieces, then he gets bored. But if it's just a straight piece of music, absolutely. We'll work on being patient for the talking part.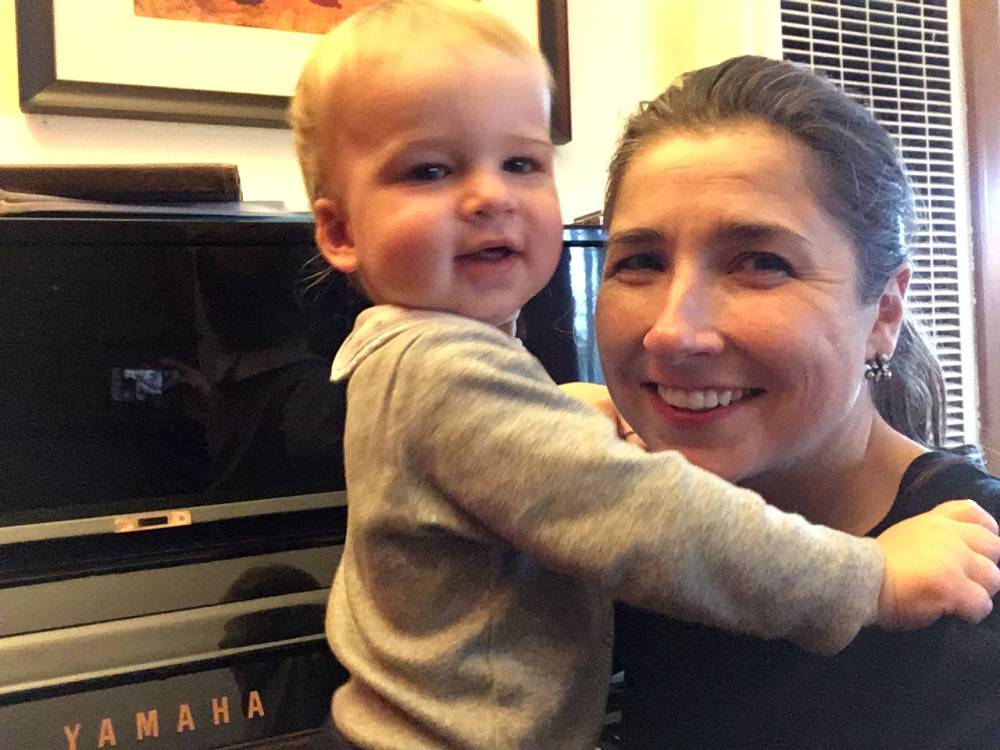 Since I've started Mother Maker, I've had friends and former classmates in the classical music field approach me, saying, "I'm so scared to have a family, because it's going to ruin my career. Reading these stories is showing me that it's possible." What advice would you give to someone who is scared of starting a family for fear of what it could do to their career? If nothing else, my story has taught me that anything is possible if you have patience with the process and stay committed. I'm much more efficient in some ways with my time now, because I have to be. I've learned how to compartmentalize when I have maybe just one hour when I can get to rehearsal early to practice. I think if we juggle too much and try to multitask too much, it just becomes stressful.
I've learned to be able to simply say: Here's how I solve this dilemma. I just go for an hour. I practice singularly focused on that. You just have to create some space in your mind and in your life to be able to devote yourself 100 percent to the task in that moment. It may change every single day. You just have to be much more—pardon the pun—orchestrated about things. To just devote yourself 100 percent to the task in that moment. And that may change every single day. Be flexible, and then you can juggle any number of things. Get through your life one hour at a time. Anything is possible if you have that mentality.
"Be gentle with yourself. Allow yourself to be selfish. This is so important, and it's important for your kids to see too."
Have patience with yourself. I talk about having patience with the process, but it's so easy early on to just feel like you're failing at everything. Be gentle with yourself. That just means, morale-wise, mentally, and physically. It's so easy to also devote yourself to your baby. We see this even in the hospital, where everything's about the baby, the baby, the baby. People forget about how much care the mom needs afterwards. Allow for that. Be gentle with yourself. Allow yourself to be selfish. This is so important, and it's important for your kids to see too.