Tell us a bit about you, where you live and your family. I am originally from Vancouver, but I have lived in Buffalo, New York for about three and a half years. My husband, Kyle Resnick, and I moved here when I took a position at the University at Buffalo, and our son Ko was born a couple months after we arrived. Since then, I've left the University, but we really love the city, so we decided to stay. We bought a house not too long ago.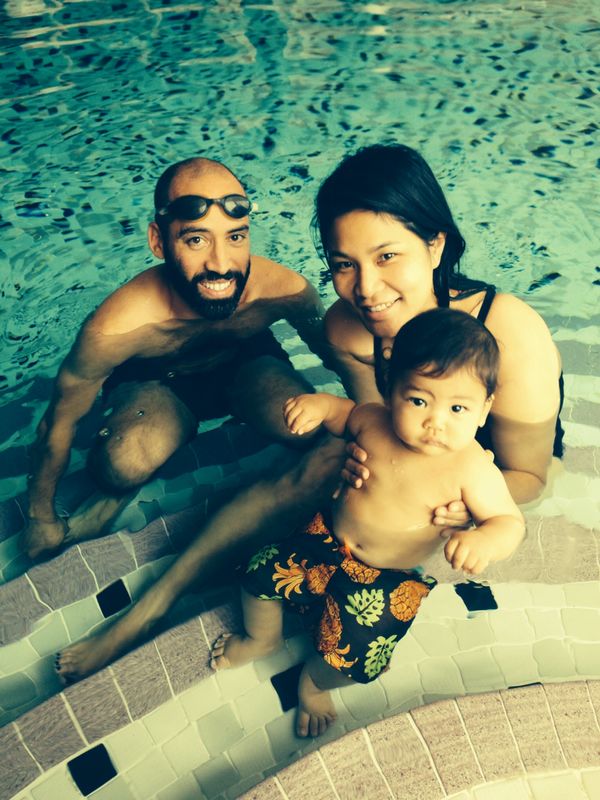 Can you describe your work? I am a violinist, and I mostly play new music and perform as a soloist and chamber musician. There was a brief point where I was playing in an orchestra, but it's been a little while since I've done that. A lot of my life is also teaching, and I teach privately. I also founded an organization called Buffalo String Works, which is an after school program, teaching music lessons to kids from refugee families.
So you're not playing orchestrally at all right now? Since I finished my fellowship with the New World Symphony, I haven't really done it. I moved to New York City from Miami, and I probably played two orchestra gigs there. I subbed once on a John Williams concert in Buffalo, but I haven't really done the orchestra thing in a while.
To me it sounds like a really fulfilling life, exploring new composers and making new work. It's definitely hard to get bored. Nothing is old, literally. And I'm always doing something new from week to week. I definitely miss orchestral repertoire a lot. Orchestra is why I wanted to pursue music as a career to begin with, but it's not the sort of thing you can jump in and out of.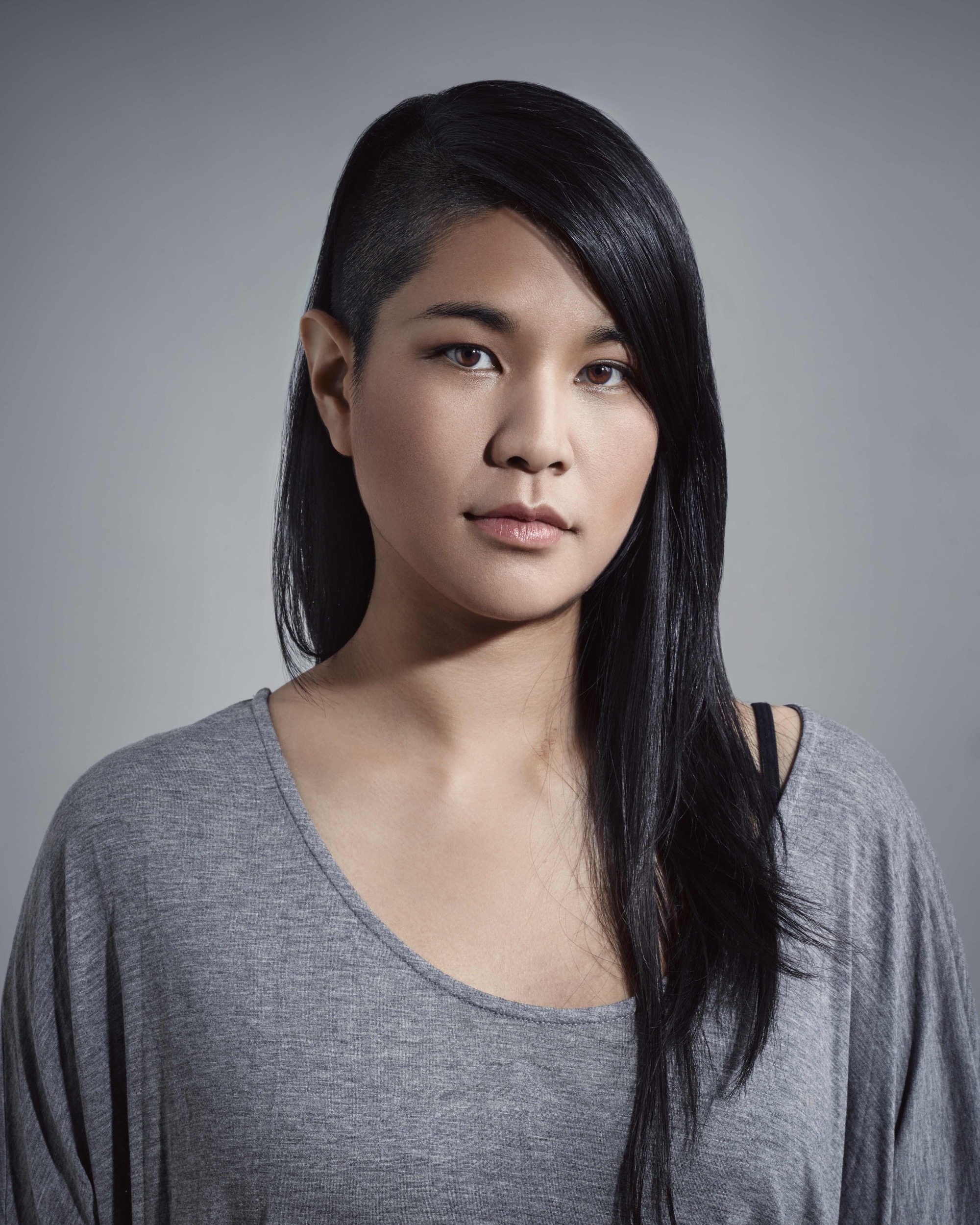 What was the turning point for you that made you want to focus on new music? I think that was what I always wanted to do. In school, chamber music and new music were really fun and exciting for me. When I did my undergrad at Eastman, we had a really terrific new music conductor who got us excited about it. He made it less weird, and more interesting and fun. It kind of made me feel like I was using this other part of my brain.
In some ways new music can be a little more mathematical, and you often have to approach it in a slightly more scientific way just to work out rhythms and pitch (not to say it's less musical at all). Playing the violin especially, there's so much history, and so much baggage associated with it. The repertoire is so old, and everyone knows it. That was really intimidating for me for a long time. I felt like new music was this way that I could get rid of all of that baggage so that I didn't feel like I had the ghost of anyone hanging over my shoulder.
Chamber music is such an intimate experience. I definitely had my share of experiences that tested my personality and willingness to get along with other people. But it can also be such a rewarding and beautiful thing, and it is a way to take full ownership over the music that you're making.
Where were you in your career when you started a family? I had just started a position at the University at Buffalo as Assistant Professor of Violin and Viola in August of 2013. My son Ko was born in November 2013. So, I was brand new at this job and pregnant when I met my new students and colleagues. It was probably a weird impression to make!
Did you know you were pregnant when you accepted the position? I didn't. I think I accepted in January of 2013, and we found out I was pregnant in March. I was definitely really nervous about telling my soon-to-be employers and colleagues that this huge change was going to come. I think I told them in June.
How did that go? It was fine, actually. I was pretty lucky and my colleagues were generally very supportive about it. Ko's due date was right around American Thanksgiving, towards the end of November, so the timing wasn't too disruptive. The fall semester would end one or two weeks after his due date anyway. I was relieved that I wasn't going to have to miss a ton of teaching. I don't know if that made a difference to my colleagues, but it definitely made me feel less stressed out about starting something new and leaving for a short time.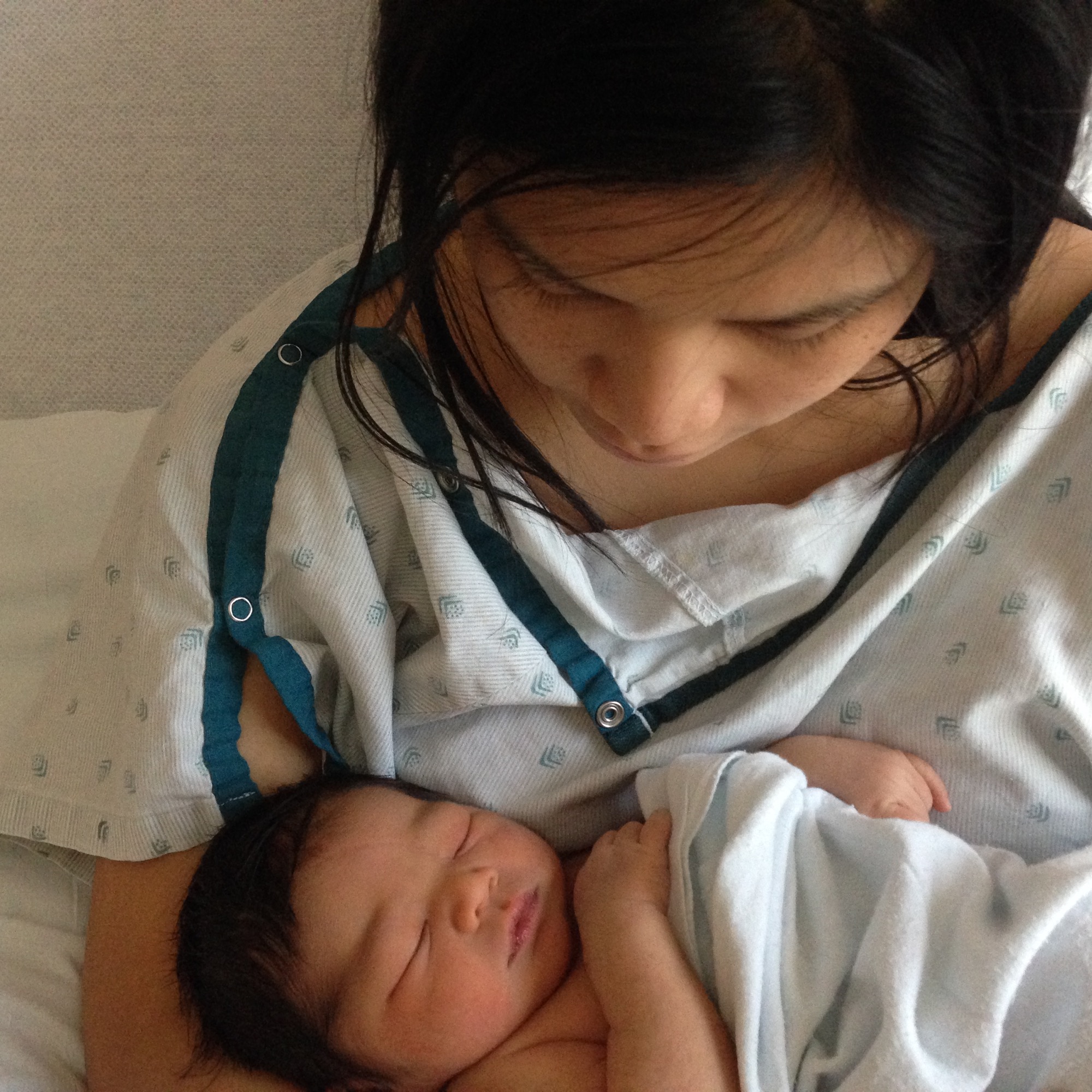 What were your expectations of transitioning into motherhood as a teacher and a performer? I was mostly in denial while I was pregnant. My husband Kyle and I hadn't planned to get pregnant quite so soon. We had really just been married a couple of months when we found out. I really wasn't emotionally or psychologically ready to deal with what that meant.
"I was mostly in denial while I was pregnant. My husband Kyle and I hadn't planned to get pregnant quite so soon. We had really just been married a couple of months when we found out. I really wasn't emotionally or psychologically ready to deal with what that meant."
Kyle tours for a living, so he's on the road a lot when the bands that he plays with are in full swing. We had a few difficult conversations, like "Hey, how are we going to work this out? We're going to have this kid that we may or may not be able to take on the road. What does this mean for the amount of work that I can take away from home?" But we never really came to any real conclusions when we would talk about those things. That's a hard subject, so I would just kind of shut my eyes and say, "I don't' know, we'll just work it out!"
I worked until 5:00 p.m. the day Ko was born. I remember starting to have contractions while I was teaching; I mean that's how in denial I was: "It's not going to happen, it's going to be fine." I taught until 5:00, and he was born at 4:00 a.m. the next day. I didn't have a ton of expectations. We have some friends who are incredible at balancing family and career and travel, so part of me thought, "Well, if so-and-so can do it, we can too." And of course other parts of me had no idea.
And in reality, no one has any idea. It looks very different from the outside than it does when you experience it first hand. How long until you went back to work after you had Ko? Ko was born November 13. I didn't have to start teaching until the end of January 2014, because that's when the school year started. But of course, in my denial I decided that I was going to play a solo recital in early January in Florida.
You really were in denial! Yeah, it would have been less than two months after he was born, during this really lovely concert series at the Duncan Theatre in Lake Worth, Florida. So, shortly after he was born I was freaking out about practicing. And of course in my silly little head I planned a straight-up solo recital. No accompaniment, no piano, just violin. So that was my first scheduled work activity.
I remember the first gig I took was like four months after Henry was born. I had a c-section so my recovery was kind of long, and I wasn't really interested in practicing at all. And it was a memorial service, and I felt terrible about the way that I played. So thinking about doing a solo recital after two months sounds impossible to me. Yeah, that was pretty nuts. Part of it was that we were really new in Buffalo, and had been really deep in the New York freelance scene prior to that. I had been there four years, and Kyle had been there 14 years. As a freelancer, you're depending on playing music as your primary means for providing for your family. I had friends who were scheduling gigs three weeks after having a baby, and I just figured that this is what we do; this is how it goes.
I'm sure a lot of it too was out of this need to prove to myself and people around me that I'm no different. Just because I have a baby, it doesn't mean that I don't play anymore. It doesn't mean that I'm not as good. I'm still just as reliable and I can still push through and be as strong as I was before. It's somewhat unhealthy in a lot of ways, but in other ways it forced me to be tough, as moms have to be.
"Just because I have a baby, it doesn't mean that I don't play anymore. It doesn't mean that I'm not as good. I'm still just as reliable and I can still push through and be as strong as I was before…it forced me to be tough, as moms have to be."
So in hindsight, how do you look at the experience of playing a recital so soon after Ko was born? I don't think it was necessary to do that. If there is a next time, I don't feel that need. In the moment of making the decision to play it, and also committing to the date even though I knew I was going to have a baby, I don't think I would have changed my decision only because that's where I was in my head at the time. It just felt like something I had to prove to myself. I felt all this pressure to not be any different. I don't feel that pressure anymore, just because now, three years later, I care much less what other people think. I know where my priorities are. I've just become a little more mature, and things have shifted.
You and Kyle are both professional musicians. How do you see that influencing Ko, his personality and his interests? For us it's been really fun to see how much he takes to music. I feel really grateful that for Ko, music is kind of a given. It's just part of his life, and we don't have to actively seek it out in the way that we have to actively seek out other things, like swimming lessons, and other types of classes. For Ko, it's just part of who he is. Not to say that he's demonstrating any kind of innate musical ability, but he just appreciates it. He loves to have it around and he loves to hear it.
And I'm happy that—so far at least—music only has a positive association for him. I was a little worried because music does take Kyle and me away from the house, and sometimes for many days at a time. I was concerned that one day he wouldn't like it because he'd associate it with us being away or being left with grandparents. But so far it's only been a good thing.
He just started violin lessons, so that's been fun. We were definitely really noncommittal about starting him in lessons, and I had originally wanted to find a student to teach him because I didn't know what kind of "violin parents" we were going to be—if we'd be the type of parents who would forget to practice with him, or if we would be really committed. We thought we'd feel less pressure if he was practicing with a student. But he's taking full-on Suzuki lessons and he's really into it. He loves to practice, and by practice, I mean like ten minutes a day.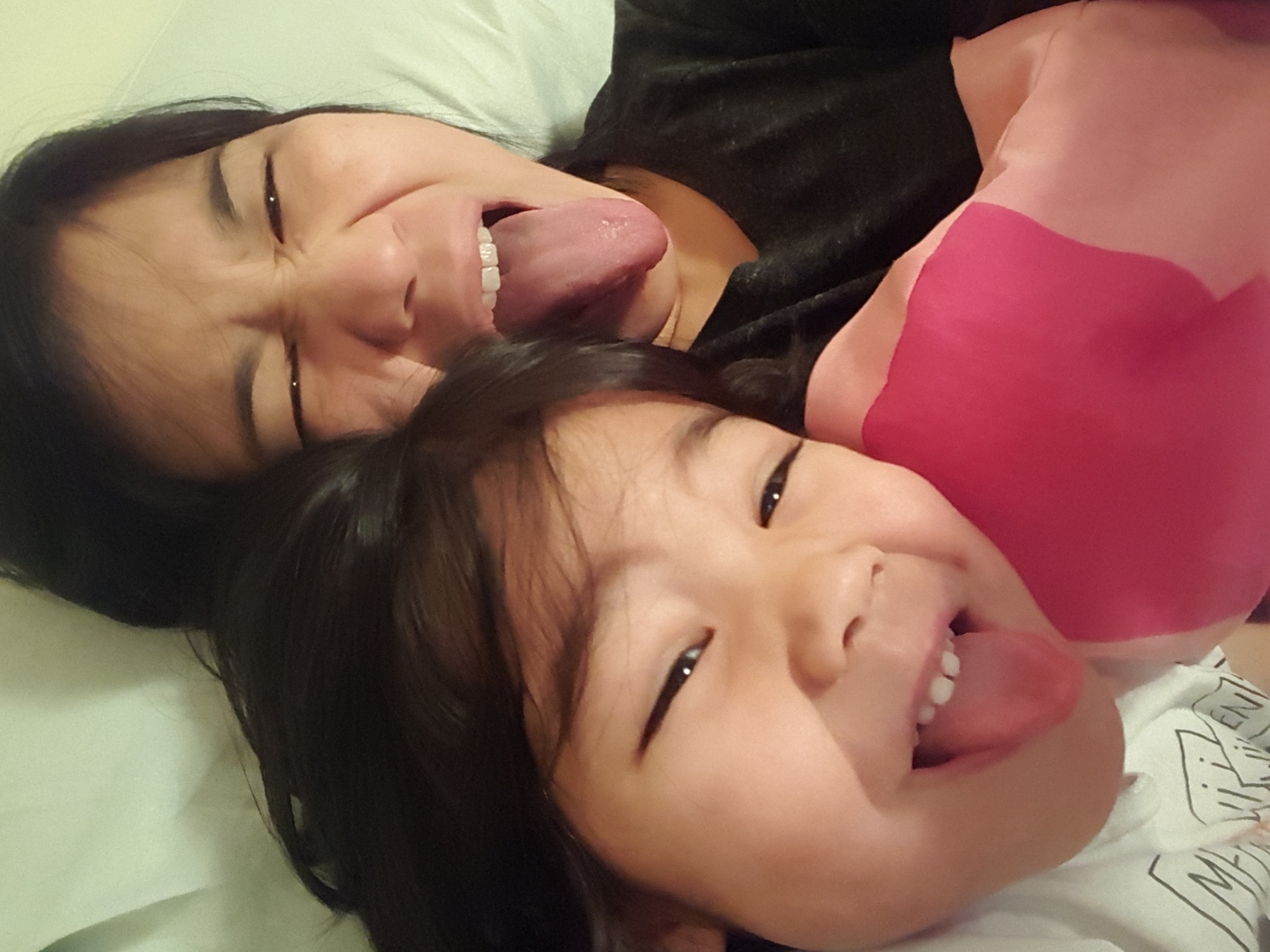 You recently put out an album, titled For Ko. Can you talk about the process, what the album is about, and why you titled it what you did? My album, For Ko, came out of my work at the University at Buffalo. For a long time I've had this obsession with Bach. Especially as a string player, Bach becomes part of the repertoire really early on. In Suzuki Book 1, there are at least three Bach pieces. And the Bach Sonatas and Partitas are such fundamental parts of the repertoire that you can't really get away from them. I learned those pieces at a really early age. For a long time, I was really afraid to bring Bach to my lessons, because I felt the ghosts of composers or performers always looking over my shoulder.
Everyone has their own personal way of playing Bach. People are really opinionated about how Bach should be played, and I probably am the same way now about my own approach. For a long time I kind of avoided it, and would sort of dread any moment that my teachers would assign it. But I found that once I was able to get away from school and have a little bit of space, and I could play it on my own terms, I was ready to go back to playing it without fear. A lot of that goes back to the new music that I play, being more confident, and that confidence translated to playing Bach.
I had been playing Bach-themed recitals for a long time, because it's hard to find composers that aren't influenced by Bach in some way. Actually, the recital that I did just after Ko was born was a solo violin recital that was Bach influenced. I played a sonata by Eugène Ysaÿe that actually quotes Bach phrases. That's always been thematic in a lot of my programming.
When I got to the University at Buffalo, I was given a little bit of funding to work on a project. I decided that I wanted to commission four composers to write four pieces that were in response to Bach movements from the B minor violin partita. There were no guidelines, other than "pick one of these movements and write something." No one had a requirement to quote, no one had to use a harmonic structure, it was just a free-for-all. And I purposely chose four composers that I knew would write vastly different music.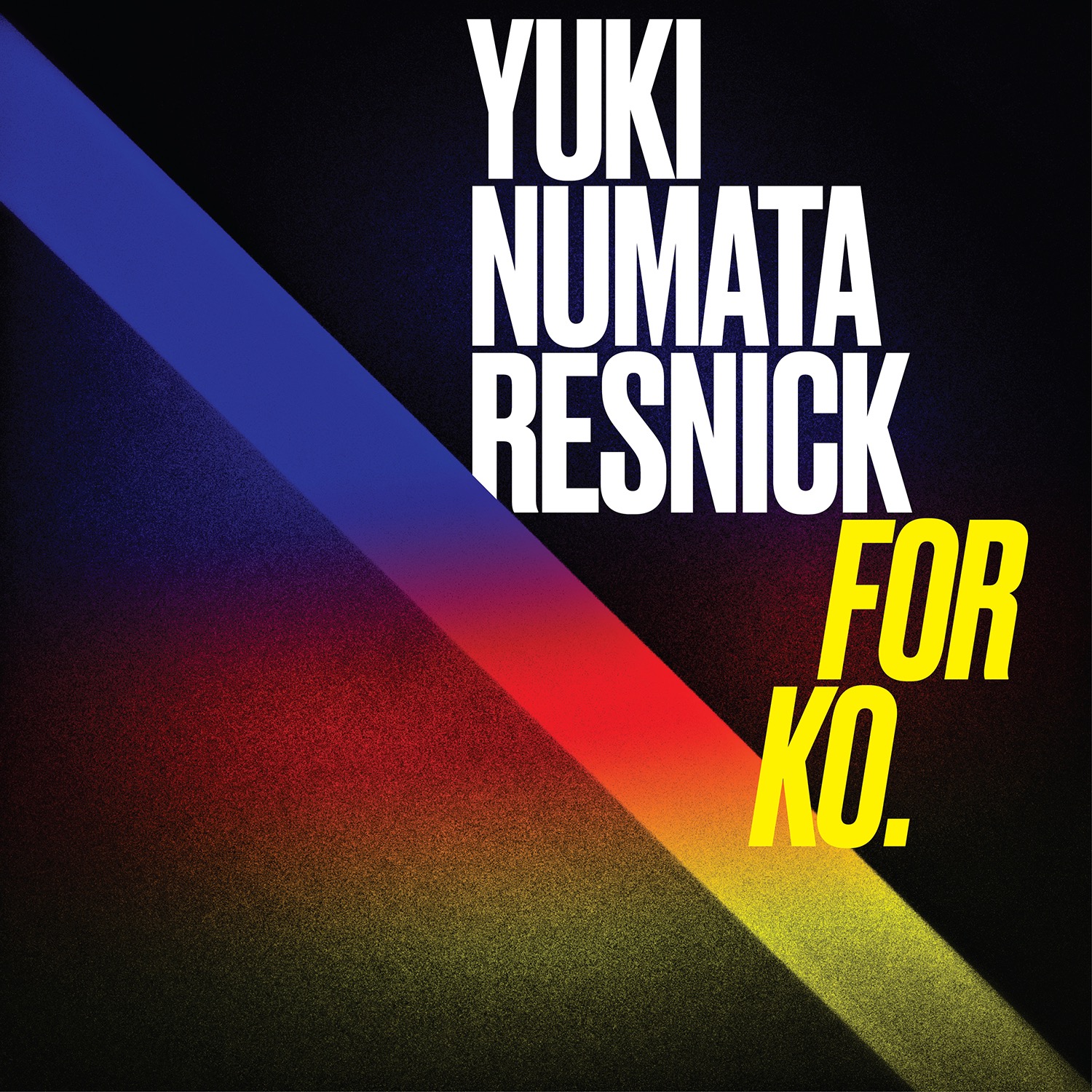 In the work that I do as a new music performer, I meet a lot of composers, and the four that I chose were Caleb Burhans, Clara Iannotta, Matt Marks, and Andrew Greenwald. They have all been very much a part of my musical life for a long time. Caleb and Matt and I went to Eastman together, so we've known each other for more than 16 years now, and Andrew and Clara and I met through our work with the Talea ensemble. The album is the B minor partita for solo violin, and then Caleb Burhans wrote a piece called "Remembrance" in response to the Allemande and Double. Clara Iannotta wrote a piece called "Dead Wasps in the Jam Jar" in response to the Courante and Double. Matt Marks wrote a really awesome piece where I actually narrate a children's story, and he called that "Trunket's Sarabande" in response to the Sarabande and Double. And Andrew Greenwald wrote a piece called Bouree in response to the Bourree.
When Matt sent me his piece, the title of it said "Trunket's Sarabande" and he dedicated it "for Ko." I thought that was really sweet. When I was working on a title for the album, I was thinking a lot about how as a mom you can't help but constantly think about your child. That was actually something I found really difficult at first. When I would go and play rehearsals or concerts I would be distracted by thoughts of Ko, thinking, "Oh, is he okay? He's with a new sitter today." I would even have my phone on my music stand in case I got a text message about him. Even if I knew he was perfectly fine, my thoughts would often drift there. Or I'd be thinking, "When am I going to pump next?" So it's not so much that the album is for my son, but more because he was all I was thinking about for so long.
"I started working on this album when he was maybe six months old. I was still deep in this place of adjusting to these new mom thoughts. Thoughts of a baby that I hadn't thought about prior to those six months. I wanted to be able to focus on counting measures, but instead my brain dragging me somewhere else."
Now, three years later, I've been able to find ways to work and not be totally consumed with thoughts of him. I've been able to balance that. I started working on this album when he was maybe six months old. I was still deep in this place of adjusting to these new mom thoughts. Thoughts of a baby that I hadn't thought about prior to those six months. I wanted to be able to focus on counting measures, but instead my brain dragging me somewhere else.
That's why I titled it that way. I don't necessarily think that he'll listen to it and love it, or that he'll feel any kind of affinity for it. But it was really just because he was really all I could think about at the time.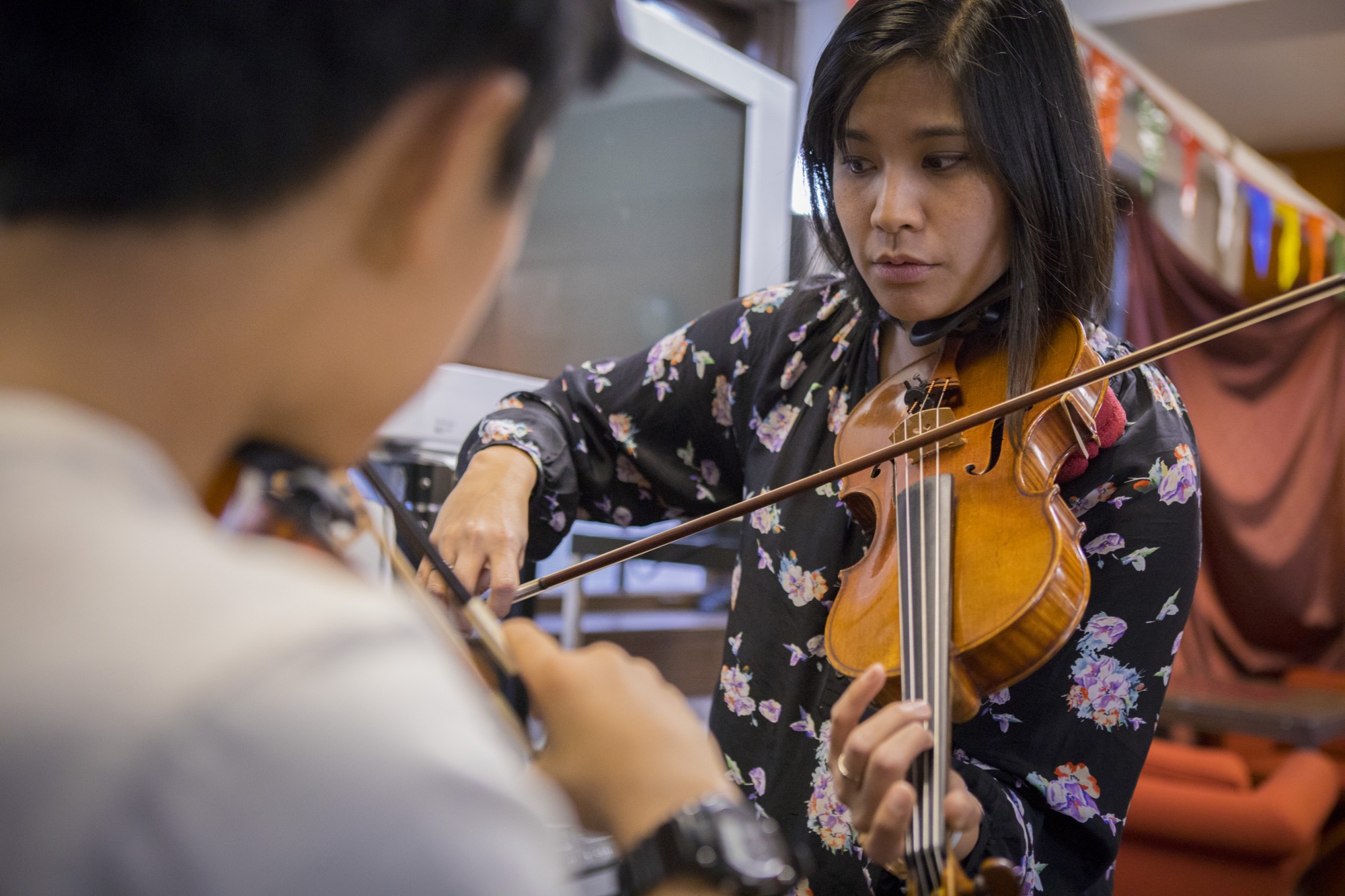 How did you get the idea to start Buffalo String Works? In my first year at the University at Buffalo, I was playing a chamber music concert at school. We were invited to one of the local public schools to perform in the classroom and we were really happy to do so. The performers were myself, Virginia Barron who is a violist and a radio station announcer on the classical music station here in Buffalo, and the teacher who invited us was Elise Alaimo Golove. We played this concert. We met Elise's students, and somehow they really struck us.
As musicians, we have all done numerous outreach performances. And you might get some kids who are interested. There's always questions like: "Why do you vibrate?" and "Why do you shake your hand like that? Why do you move when you play?" You sort of get all of the typical things. But there was something about Elise's kids. There was this sense of excitement about having us there. They even asked us, "When can we play? We want to play too!" Their responses to the questions that we asked of them showed this level of depth that wasn't typical of kids that we'd played for before. And I didn't know if it was just that group that we played for at that time, or if it had something to do with many of the students being from refugee families and having gone through things that many of us who are here in the US couldn't understand. There was something about them that struck us as different.
At the time I thought, "I have a number of grad students at UB, and I'm sure they'd be able to teach some volunteer lessons and it would be a great experience for them." And Virginia and Elise's response was, "That sounds great, but why don't we actually start a thing." That was my first year there, my son was maybe five months old, but I thought, "Ok, sure, let's start a thing!" And we opened our doors the following September 2014. I'm the newest to Buffalo and I didn't even know that Buffalo has this incredible refugee/immigrant community on the west side. So it's been an incredible way to open my eyes to this city.
Our focus is definitely on our students, but for me a big part of the program is providing this teaching opportunity for college students. So now, we employ a number of high school and college students to be teaching assistants, and teach lead teachers in the classroom, because we feel really strongly that we want the young people in Buffalo to get to know this community. Many of my new students don't know that this community exists, so we want them to get to know our students. We want them to really have this personal connection and to see the value in the kind of work that we're doing so that if they leave Buffalo when they graduate, they might start this kind of program somewhere else. They might volunteer or work for a similar program in a different city and be able to take their experiences with Buffalo String Works with them wherever they end up.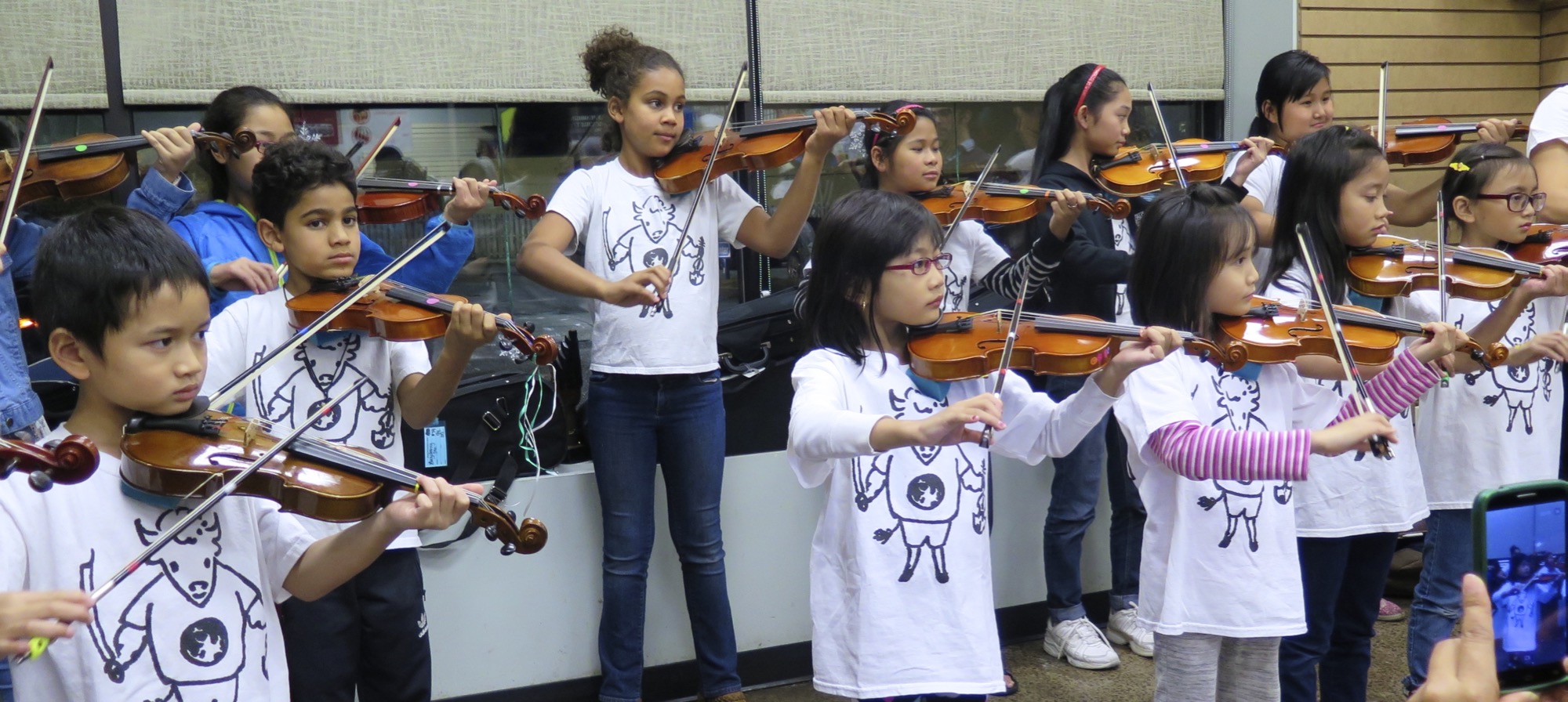 As a mother, and someone who has started this school for refugee children, how important are the arts for children? Music and the arts are hugely important to our family. My husband and I are both musicians and it's been part of our lives for a really long time. I guess the reason why I feel so lucky that music is part of Ko's life is because as I get to know some of the public schools and charter schools in our area, and the schools that Buffalo String Works is working directly with, I realize that it is not a given that music is in the home, or that art in any form is in the home. Maybe there was a time when it could be accessed at school, but I think we are getting further and further away from that.
Music is very much a part of my identity, but what I remember the most from being involved in music as a child is how much fun it was to be around my friends. It was the social impact of being a musician that really made a lasting impact on me even as an adult. Playing music has taught me so much about relationships and about interacting with people, and working together to create something way bigger than who I am. Music is so important because of the relationships that you form, because of the way that it changes you as a person, and because of what it teaches you. You can learn those things so early. You don't have to be a professional musician to reap those benefits.
When I look at our students at Buffalo String Works, I see these bonds grow between our students. I see students who come to us who are really shy, who've gone through a lot of personal and family trauma. It's really incredible that we can provide a place for students to come and discover something new that they can do. It gives them a way to feel that they're special and unique. Music and art can do that in a way that is harder to achieve in less creative disciplines. That's why music means a lot to our family, and that's why we really want some form of it to be part of Ko's life. We don't have plans for him to become a musician. We don't have illusions of grandeur, but we just want him to love it too, and we want him to use it and hopefully learn the things that we've learned through it as well.
Do you have any advice for Mother Makers? Words of wisdom for people who are just starting a family, and are curious about how to continue making work while raising children? What I've learned the most is how to believe in myself, and to be able to let go of the concerns of how things look. For me, having been a freelancer for a long time, we all kind of have ideas of what it is to be a mother, and we have these ideas well before we even think about having a family. Those preconceived ideas led me to do things like play a recital really soon after having a baby, or not really slow down my performance schedule at all, even after becoming a mother. I did a lot of those things because I was worried about what it would look like if I didn't do them. And I've learned that I don't care anymore, but it's taken a long time to get there. I had to learn those things, and I had to understand that for myself, and it's really this weird self-exploration that's suddenly forced upon you.
"What I've learned the most is how to believe in myself"
I've never been one for reaching out to other people, partly because I don't want to burden other people with my questions or my problems or just my venting, and partly because I didn't want to appear weak to anyone. But by doing that it took me longer to learn some of these things than it needed to. Then again, I really took my own journey to get to this point, and I feel really comfortable now saying that certain things don't matter to me. I'm not just a violinist.
It depends on who you are. That's why what you're doing, Emma, is so important. If you're not that type of person to just call up someone or use social media to reach out, this at least gives people a way to read and hear stories on their own terms. I've slowly become more comfortable about being public about being a mother, and having that be more part of a conversation.
The way you become an artist is by learning this hard core work ethic, you have to be tough and be able to deal with a lot of rejection. You have to fend for yourself, and work your ass off. And you think: When I have a baby, I'll be a hard ass then too. But it does knock you on your ass. I feel like that too. Being a mother is the hardest job of all, so if I ever start to doubt myself, I can just say, "Yeah, but I'm a mom. And I'm doing that, so nothing else compares." That's true, and I use that as a gauge now. If I feel happy about the way that I'm parenting, that means that things are mostly in balance. And if I don't have the energy to be the parent that I want to be, that's when I know something's off and needs to be adjusted.