Where did you grow up? I grew up in Milwaukee, Wisconsin, in the Bay View neighborhood, which is where I live now.
Have you ever left Milwaukee? I went to school at the University of Wisconsin-Madison. They have an exchange program in New York at the Fashion Institute of Technology. When I graduated I moved home because even though I had a pretty good job for being right out of school, I was broke. I also lived in Chicago for a year while my husband was finishing up school there. Other than that I have always been in Milwaukee, always in Bay View. I have seen this neighborhood change a lot.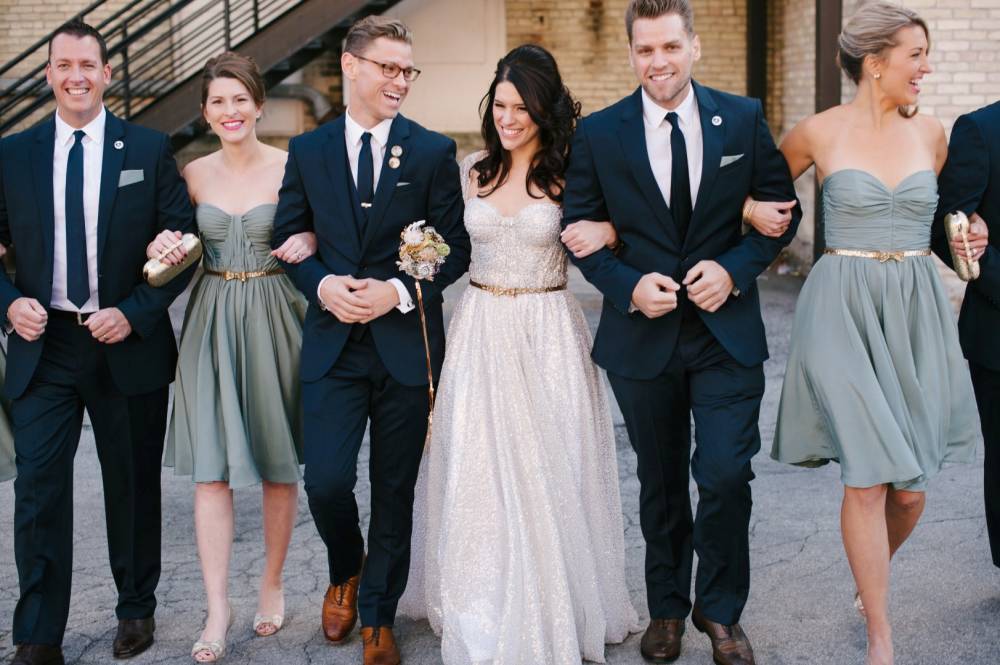 It's a great place to live! We bought our house here in 2009, and love it here. I am sure it has been fun to see it change. It's so interesting. It is fun to see it change and it's promising to see new blood coming in and reviving the city. Bay View was not where people wanted to be a long time ago. I always joke that we've lived here since it was shitty. We didn't move here because it was cool. It's just all I've ever known. Even though it's being revitalized, there is still a lot of that old neighborhood here.
What was your exposure to dressmaking and sewing as a kid? My grandma was a beautiful seamstress and made lovely things. She sewed everything for all of her kids and grandkids, and I am the only one out of 11 grandkids that she taught. We always crafted together growing up. She knew that I loved to make things, so when she offered to teach me to sew around fourth or fifth grade, I said yes. I remember spending weekends with grandma watching Sewing with Nancy, and I've been sewing ever since.
"My grandma was a beautiful seamstress and made lovely things. She sewed everything for all of her kids and grandkids, and I am the only one out of 11 grandkids that she taught."
It wasn't ever anything that I considered as a career. In high school I was focused on sports, but when UW-Madison sent me their course catalog, I saw that there was a program for Textile and Apparel Design in the School of Human Ecology at UW-Madison, and that you could spend a year in New York. When I went for orientation, I learned that you could start your courses right away, without needing prerequisites. Since I had been doing this my whole life I thought I'd try it out. I fell in love with it.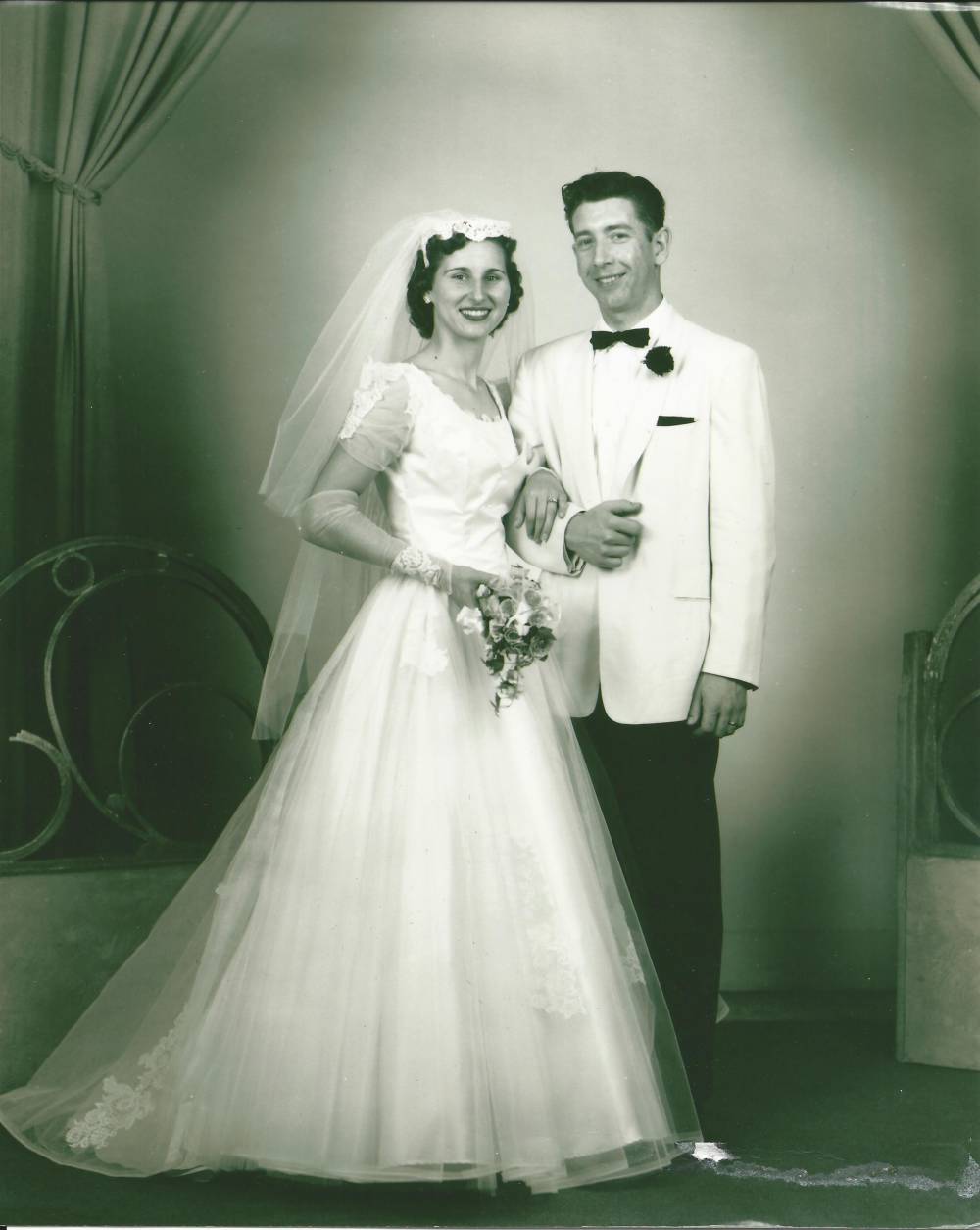 When you started school at UW-Madison, what sorts of things did you have to learn in addition to what you knew as a home-taught seamstress? I knew general sewing skills, like how to make something from a store-bought pattern. What I learned in school was how to make it from scratch. You start out learning how to read and then alter a store bought pattern, because there are people who come into this major not knowing how to sew. They're great designers and artists, but they don't necessarily know how to execute their designs.
My interest was in figuring out how to make the pattern work. None of my designs are crazy or avante garde. I'm very classic and simple in my design, but I love using interesting fabrics and colors and prints, and that's what makes my dresses fabulous. My love for the design is figuring out how it works, the engineering of it. I still like the creative part, but I got into it for a different reason than most people get into fashion design.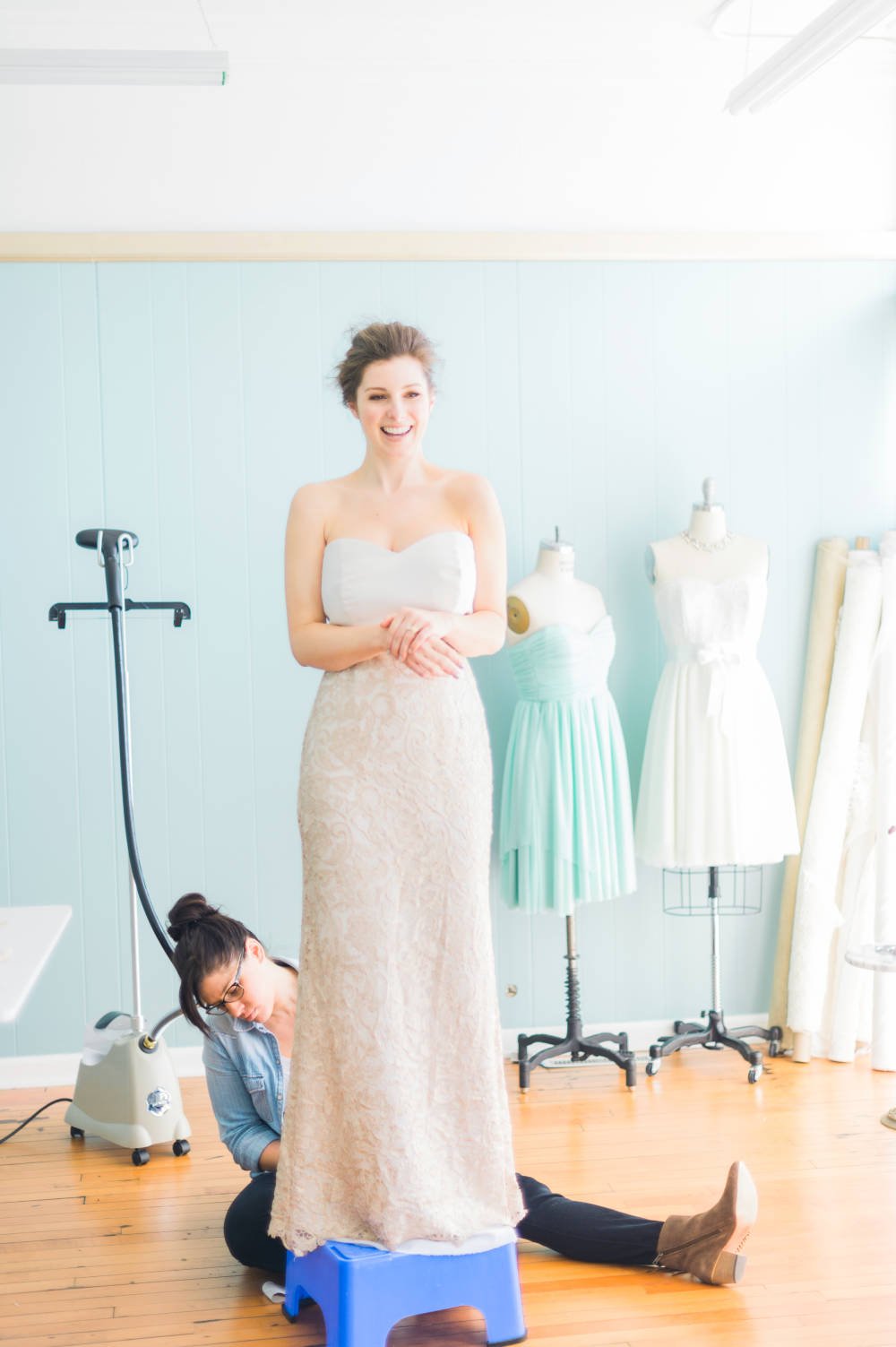 How did you get started making bridal gowns, specifically? I made a dress for one of my best friends who was in design school with me. She got married in 2009, and it was the first bridal gown I had made. I was so stressed out at that time wanting to make it perfect for her, especially because she knows the process and had a lot of specific needs. I thought, I'm never making another wedding dress. But, here we are, and now that's all I make!
When did you get married and become a mother? Steve and I have been together for nine years, married for three. Our daughter Betty is 18 months old, born last summer. She is a handful and so wonderful.
She is named after Steve's grandma Betty, and my grandma Jane. We really set ourselves up for disaster because these two women are the most spirited women! We bought our house from the daughter of my grandma Jane's best friend. When we realized we had a connection, she talked to us about Jane. She said my grandma Jane was someone who you always wanted to have at the party. She was "Crazy Jane." She was the one you knew you were going to have a good time with. And that's how grandma Betty is too, and we can just tell it's coming into our Betty. She is fun.
I had worked full time up until I gave birth to Betty. I had a full-time job and made dresses on the side, also full time.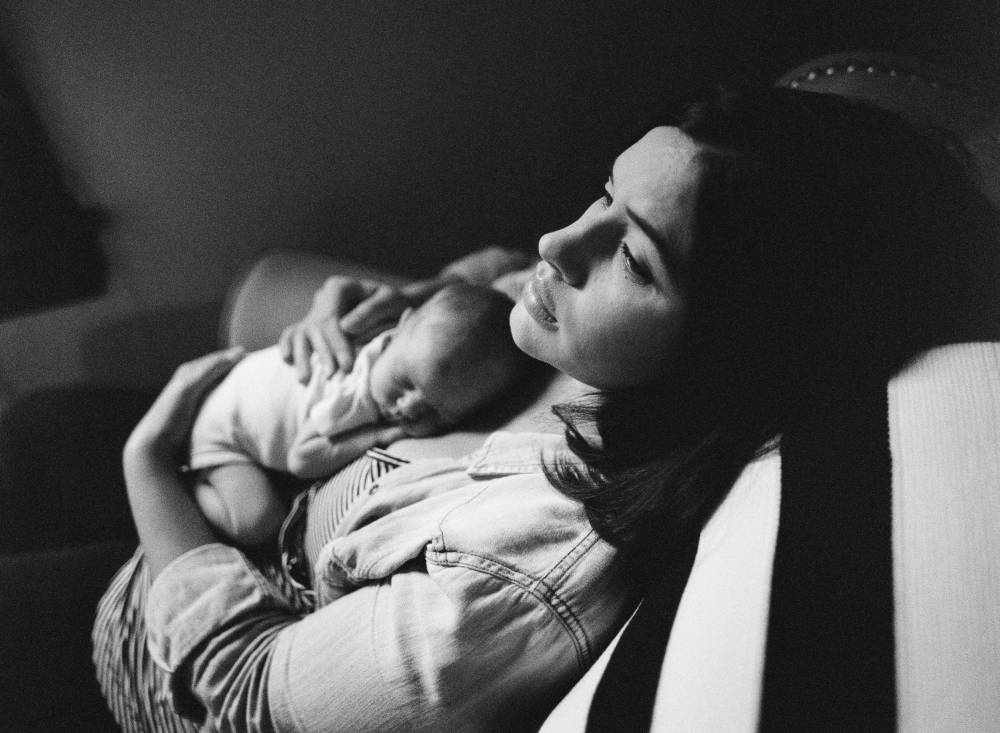 What were you doing for your full-time job? I was in product development and technical design at Bon-Ton corporation. I made good money and I had benefits, but it drove me nuts to sit at a desk job, working for somebody else. I felt like I was wasting away. It was eating at me, from the inside out.
My business was at a point where I needed more time to devote to it to really make it grow. And then I got pregnant. I decided I could wait it out until I had the baby, and now I feel like I worked in the studio more when I had a full-time job than I do with a baby. That has been the biggest challenge for me: balancing out my schedule.
"It feels so long ago that I had this other job and this other life, but I've never felt more at peace and fulfilled than I am now, because I'm not weighed down by somebody else."
We were working towards me transitioning into full-time design, but it was never going to be the right time. We were never going to have the right amount of money saved. We were trying to be as smart about it as possible and then we got pregnant. It's never going to be the right time to have a baby either, so we just thought, let's just do it and see what happens. It feels so long ago that I had this other job and this other life, but I've never felt more at peace and fulfilled than I am now, because I'm not weighed down by somebody else. I always knew that I didn't want to work in a corporate setting for my whole life.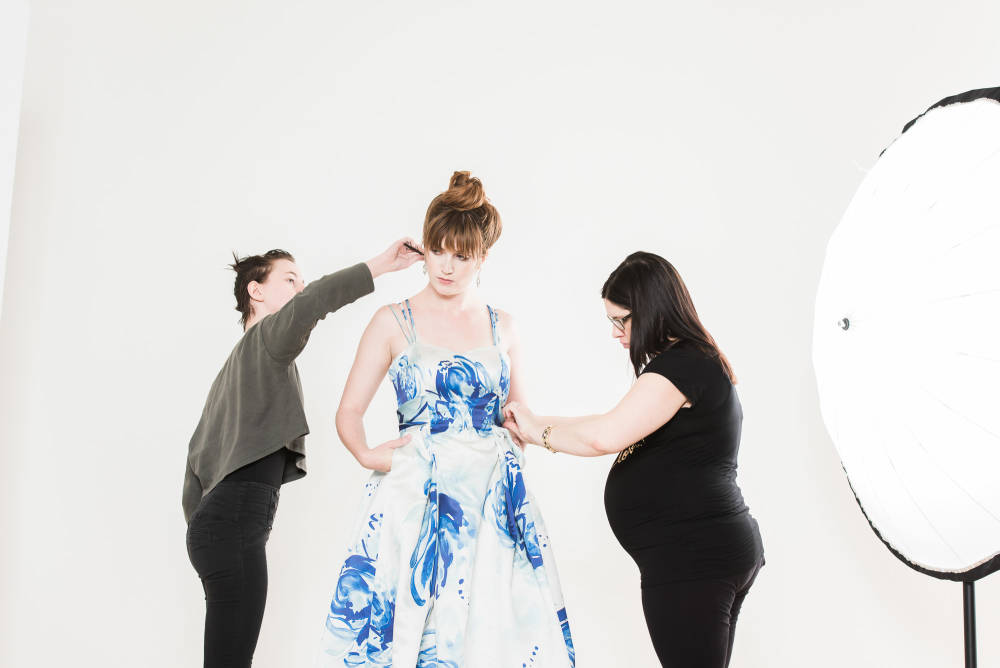 Steve and I have been together a long time. He is part of me. I am part of him. And to have added to our family is just this whole other level. Our life is nuts, but in all the best ways. We are making it work. We are figuring it out.
How was that conversation between you and Steve, when you decided that you wanted to quit your corporate job? He knew. He was rallying behind me even before we got pregnant. He told me, we need to make this work for you. You are miserable. He's always been supportive, and he knew from the beginning. I supported him when he was in school. I was his backbone then, he is my backbone now. He's been there all of the days when I wondered if this was the right thing to do, giving up my salary, losing my benefits. But he said we'd figure it out. "This is your time. I had my time, this is your time."
I had already built up a strong base for my business, and even in the last two years things have kind of shifted gears here, taking a different direction than I had originally planned. That ability to be flexible is important, so that I can create what I want in the end.
What are some of the major challenges that you had in your transition to motherhood? The hardest thing for me has been the fact that I am not in control of my schedule any more. I have always been fiercely independent and I do what I want when I need to do it. The fact that I now have to rely on other people when I need to go to work is hard. I have always been career driven, and very focused on my work, and to put that on the back burner made me very nervous, even when we were just talking about getting pregnant.
I wondered if it was the right time to leave my job, if I should have left earlier to give myself a head start on the business full time. I wondered if I would ever be successful. But then it just happened, and I had no choice.
I have had to learn to be flexible, that I can still get my work done even if it's not going to be exactly what I expect it to be. I am still on my own and I still have my space. Instead of working nine-to-five, I am working around the clock, when I can. You have to go with the flow, and figure it out. The first year especially was really frustrating for me; I had to realize that I need to set a schedule for myself, but I would not always be able to follow it.
For you, what has been the best way to cope with that challenge? I've had to change my mindset. I've been working with a business coach who specializes in bridal designers getting into wholesale, and that's been the biggest thing that we've focused on. Mindset and positivity about the work that I do, but also helping me get through home life. I was always so in control of my life, and I've had to realize that it's okay not to be. It's okay to just let things slide and relax a little bit.
Sometimes I don't get to the studio until noon, and I'm learning to be okay with that, and to make decisions about what I can get done in a shorter timeframe than I was hoping. I'm learning not to dwell on what I could have done if I had gotten to work by nine. It's a different mindset. I don't have a set schedule. I have a list of to-do's and if I get through the top two things: success.
From what I understand, this is going to get easier! That's what everybody says anyway! It's coming. I'm still in the growth phase, still setting the foundation and building up the business, so in three years when we are thinking about Betty starting school, I should be in a different place completely.
But I remember the first six weeks thinking, "This is just what my life is now! I'm just here to feed you and change you for the rest of my life." It is still a little overwhelming sometimes, but I'm figuring it out.
What do you do for child care while you're working in the studio? We have been very fortunate that my mom comes two days a week and Steve's mom comes one day a week. They each live about an hour and a half away, and they'll come to spend the night and watch Betty and my niece, Dotty. Steve doesn't work on Tuesdays so I can come to work for awhile, and we trade off on the weekends.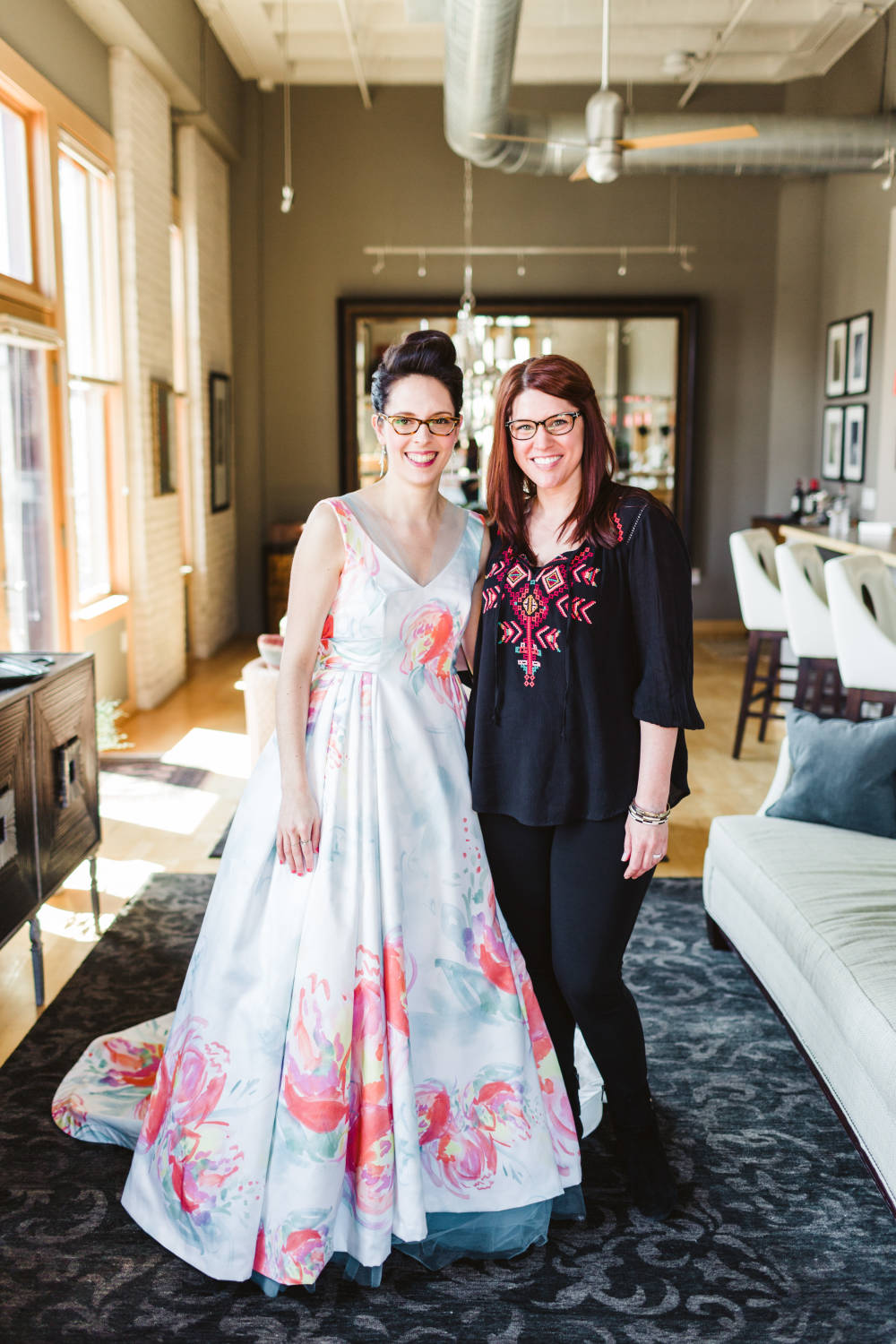 What inspires you the most in your work? I am really inspired by women who were like me and never saw themselves as traditional brides. They are looking for something outside of the box that might not be available for them. I am inspired by people who want something more from their life and from their wedding, and want to represent who they are through their wedding dresses.
One bride, Alicia, was the one who kicked me off in that direction. She didn't want to wear a white dress. She just wanted something really fabulous that represents who she is, and I told her, "Let's do it. Let's find a way to do this. You don't have to do what everybody else does." When I find that gem of a bride, that is really inspiring to me.
I've always been very driven to make my own thing work and be successful for myself. But now, I want to be a strong role model for Betty. I want to show her that she can have control of her life, and she can do these things for herself. That's a big inspiration for me. Wanting her to be proud of what I've accomplished, and not just doing it for myself.
"I've always been very driven to make my own thing work and be successful for myself. But now, I want to be a strong role model for Betty."
What are some of the joys that you've found in this journey of watching Betty grow? Betty is also very independent. She is very inquisitive and wants to figure out how to do things by herself. I get so much joy in doing things for myself, so seeing that excitement in her brings me a lot of joy. It's exciting to know that she already has something about her that is going to be different and outstanding. There is something extraordinary about her.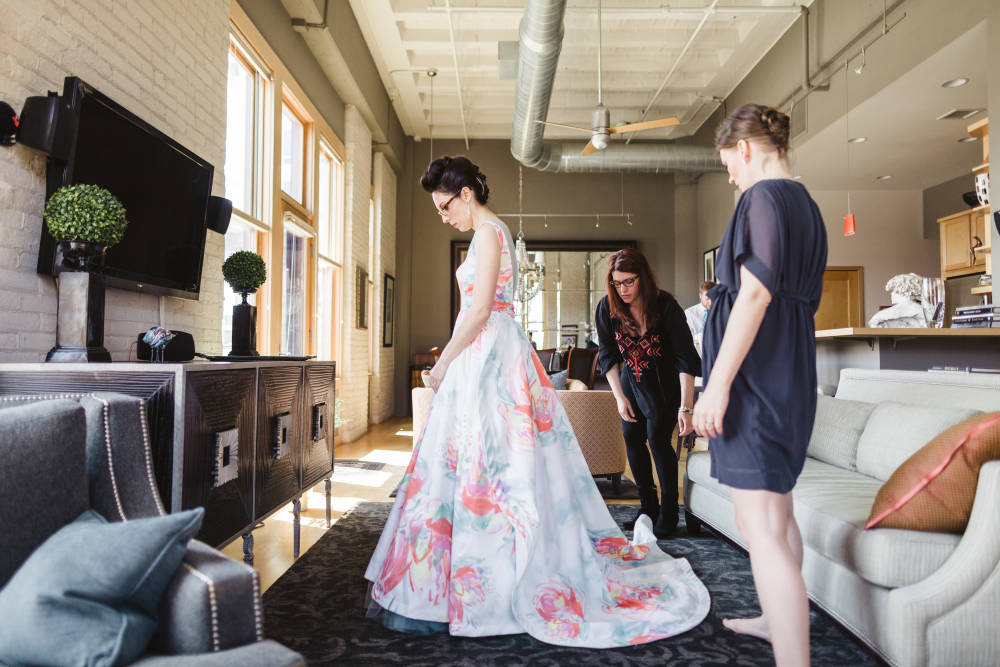 What are you excited about for the future? I'm excited about the foundation that I've laid in the past six months. I recently showed my collection for the first time in New York, and that's a big deal for me. I did a lot of work for it and I exceeded my expectations for it. I am excited to see where the next year takes me, and how I'm going to grow my collection over the next five years.
I would love to have a showroom that is a home base for my collection and a working studio that also supports other up-and-coming designers. The Midwest is still a pretty traditional market, and I want brides to come to me because they like my style and want me to create something truly different for them.
The way that Milwaukee is growing, I think there will be a pull for that eventually, but right now a lot of brides will go to Chicago searching for their gowns. I think if they had the option to support local designers right here in Milwaukee, they would.
Who inspires you, and the work that you want to do with your business? I went to New York this past April, specifically to check out a bridal boutique, Schone Bride. The designer, Rebecca Schoneveld (also a Mother Maker), built this incredible store and an incredible following. Her shop is her work space. You can see her pattern makers and her sewers working in the back while you shop small labels. That is exactly what I want. Would it work in Milwaukee right now? No, definitely not. But the way that we are growing, maybe five, seven years, for sure. I am excited about that prospect.
What goes into taking your collection to New York to show? I put together a 17-piece collection, but the prep for it starts six months out. I did a lot of research, and came up with a list of two hundred boutiques that I feel like my collection could fit in, stores all over the US and Canada, and also in Europe and Australia. I reached out to them all, sending postcards to introduce myself. It's months and months of outreach, asking for appointments during my scheduled trip to New York. My goal was to get eight appointments, and I ended up with 12 appointments within a three-day window.
I showed my collection in a suite at a hotel, and brought a model with me rather than hiring a model out there. For each appointment, I have my model show the dresses and talk to the client about my background, my story, how I have a passion for clean, simple designs that fit well with quality construction and fabrics. It's a big investment for a shop to buy into a brand that's just coming into market, so I went into it knowing that. In the end I booked 13 trunk shows, and now my collection is on tour all over the country until April 2018.
Wow. Congratulations! I could get down on myself, because I didn't make any sales during market, but that doesn't mean it was unsuccessful. It's incredible that I had that many appointments my first time in market. Now I have exposure all over the country and I'm getting feedback from brides and stores that will help me adjust for what I want to do next. The development for the next collection starts next month, and then it starts all over!
"Having your child see you do what you love and be happy with your life is the most important thing for them to see."
Do you have any advice for other Mother Makers? Show yourself some grace. It's not easy, but having your child see you do what you love and be happy with your life is the most important thing for them to see.