How did you get your start in film? I started in television first. I was casted to be in a TV show when I was 15 in Uzbekistan, where I am from originally. They were looking for a host for a teenage television show, and it was a lot of fun. During that show, three or four of my friends and I put together our thoughts about how the show should be, and they began working with us to produce these TV shows. So I had been hosting that show for awhile, and also started hosting a morning show while directing that teenage show. I really got interested in the back end of it almost immediately and started editing right away.
Sitora Takanaev Director's Reel
Then I got married when I was 21, and moved to the U.S. My ex-husband got a job here in Milwaukee. He's from Uzbekistan too. He moved first, and then I followed a year later. While we knew we were young, we were in love and wanted to be together, so we got married and came here. Then I had to start over, because I didn't know anyone and didn't really speak English.
I started to figure out what to do, and someone told me to look into Milwaukee Area Technical College (MATC). I found that they had a television program, and I thought, why not? I already know how to do all of this. So I went into the program and it was the best idea for me. People were recommending that if I really wanted to make it I could become an accountant or a nurse, but I was an artist. I had been in a creative field since I was a teenager.
The immigrant community is very interesting, because on one hand it can be really supportive, but at the same time it can be hindering to your development. You are expected to take the same path as the people that came before you, and it's really hard to be different. They are willing to help, but at the same time there is the thought that "you should do things this way because we've done it this way for ages." But I was 21, and I didn't care. So I went to school.
Did you have a support system set up before you came here? How did you get surrounded with a community? No. I didn't know anybody. My ex-husband had his uncle and aunt and cousins here. So I came in and was a part of their family. They helped us out a lot in the beginning. You have to have this kind of family. With the immigrant community, there are still people I stay in touch with, but at the same time those people were a lot older than me. I wanted to go to college, so I created my own community.
When did you become a mother? At the time, as a spouse of someone who works on an H1B Visa, you couldn't work. We were in the process of getting a green card, but I couldn't work so I was going to school and had some side things that I was doing, like volunteering in production companies. Basically I was interning for free as a production assistant where I could. I knew I wasn't going to get my papers for another two years, and I decided to have a child.
I always knew that I wanted to have a kid, and I thought, well, maybe it's a good time. I was 23 at the time. Maybe this is because of the model my mom created in my life, but I always knew that if I had a kid I wanted to be home for at least two years. I couldn't imagine doing it otherwise. So that was good timing, and I had my daughter when I was 24.
Were you still in school when you had your daughter? I was pregnant. I have a picture of me with my big belly and my diploma when I graduated from the course. I had her in August after graduating. I definitely was just home for the first six months, and after she turned six months I started working at Milwaukee Public Television part-time, just two days a week, helping out with graphic design and motion graphics. They were really supportive, but overall, I was pretty isolated when I had my daughter. I didn't really have access to a lot of other moms, and especially not moms who were artists.
I'm working on a feature film right now, about this subject. I'm exploring that isolation, and also this immigration aspect, when you get removed from the line of mothers, what happens to you as a mother and your identity, and your interaction with your own child. As humans, we are still connected to our ancestors and our roots, and how things go from woman to woman, especially in motherhood.
Since the dawn of time, mothers were always supported, because it's a very hard task to rear a child and always be with that child. So "it takes a village" is completely right. You can't get away from it. And I was alone for the most part. There were some people that were helping and I definitely had some people that supported me, but it's different when it's your friends and your acquaintances. It's different when you have your close, blood-related family members who are willing to be there. You feel like you can rely on them more, and you can ask for more. I felt bad asking for help, because people have their own lives, and I didn't want to reach out. But if it had been my mom or aunts, I would have felt more comfortable.
What inspires you in your work? The main inspiration for me always comes from reading. I am a huge reader, and always have been, since I was very young. I used to read a lot instead of going out to play with my friends. Still, to this day, I get inspired by reading.
A big part of my inspiration comes from traveling. When you remove yourself from your own situation, you become more open and alert. I find that I write a lot more. I actually just applied for a residency in Spain for writing, and I just heard that I got in. I'm one of 20 writers that they selected. It's an isolated farmhouse, near Barcelona, and I can go for up to three months. I'm very excited, because having her there with me will help me to focus on my art more.
"A big part of my inspiration comes from traveling. When you remove yourself from your own situation, you become more open and alert"
So will you bring your daughter? Yeah. If I go in summertime I can bring my daughter. She'll be off school so we can both go. She'll be 11 in August, and she's pretty independent. She's already doing a lot on her own, so I won't be concerned about her being there and she won't be a distraction.
Is she an artist? I don't know. It's really hard to tell right now. She basically grew up on set with me, going to shoots. She's been in films and my friends' films since she was a baby. She's always around this community. She hasn't shown any interest in anything yet, but she's very imaginative. I really don't care if she'll be an artist or not, and I'm not going to stop her from wanting to be one. If you have a need to create there's nothing that can stop you.
What are all the things that your career encompasses? I have a casting company here in Milwaukee called Cream City Casting. We find people for photo shoots and video shoots. A bigger part of that company is called Cream City Works, which is a full production support company, which includes finding locations for photo shoots and video shoots, and any production support that is needed for crews coming into Milwaukee to shoot.
Cream City Casting is a unique company in Milwaukee because there wasn't a company that did casting in Milwaukee. We find real moms and kids. We find grandparents and different people with different skills. I started that four years ago. It's my other baby. In the midst of that, I've made five short films that have screened at the Milwaukee Film Festival.
Cream City Works is very connected to what I do as a filmmaker and it actually helps me to become more organized as a filmmaker. I know what comes into play when you're making a film. My goal for Cream City Works is for people to come to Milwaukee and realize that they can have a great experience shooting here. We are a really fun city to shoot in. It's easy to work here, our permitting system is really friendly. And people are friendly. We always have to compete with Chicago when it comes to production, but I think there's so much value in Milwaukee. There are so many scenic locations, a lot of interesting businesses. I saw the need for consistency and resources.
What are you most proud of in your artistic work? The first project I wrote myself, and wrote the script for, was based on my own brother. He has mental illness, and I sort of wrote from the moments that I've experienced with him. It's based on him, but it's also fiction, so there are things that I made up. But, I'm really proud of that film. It's called "A Walk with My Brother," and it screened at the Milwaukee Film Festival last October. I'm proud that I wrote it. It gave me confidence that I can write my own feature screenplay, which is a huge undertaking.
I can think about maybe one or two scenes where I felt like it's exactly how I envisioned and felt it. As a filmmaker, I don't think you can completely say "this is exactly how I envisioned it." You can bring the vision to life, but the emotional part of your story and the character is something very illusive.
"I strongly believe that if you're focused on your own art inside yourself, that's more important than being completely focused and sitting around in one spot for a long time."
You have your hands a lot of different projects. I am the same way, and I find myself questioning that aspect of myself a lot. I often think that to be successful at something, you've got to stay focused and run with one thing. What do you say to that idea? What good comes from having your hands in many different projects, and what does that bring you as an artist? I actually questioned that exact same thing in myself, this last year. I came to the conclusion that it all depends on the artist. There are artists who have to be completely focused and doing one thing, and that is beneficial for them; that is how they create their art. And then there are artists who only thrive when they are doing different projects. You have to listen to yourself. I actually realized that about myself in the last couple years, and I was really hard on myself about that. But it's a very structural organized thing in my head. I actually have a spreadsheet with all of the projects that I'm working on and the tasks associated with them. I jump from one to another, but that's how I work. My daily work is the same way. I can't focus on one thing for a long time. Maybe it's a flaw, I don't know, but it's the only way that I thrive. It's necessary. Why fight yourself and try to reinvent how you work? I just accept it, this is how I am.
Like I said, I have this business, I am a filmmaker, I have a start up right now, a residency I'm try to do. So it can be overwhelming for someone who doesn't think the same way I do. But if it works for you, you thrive and become successful. I strongly believe that if you're focused on your own art inside yourself, that's more important than being completely focused and sitting around in one spot for a long time.

As a single, working mom, and an artist, what does your daily life look like? Well, thankfully because I'm my own boss it's easier to manage. I can work from home a lot. I can bring my daughter to the studio.
We live in a very walkable community, and she just started walking to school on her own. I get up and help her out, and she goes off to school while I read in the mornings. I have to read a little bit, so I have my coffee and read for a little while. Then I come to the studio if I have to, and do work and meet with people. Sometimes I just go to meetings right away.
My daughter and I just started taking Jiu Jitsu together, which is a lot of fun. That same gym offers kickboxing, so I do Jiu Jitsu and kickboxing in the evenings. We go together, and then we come home and I make dinner. I cook pretty much every day. Then we do homework if there's homework, or we watch an episode of The Cosmos or Nature's Weirdest Events. My daughter and I are really into nature shows.
What does she think about what you do? Well, she knows that I am a filmmaker, so she knows that I make films. A lot of my work is on Vimeo, and she's in a lot of the videos that I made, so she likes going on Vimeo and watching herself in my videos. She always sees my films, no matter what. She always comes to my screenings.
Her dad and I are still really good friends, and have a good relationship. We moved here together when we were kids, and we really appreciate each other. He brings her to my screenings, and she knows what I do.
Sometimes I feel that I'm not always present when I'm with her. It's very hard to be when you have a lot of things going on, and that's something I have to work on. It's a hard balance because I can be with her physically, but I'm not "there" because I'm working. I'm sure a lot of mothers feel down on themselves a lot, especially in this time. There is this centuries-old guilt that you have to be a mother and focus on your kids, but you're also a person. It's tough.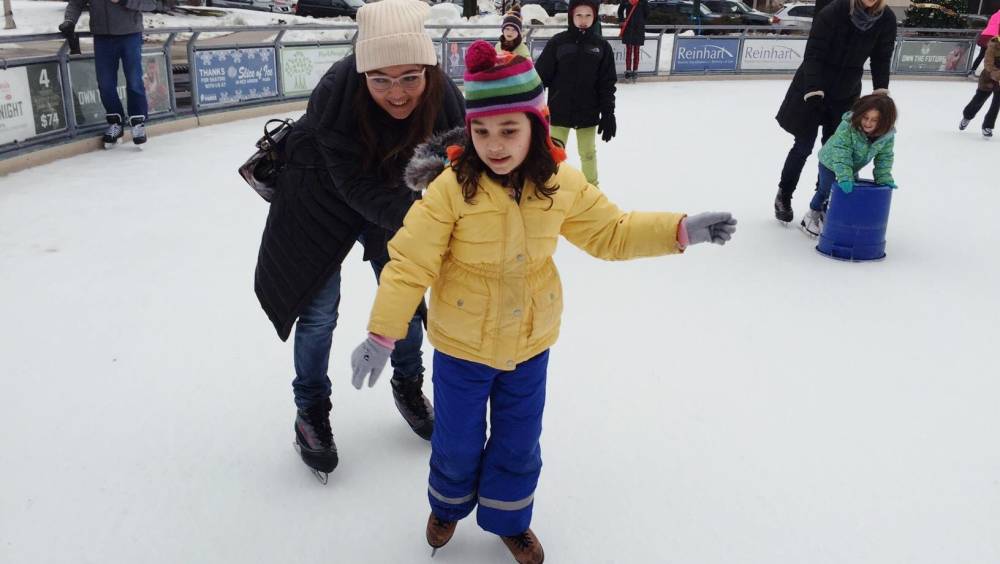 You almost have to live two lives at the same time, if you want to do what you love and be a mom. That's something that I want to explore in the film that I'm working on right now. Once you have a child, especially in the beginning, it's just nature. Nature made it this way, that you give part of yourself to your child. The security, the well being, especially in the first years. Nature makes your brain focus more on your child. Being an artist and a business owner comes second.
Then I have to find that balance and figure out how to keep that going when my brain and my body and everything else is pulling me in a different direction. It's a tough balance. I think that's why I feel like there's not enough support and help when it comes to motherhood right now. Yeah, we have superpowers, we can do it all, but at the same time we are so vulnerable and we still can feel emotionally unstable.
"You can only be good at all of the things that you do for you and your child if you are balanced inside."
What advice do you have for other Mother Makers? You can only be good at all of the things that you do for you and your child if you are balanced inside. It took me awhile to get there, and it took me a lot of reading. Listen to yourself when it comes to how to find that balance. I don't have a formula for how to find your own balance, but once you do, everyone's better off.
On the other hand, be careful about trying to do too much. I'm very ambitious, but this last year I had to step back and figure out what I want to do, how I want to grow. Stress was a huge part of my life for years since having this business, and being a mother. Stress is there for all mothers. I learned that the way you look at stress and deal with it is important. Don't let the small things get to you. You have to realize that stress is just right now. It has nothing to do with the bigger picture of your life.