Where did you grow up, and were you exposed to the arts as a kid? I grew up in Miami, where I live now. My father owned a ladies' clothing company. I remember walking into his space in the warehouse where there were rolls and rolls of colorful fabric. My father's initiative to take a risk and start his own business from nothing was definitely a big influence on me. Growing up climbing on huge colorful rolls of fabric in a warehouse where he manufactured his own designs was a big perk too.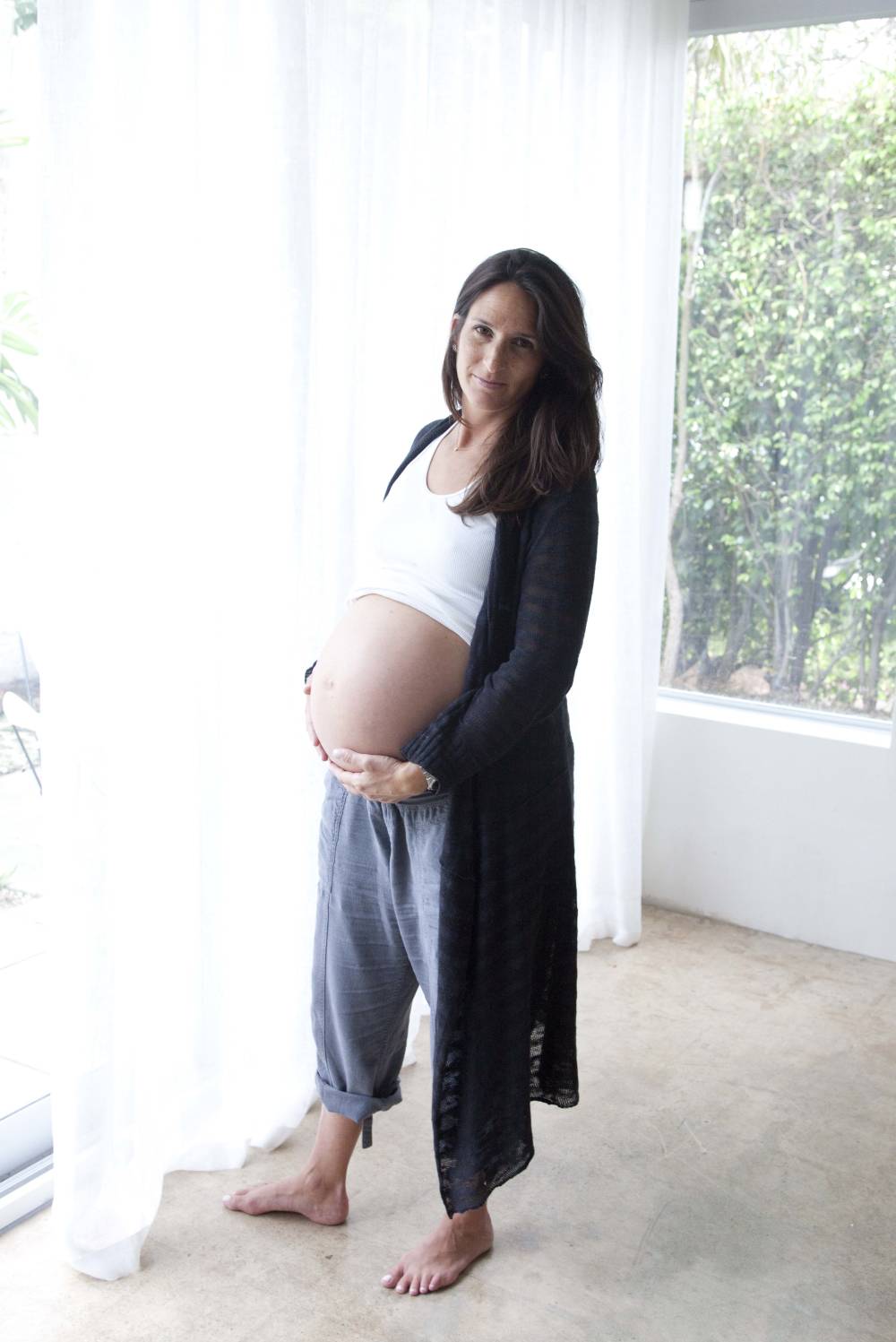 When did you get interested in film? I remember being twelve years old, sitting in the theater, completely sad about something, not knowing I was about to see "Back to the Future." When the movie was over I thought, oh my god. This is all I want to do. The magic of cinema and the possibility of being mentally transported had a huge impact on me.
"I remember being twelve years old, sitting in the theater, completely sad about something, not knowing I was about to see Back to the Future. When the movie was over I thought, oh my god. This is all I want to do."
Did you end up going to school for film? In high school I signed up for an internship at a television station to begin learning what goes on behind the camera. And at university I concentrated on English and philosophy but found myself choosing the film and video department for a lot of my classes. It was so great I almost felt guilty, like I should be majoring in political science. But I decided ultimately to concentrate on film and video. It was at university that I learned that not only can film be magical in transporting you from one space to another, but that it can also be a tool to educate the masses.
I learned that documentary film can be used to create social change. It was a very big, pivotal moment for me. I joined a summer program at New York University, where they give you a camera and you go and shoot. I loved my experience and my professor at that summer program, but I also realized how much I loved studying theory and criticism of film at the University of Michigan. Learning about the history of the world through the eyes of the camera, from Italian neorealism to German Expressionism, to films like "The Battle of Algiers," became confirmation that I could spend the rest of my life telling so many different kinds of stories through the camera. College taught me that film wasn't just someone's creative imagination on celluloid. It was also learning that as filmmakers, we have the power and the tools to create social change. That was a big deal for me.
Rhonda Mitrani's latest film, 'SuperMarket'.
When did you move to New York? I graduated from the University of Michigan and then came home to Miami to try to figure out what I was going to do next. Two weeks later I was packing my bags to move to New York. I started working right away. It felt like home. I love New York. I grew up. I made mistakes. I learned work ethic. I was there for nine or ten years, but between my eighth and tenth year I was back and forth a lot because I was invited to run a post production division for Gun for Hire, a film company in New York that had opened an office in Miami. I also felt invested in my home city. I wanted to help grow the film community, and getting thrusted back into my enormous Latin family was a factor I always contended with.
When I moved back to Miami, I started a documentary film festival with a friend who is also a filmmaker. I was idealistic, in my late 20s, and I thought Miami would embrace an infusion of independent film. We had access to so many wonderful filmmakers abroad, so we started The Florida Room Documentary Film Festival. We brought fantastic documentary films to Miami for five years. It was great, because we created this public discourse between the producer and directors of the film, as well as local and national organizations related to the theme of the film. We explored some super hot topics with some documentaries receiving Oscar nominations.
During that time I fell in love and got married, so I never did end up going back to New York. I miss it every day, but Miami is a really nice place for kids to grow up.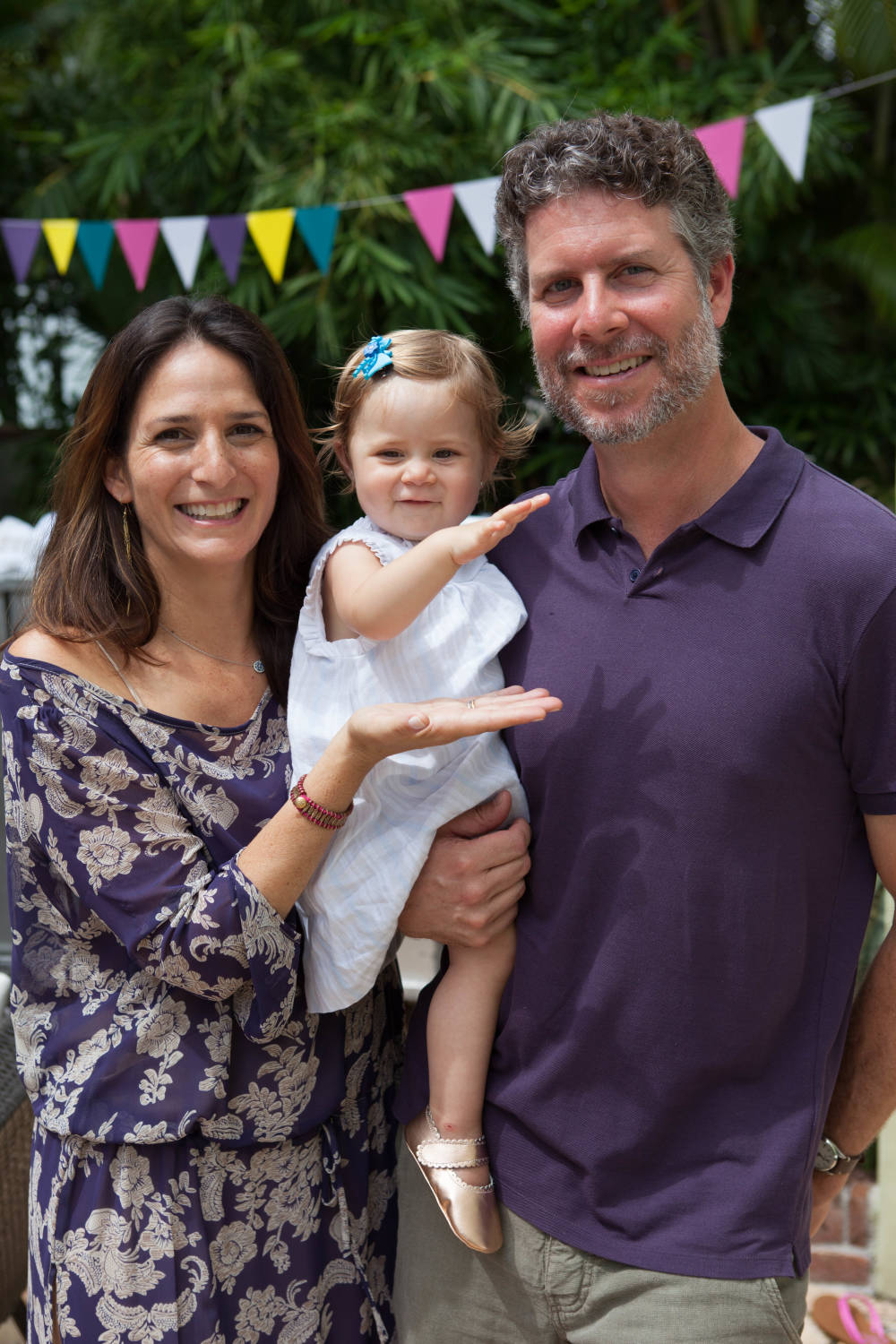 When you first moved to New York after college, what was the plan? I wasn't sure. Being a beach girl, my biggest concern was how I was going to be on set carrying heavy machinery in the freezing cold! Then I realized that at school I had always been in the edit room; it was my favorite part about telling the story. Those two things combined led me to pursue work in post production. I landed an internship at a place called The Tools where we learned to assemble a new machine called Avid. Everything was going digital! After that I landed a job at Miramax, where I worked for a few years in post production. At night, I was moonlighting as an intern for different editors so I could learn how to edit film.
Eventually I worked as an assistant on a documentary called Modulations and I edited my first feature film, which was a very big deal for a kid my age. That film premiered at the Los Angeles film festival and went on to Showtime. Soon after, my dad called me to tell me we were taking a trip to Cuba, so I decided to shoot my first documentary.
Through all of that time working for other companies, did you know that you wanted to branch out and make your own films? Yes. In New York I worked as an editor because I knew that it would be an excellent way to learn how to tell a story on film and also important to have a skill set. When you develop a skill set, you become an invaluable addition to the workforce, and you'll always be able to find a job. The way I survived in New York was to keep working as an editor, and when I couldn't get a job on a film, I would work at a fashion house on Look and Feel reels, using my skills as an editor. The first opportunity I had to make a film on my own, I took it. But then the inspiration didn't strike again until recently, believe it or not, because I had my children and I was working on the film festival and exploring video art.
What are some of the projects you've worked on since moving back to Miami? When I came back down to Miami after Cuba, I premiered at the Miami Film Festival and had just signed a contract with PBS to show my film "CUBA MIA" on television. Instead of making another film, I went on to start this film festival. I was working heavily on the film festival and I wasn't inspired to make another film. Instead, I was more inspired to make video art and focus on family. In Miami there wasn't really a film industry. It wasn't like being in L.A., where you're sitting down having a coffee and there are 20 kids writing screenplays. But there was an art community emerging in the city. I was very aware of that because the very same warehouse where my dad designed clothing was located in the new Wynwood arts district, and my sister convinced me to join her in developing the space as an arts entity. That project grew to be very exciting and time consuming because it was about building an art community, which I also love. The arts community here in Wynwood was diverse and it felt like one giant family. It was a very special time for Miami's art scene and we are a significant part of it.
"I have to have faith that all the things that I did in the past are culminating in what I was always meant to be doing."
I kept on getting distracted from making films, even though everything I did was always related to film and art. I don't know if it was to my detriment, but I have to have faith that all the things that I did in the past are culminating in what I was always meant to be doing.
It wasn't the best for me, not staying concentrated on making films, or just editing, but it was good to be following my heart. I stayed in Miami and developed my practice as a video artist, and developed the space with my sister. We were content developers for Miami artists in an old dinosaur of a warehouse. I opened up my own video art space, and I was able to survive through the Knight Foundation and some sales. I didn't really get back to directing films until after having my third child.
When did motherhood happen for you in the midst of creating a career for yourself? This is the interesting part for me. Having my first child was intense. I was overly consumed with her. I couldn't concentrate or do anything else. With my second child, that's when I started writing again, thinking if I was going to make another film, I'd need to know what sort of film it would be. Then my third child came (which was not planned), and you know that Spanish saying, maybe it's from my Cuban Abuela: "every baby is born with a loaf of bread under its arm"? This one was born with the production book under her arm, saying, "Go shoot your film." She was a life changer for me. She was born and I felt like I was off to the races. This is it. If I don't make my film now, I am no longer a filmmaker.
Can you talk more about the intensity that you experienced with your first baby? For me, having that child was almost like someone pulled the rug out from under my feet. And I went through this incredible transformation from Before Child to After Child. One thing that troubled me was that there were so many do's and don'ts, and so many things that I felt I was supposed to be doing or not doing as a parent. This is where I got the inspiration for the film I just made. The pregnancy and pre-pregnancy industry tends to undermine women. The monetization of pregnancy and becoming a first time parent really threw me off, and in a way had me asking questions.
"Becoming a mother is perceived as unsexy. 'She's just a mother. She's done.' But in reality what happens to us is we become superheros, multitaskers and mind readers! We are the unsung heroes of our culture."
Becoming a mother is perceived as unsexy. "She's just a mother. She's done." But in reality what happens to us is we become superheros, mulitaskers and mind readers! We are the unsung heroes of our culture. I feel like change is going to come with the movement that is happening right now. I feel like it's in line with the cultural shift that's happening with women right now. First comes the abuse of power in the workforce, but I feel like it's going to trickle down to empowering mothers.
Projects like Mother Maker are empowering women to think about what the transition was like when they went from independent, possibly focusing on their careers, to creating life. Knowing that they are responsible for this human being who is the future, and learning how to compromise.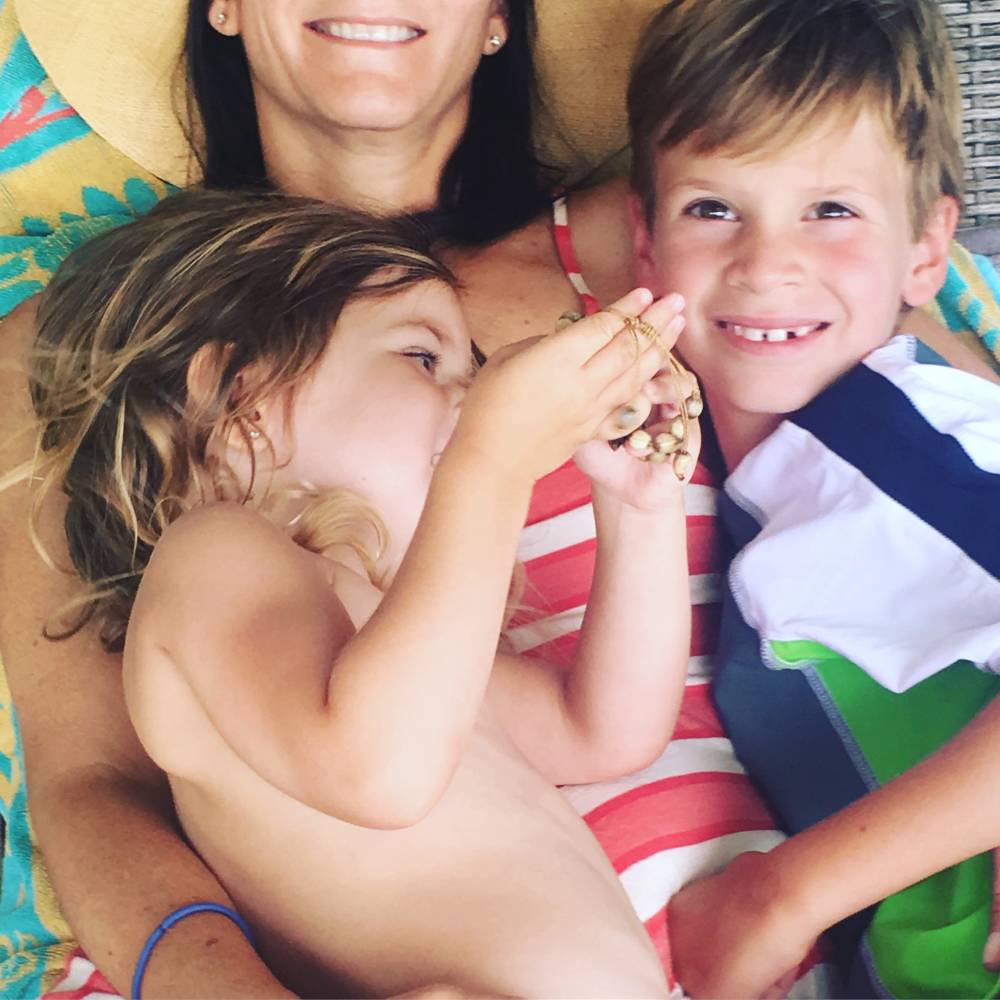 Yes, and also learning that giving life to somebody else doesn't erase your existence. Correct. I felt a huge shift in me when my first child was born, and became more determined to stay focused on continuing my career because I knew that I now had time constraints and responsibilities elsewhere. That might have something to do with my personality, and the fact that I struggle with ADD. I've learned that I really need to compartmentalize and focus. It is a big responsibility to raise a child: their wellbeing, their health, nurturing them. If you want to raise a well adjusted and healthy child, there is a lot of time that needs to be invested. It doesn't happen on its own.
Then there is your career. If you're passionate about it, if it's something that you love to do, you need to find a way to make time for yourself, continue your education, and create projects that lift you to new levels.
Would you say that you took a "break" when your kids were small, or was the creative process kind of still happening through all that time? The creative process never stopped for me. The creative process was really cooking when I was rocking my child and breastfeeding her at 2 a.m., 3 a.m., 4 a.m. My first child never slept, so that's when I took the opportunity to rock her and dance into my own reverie of ideas and possibilities as a storyteller. I had a lot of aha moments at 3 a.m. The creative process doesn't stop because you have a child. How about you?
Well, I'm kind of still in the midst of that, with my son just having turned two. Right now, my creative outlet is Mother Maker, but what really drives me creatively is collaboration with other artists. After graduate school I started a trio of musicians and dancers, making original work for the stage, out of improvisation. But when my son was born it became harder for us to get together to rehearse. I always felt like if I was going to leave the house, I should be making money, especially if we needed to hire a sitter. So that has stopped a bit, but it's always there. I want to get back to work with these women because it's so enriching to me. We will see if this year brings new projects for us, but right now I am working on creating this archive of all of these inspirational stories to drive me forward. When Drea was born I was always wondering: Is anyone else feeling what I'm feeling? It's not fair. When you're working in the arts, you're bringing in very little or no money. So you don't feel that you have the right to go out and work without pay. You know you're investing in yourself for the future, but you're not bringing home a paycheck. As supportive as your husband is, you know that's in the back of your mind, and it's a huge source of guilt. Luckily I had a sister who was like, "What are you doing? Stop feeling guilty. You have the right."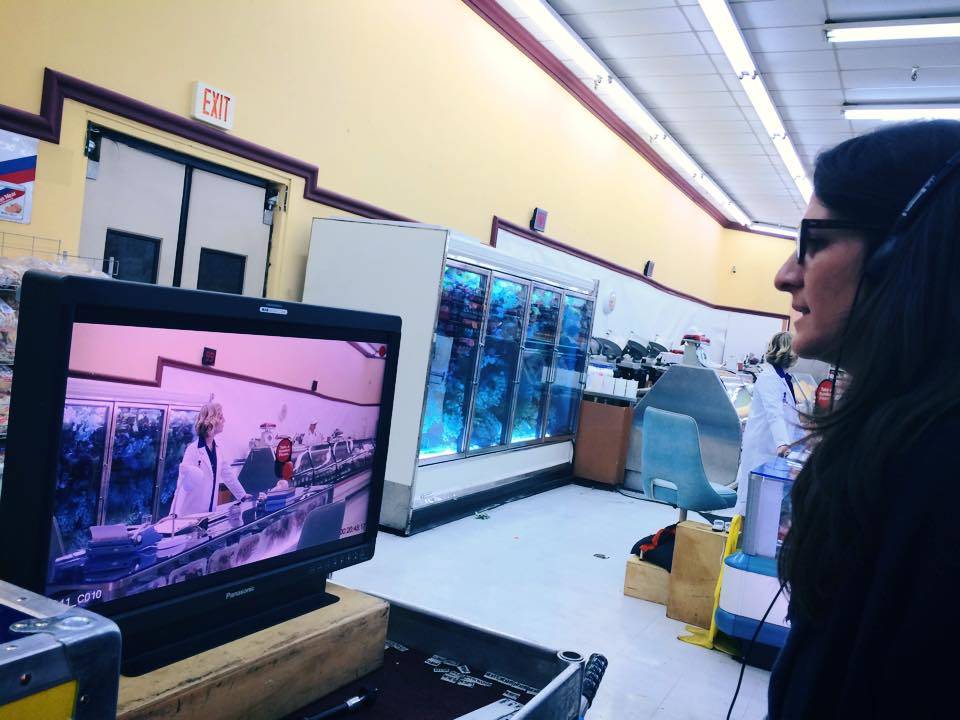 Now that you have experience with that situation, and you're back to making films, what do you say to your former self, or new mothers? What is the value of making work when it doesn't bring home money? You will find a way to make money. That will come. You have to find a way to bring in income, even if it means sacrificing other things so you can invest in yourself artistically. I wish I had done these things earlier. As women, we tend to contemplate and feel guilty about what we should or shouldn't be doing as parents. What I have learned is that once I started doing those things, I was a lot happier as a person and I was a much better person to my children. I found that I was cranky and short circuited with my kids and my husband when I wasn't doing the things that made me happy.
Life is too short to not do those things. It flies by, and then we're gone. What else is there? I really believe that. The person we are feeling most guilty towards is ourselves. At the end of the day, your husband can get upset with you and make you feel bad, but he shouldn't have that much power over you. The more you invest in yourself and the more you find inspiration to do the things that you love, the more attractive you're going to be to your husband anyway.
I did not know any of these things until after I had my three children, and made the second film. And the film is all about this very topic. It's called "Supermarket" and it's about the "supermarket" of the pregnancy industry and how we tend to take advantage of women who are in a vulnerable place.
What do your kids think of mom being a filmmaker? They love it, and they respect mom more because of it. My eldest is very proud. When I mentioned to her that I might not reopen the gallery that I started, she had a fit. "No! How could you? You have to keep going mom!" When I said to her the other day that I couldn't spend time with her because I had a meeting and needed to work for an hour, she said to me, "Well, what are you doing? Go do it!" I thought she was going to argue with me about it, and she was like,"Take two hours if you need it!"
When you respect your own work, your children respect your work as well. When they see that you have the commitment to your work, they will do the same. Drea showed me that. She wants to see mom succeed.
Are your kids artists? I think my third one might be, but my first two are still "to be determined". I want them to do what makes them happy. Although my first one does want to be a pastry chef. My second one is a mathematician. The third one, we'll see. She might be an actress. I feel lucky because I pursued what I loved, and I think that everyone should.
What are you excited about for the future? I'm excited to see where "Supermarket" is going to go, because I know that once you're done with a film it carries on its own life and empowers certain people in an audience every time there is a screening. I am looking forward to the conversations that follow the film.
I'm also excited to continue raising my children. Just when you think you've found the balance between being a committed parent and doing what you love in the arts, things get shaken up. It never stays the same. I understand now that there will always be a juggle, but that you'll always find a way. You'll have moments of feeling balanced, and you'll have moments of feeling off-kilter, but it's all part of the process.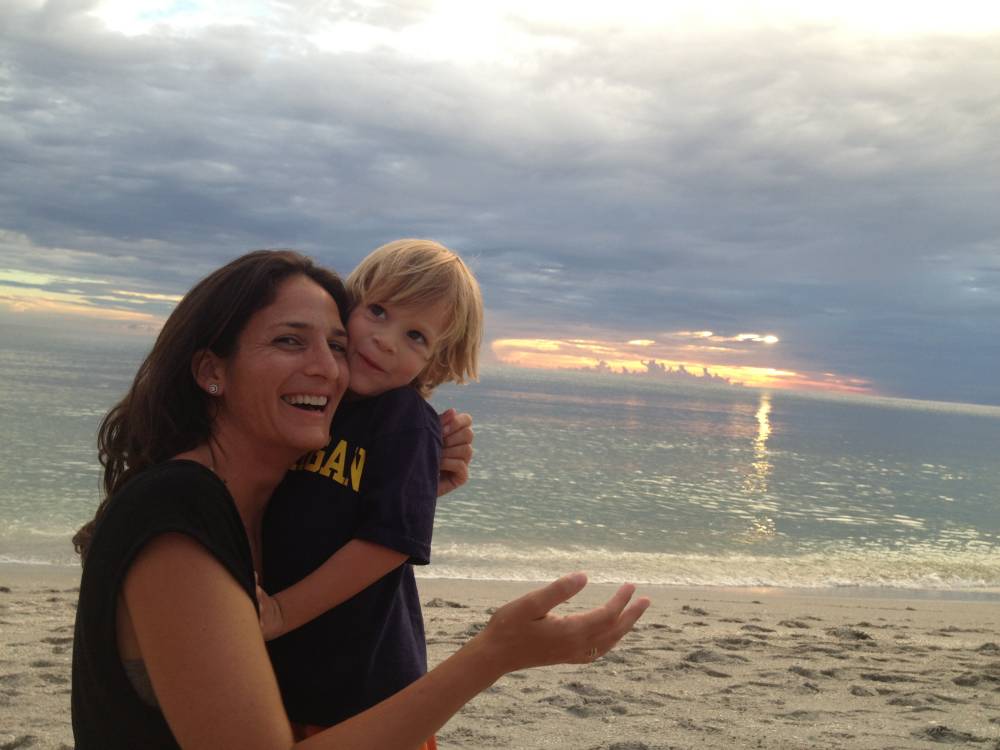 Do you have an ideas for next projects? Yes, two. I really would love to interview and talk to Sylvia Earle, who is the first female scuba diver and a pioneer for our oceans. She wrote a wonderful book called "Sea Change."; Second, I'm writing the script for a story of several generations of women who struggled with immigration and adapting to new cultures and family struggles in Cuba. And it's a very magical realistic story, and I would love to make that film. So I have two projects that I can reach for when I'm done with "Supermarket." We'll see what happens.
What makes you proud, as a mother and as an artist? I read a quote yesterday that said "Nature does not hurry, yet everything is accomplished" (Lao Tzu). I am learning with maturity how to be more patient with myself. And consequently I've become more patient with my children, which is integral to teaching them certain fundamental core values like empathy.
It's the same thing that I'm proud of as an artist. My girlfriend who is a poet and a writer once said to me (because she knows that I am overly ambitious wanting to do this project, and that project, and be involved in the PTA, etc.), "You can do all these things, Rhonda, you just can't do them all at the same time." Patience and perseverance are virtues that I'm learning.
"Do what you love and have faith. Trust in the process and yourself."
For example, today is my first day back. My kids had the flu, and there was no school. Last week I had my youngest home all week. It's just been children, 24/7. Today was my first day back and it was invigorating. I went to a morning yoga class, I came to my office, and I'm ready to work. I'm loving the fact that if I have patience I can persevere. Instead, I could have been frustrated all of last week because I had my third kid home with the flu and there was nothing I could do. Instead I was like, it's okay. Let the week pass. Nothing's going to happen. Everything will still be there. The industry is still there. Harvey Weinstein is still a jerk. Mountains aren't being moved right now. Be patient, but remember to persevere in the direction that you want to go as an artist, because you will accomplish everything you want to if you just continue in that direction. One foot forward is better than no foot forward.
What advice do you have for other Mother Makers? Do what you love and have faith. Trust in the process and yourself.