Where did you grow up? I was born in Taiwan and I grew up there. My family moved back and forth between the U.S. and Taiwan while I was growing up, so I was raised in two very different cultures.
What did your parents do? My dad was an engineer in Taiwan, and when he moved to the states for a few years he started a little furniture company with my aunt who lives here. It became a back-and-forth thing for a little while, but then when I was 16, we moved here and settled permanently.
Growing up, did watching your dad and his furniture company influence your artistic life? When my dad was doing furniture in the U.S. I was still very young, so I don't have a lot of memory of that at all. But my mom and my dad are both pretty entrepreneurial, so that definitely gave me a sense of the importance of hard work, having an open mind, and not feeling defeated when things don't go well. They always taught me to not complain and to just keep going. If it's easy, everyone would be doing it. You can't give up on what you want to do.
It became a natural thing that eventually I would start my own business. I went to school for fine art and I'm sure they didn't know what I wanted to do. And to be honest, I didn't know what I was going to do either when I went to school for art. But when I was young, I always knew I loved drawing and painting, and I was pretty good at it. I also loved fashion. So when we moved to the states and I got into university and graduated, I thought, I need to find a real job. I could be a fine artist, but I knew that path was really hard. I knew I needed to make some income right away, so I figured if I needed to work for a company, then I want to work in fashion. I already had my BA, but I went to Otis College of Art and Design and I took an introduction to fashion class. My teacher at that time was also starting a clothing line, so he kind of recruited me. I told him I wanted to intern for him. That I didn't have any fashion experience, but I promised him that I was a hard worker and would learn and do whatever I needed to get into the industry. I guess he liked me too, so he gave me an opportunity and that's how I got in the door.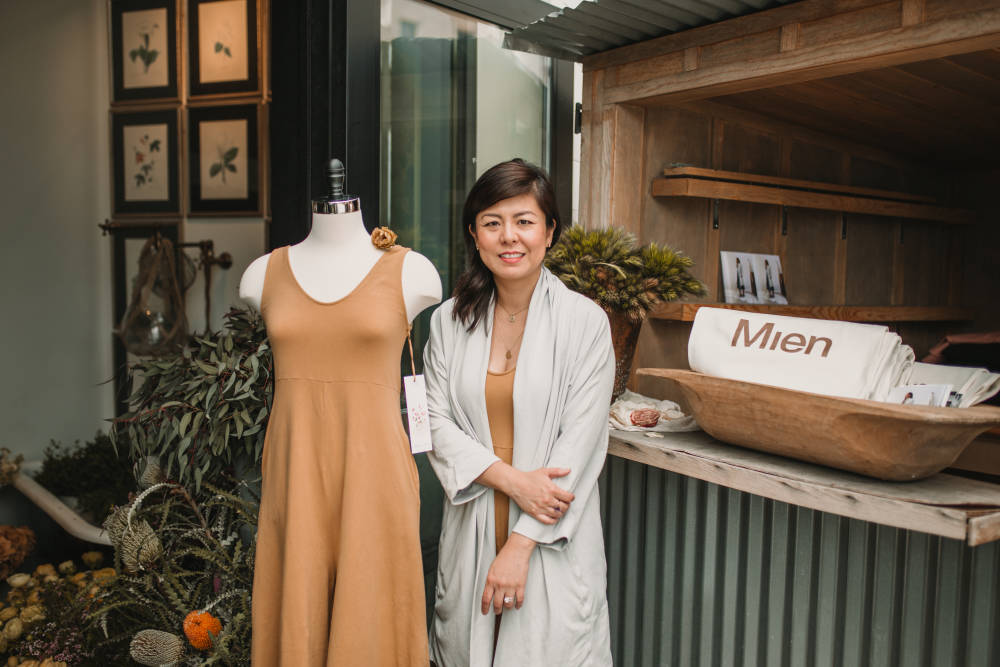 How old were you at that time, and long did you intern for him? I was maybe 25, 26 at that time. I interned first at a fashion showroom, where the reps would show different brands of their clothing collection to buyers from department stores or retailers. I was one of the interns there getting coffee and lunch for everybody. I did that for a few months, and it was kind of miserable for me. I obviously wasn't doing what I wanted to do, but I knew that it meant I could get into the industry. I did whatever they needed me to do for a month or two, and my teacher, who became my boss, moved me over to the design department where I became his assistant designer. I then moved on to different companies.
I worked for a small indie brand for a little while too, so I've worked for big brands and I've worked for really small indie brand start-ups. I kind of have experience from both worlds, which is cool, and helpful.
How did you decide to branch out on your own to start your own business? My husband and I talked about this before we had kids. Do I work for other people after I become a mom, or do I start something on my own, which will give me more freedom? We both wanted one of us to spend time with our son and raise him, and it made more sense for it to be me. My husband is sort of the breadwinner now because he has a steady job, working as a designer for an architecture firm. It's a good job, provides health insurance. For me, I could work for a fashion company but the commute is terrible, the benefits aren't as good, and the schedule is very gruelling. It just became an obvious choice that I would have to be the one to make the call of whether to work for myself or not.
The thing that's great about starting a business is that I have control of my own time. For example, when I took that year off, I just took it off. I didn't have to put in a notice to HR or plan anything out. I just let it happen. But at the same time, it gave me a lot of anxiety not having any income. Even now, I still haven't given myself a paycheck. That's a downfall. I have a lot flexibility, but at the same time I have to learn to deal with the stress of not being able to provide for my family, financially. I'm giving them a lot of love, and I try to cook as much as I can. I do all the housework. We help each other out.
We're just not set up in the U.S. to support early parenthood, and so oftentimes as mothers there is guilt around not making money. Pursuing what you want to pursue doesn't always bring in income, so we wonder if it's worth it. At the same time, many jobs would only cover the cost of childcare anyway. It's a tradeoff, but we have to cut ourselves some slack and say, if my heart is full, it's okay. Definitely. At the end of the day, I do feel good. I'm scared at the same time, because we're sort of self-funding this business dream of mine. But, I want to give it a try. If I can make this work and the business keeps growing, that means I have even more flexibility because maybe I can hire help. That way when I spend time with my son I'm not actually worried.
Tell us about your family, your son, and your partner. It's me and my husband, and we have a two-and-a-half year old son called Greysen. Like many mom-bosses, my child is the inspiration. After we become moms, we start a whole new chapter and that's really what happened for me too. My brand is kind of different because I actually did a huge pivot after Greysen was born.
In the beginning it wasn't a mommy-and-me line. When I started the line in 2015, I was very pregnant and getting ready to launch. I was running around L.A. with my big, pregnant belly trying to go to meetings and walk through factories, checking on samples, and it was really hard but I knew I wanted to do this. At the time, Mien was a more high-fashion menswear and womenswear line, a totally different brand aesthetic. I stuck to what I knew and loved, which was menswear and womenswear. It was still minimal, very thoughtful. Every line and detail was thought out. There's nothing unnecessary on the design. That has always been my kind of design style.
"People asked me how I would be a mom and take care of a baby and run this new business, and I was like, it'll be fine. Babies sleep all the time. It'll be okay. No. It was not okay. I was so overwhelmed."
I was so naive when I was pregnant and preparing for the launch. People asked me how I would be a mom and take care of a baby and run this new business, and I was like, it'll be fine. Babies sleep all the time. It'll be okay. No. It was not okay. I was so overwhelmed. It was really crazy, and I just couldn't. So instead of trying to do both things really badly, I decided to pick one, and I picked my son.
I put my business on hold, and basically all I did was post on social media once in awhile, just to keep it going, even though I didn't have many followers. And then I just enjoyed motherhood for a year. After Grey turned one, I decided I was ready again, so I slowly started picking up business again. I was looking at my line and it was like I had a new set of eyes. I was looking at it and I thought, I don't know if I want to do this anymore. It was really weird. It was like, this is not where I am anymore. I'm beyond this. I feel like I'm in a different place now that I'm a mom, and my lifestyle has been completely flipped upside down. I'm so busy. I don't have the time. If I can just change out of my pajamas, I'm already feeling pretty awesome. Putting on an outfit, no. I don't have time for that.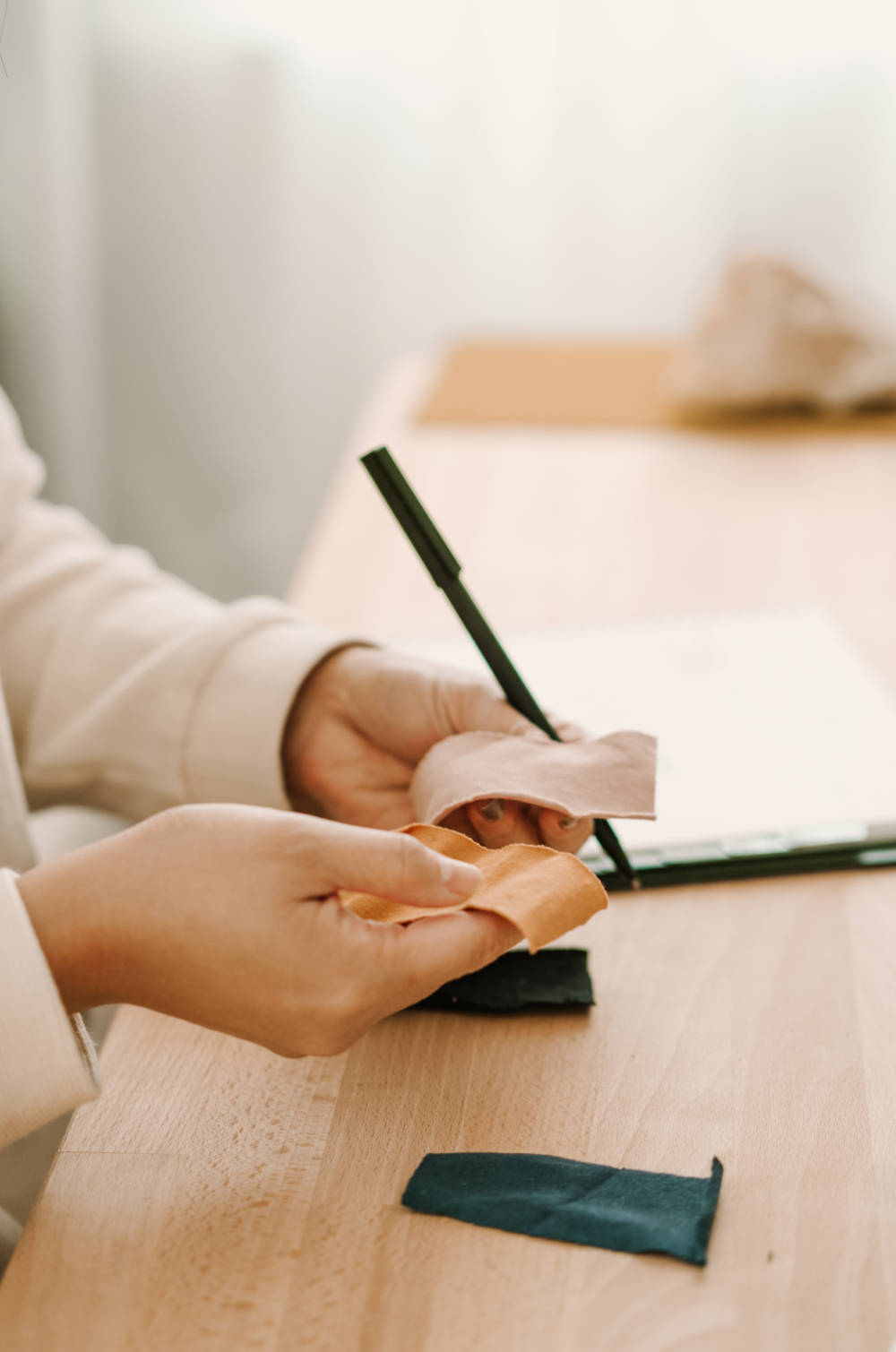 I wanted to design something that moms like me would feel good wearing. They don't have to think about it, they just pop it on and it feels great. They can still bend over and pick up their kid without worrying about their belly or backside showing. I wanted clothes that work for us. It was also kind of cute when Grey and I would go out and we were wearing something similar. But when I would look for something that was cute for us to wear together, there was nothing other than screen print t-shirts with crazy graphics. And I'm not a graphics person. There was nothing for boy moms. There were a lot of options for girl moms, but to be honest, a lot of the options were frilly and fussy. Bright colors, dresses, lace. But I thought if I had a girl I might think that was too much. So I decided to do a total pivot on my brand.
"I wanted to design something that moms like me would feel good wearing."
It was a huge risk, because I had already set everything up. I had my website. I did a photoshoot. I had a video done. Everything was completely branded for this womenswear and menswear line. But when I tried to jump back into it I felt differently, and I knew I had to follow my gut. I started selling through what I had with this menswear and womenswear and I started introducing my jumpsuit. Then I introduced a pinafore dress and a kids jumpsuit. Very slowly and gradually I made the change. It was very scary because I was taking a huge risk and I didn't know how it would go. Maybe there's a reason why there's no mommy-and-me for boy moms. Maybe nobody wants it. But I thought, if I can't find it, there must be somebody like me out there, and maybe I can find that person. So I did it. I just did the pivot, and luckily it took off from there, to my surprise.
I don't really have any sort of marketing budget but through word of mouth and in-person pop-ups and craft events, I was able to get the word out.
Do you rely a lot on social media a lot to market your brand? Yeah, I do. Social media is definitely my number one pathway to meeting more people. Because I work from home and I don't have a shop or an office, I'm pretty isolated from the outside world. Social media has been a blessing in that sense, because I can still stay connected without stepping outside my door.
I want to stay really active on social media because I know some of my customers were just like me a year ago, and they're at home, but they're still really creative and they're still really socially active. They want to know what's going on. I definitely think Instagram is really important. That's why I keep at it, even though it's a lot of work.
What is the process for getting your pieces made? I design everything from my home studio. I usually have an idea in my head, and I think about it and think about it, and once I feel like it's a good idea, then I sketch it out. I put the sketch into the computer and do a flat sketch, digitally. Then I bring that sketch and all of the measurements to my patternmaker and he and I work together to make the first sample. Then from there, we do multiple fittings, make a sample again, and do another fitting. I want to make sure it's perfect before we hand it off to my cutting people and my sewers.
Instead of buying fabric off the rack, which you can do, I use one fabric that is my signature fabric. It's a stretchy, knit cotton that's custom knitted in LA. One, it's very expensive to do it this way. And two, I have to order a minimum amount for the factory to make it. Luckily my customers love it, so for me I can hit that minimum. The factories in Los Angeles are trying to stay competitive because everybody's taking their work overseas, but it's also expensive for them to do business here in the states. They have to have a minimum quantity to get anything made. Instead of going to the fabric market, I actually work with these factories and try to hit their minimum. It gives them business, and for me it's worth it because I know exactly where my fabric is coming from. I dye it at my own dyehouse where I know that their dye is safe and clean. I know exactly where everything is coming from. Even though I'm paying so much more than a competitive brand is paying for their materials, for me it's worthwhile.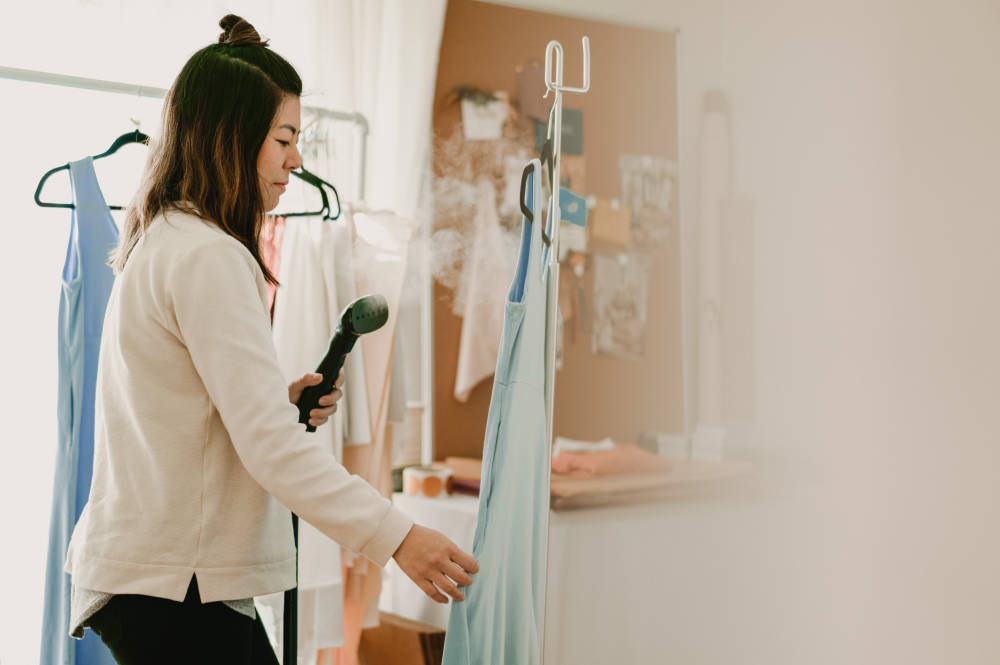 I think people like knowing too. But, I always have a hard time when I find something responsibly made, but it's out of my budget. Sometimes it's easier to just go find something cheap from the bigger brands. Why would you say it's so important to buy from independent brands? For me, my price point is not outrageous, and for what it is, I'm always comparing my price point to other competitive brands who also do organic, locally made. I feel I'm pretty competitive, because I'm keeping my prices as low as I can. My jumper for children is $54. Honestly, my son doesn't wear head-to-toe designer indie organic cotton, because we're not at that place right now.
If my husband and I get to that place, yes I would love to support small brands only, but right now that doesn't make sense for my family. So, for me, I want to be that go-to brand that moms are looking for when they want to buy something special. I want her to think of me when she wants a really special dress that she feels really comfortable in. A dress that will be a staple, a favorite. I hope she thinks to check me out first. I'm not saying she shouldn't shop for fast fashion. For some of us, that's all we can do right now, and that's okay. I would love to eat all organic. I would love to wear everything organic too, but things are still expensive for that lifestyle. The prices of these sorts of things are going down because the demand is getting higher, but it's not there yet.
What inspires you in your work? I take a lot of inspiration from my everyday life. How is this motherhood journey changing, and how can I design my line to fit these different stages of motherhood? My son's a toddler now, so I'm more active too. I'm running after him more now. I'm squatting down to pick up toys all the time, or I'm bending over. If I design a wrap dress I want to make sure it's secure so my boobs don't fall out. There's a hidden tie inside my wrap dress, and the skirt panel goes all the way to the other side. This uses a lot more fabric, but it also means that when you sit down your thighs won't be exposed. I'm a mom too, and I move around a lot myself. I make note of these little things and make sure to put them into the designs. This way it not only looks good, but it's also really practical. You don't have to worry about it when you wear it.
What are some of the things that you've had to put in place logistically to make sure that you can do your work? I definitely ended up hiring a nanny. I bring my son to her place because it's cheaper that way, rather than having her over to my house. I take my son to her place for about five or six hours a day, during the week. And that's the chunk of time I have to do whatever I need to do while he's gone. But having a nanny is an expense. Every once in awhile, we do ask ourselves, do I keep going with my business? Where are we? Is it still worthwhile? It's a huge trade-off. For me to not make money and pay someone to watch my child just doesn't make sense. Women give up their jobs so that they can stay home to watch their kids, because that's how expensive childcare is. Every penny the mom is making at her job goes straight to the babysitter. That's why a lot of moms give up their careers—to raise children.
My mom has three daughters. I'm the oldest. And she always taught me and my sisters that once you become a mother, don't ever stop working. Don't ever stop staying connected to society. One day your child is going to be grown. They are going to be at school, or going off on their own. Then you have to re-enter the workplace again, and you don't want to have a huge gap where you feel disconnected because you weren't keeping up while you were raising your child.
I thought that was so ahead of her time, her generation, that she would remind us to not give up on our careers while we enjoy motherhood for the first few years. Some moms love being stay-at-home-moms, and that's great. But some moms would prefer not to be and they have to stay at home because childcare is too expensive, or for whatever reason. It's already hard for women in general in the workplace to get equal treatment as men, and I think it's even harder for moms for some reason.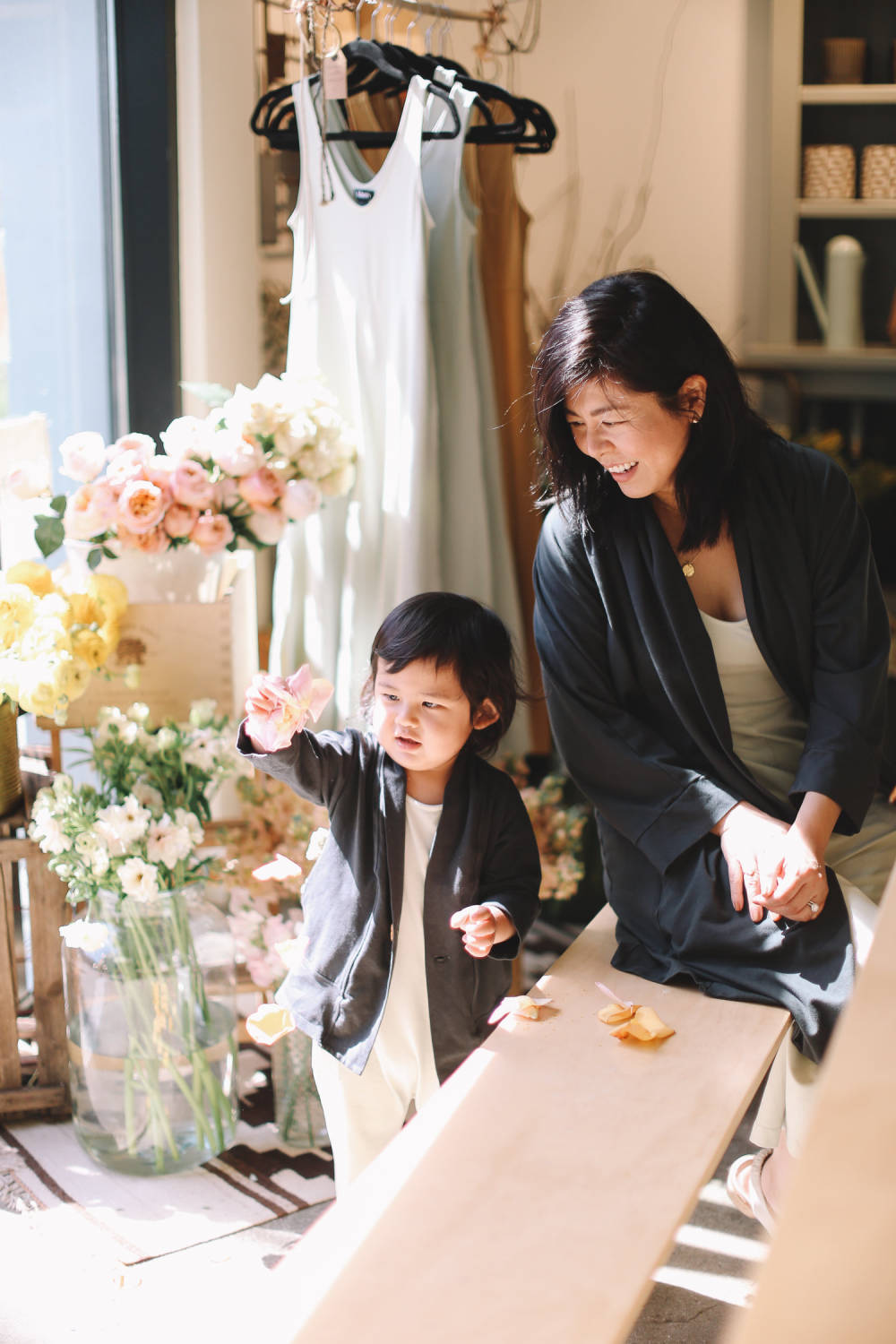 What are your hopes for the future, in your business and in your family? My husband and I would like a second child, so we're thinking about how we can make that happen. But at the same time, my business is growing, so eventually I'm probably going to have to find a studio outside of the house so I can store all of the inventory. Maybe hire an assistant, someone to just help with the workload, because it's a lot for one person to handle. So with that said, it's like, ok, more expenses for my business, but also a second child is another expense too. And Grey's going to go off to school now, and at his age if you take him to school usually it's private school, and that's not cheap either. Lots of unknowns, but I feel like we should just do it.
It's really hard. I mean, I don't know. It's an exciting time for my business because things are happening, but at the same time, for my personal life, my family life, things are happening, or need to happen. I'm 36, I'll be 37 this year. So, you know, I'm running out of time. So we'll see. We'll see what happens.
"I'm going to keep doing it because it keeps my other identity alive, that identity I had before I became a mom."
What advice do you have for other mother makers? My advice is to just do it. It's really simple. I sometimes doubt myself or when times are hard. I ask myself why I did this. Why did I ever think that I could be a mom and take care of him, and still build this business? It just seems so daunting and impossible, but then I did it. So now I can keep doing it, or I can stop. I'm going to keep doing it because it keeps my other identity alive, that identity I had before I became a mom. Being a mom is another layer on top of it. I want to keep that underlayer, the core of myself alive to do work that's meaningful to me. This business is that. For another mom who maybe has another hobby or another passion, just do it. Try to squeeze it into your busy day, whatever it is, because it will give you so much joy and inspiration and you'll feel connected to your old self. Motherhood at its most challenging won't seem so bad.