Tell us a little bit about you, your family, where you live and your work. I live in Hartford, Wisconsin. That's where I am originally from. I am married to Ryan Kuepper who I have known since I was about 10 years old. We went to school together. We had two kids, on purpose: Louiza, who is 15, and Natalie, who just turned 12.
And then, right when I started the role of Artistic Director at Danceworks, I accidentally got pregnant. I was really excited to take on the task of being Artistic Director after having been in the company for nine years and choreographing quite a bit, but it was a great challenge for me. It was right around the holidays, and the end of the semester at the University of Wisconsin-Milwaukee, where I teach. Somehow in all of that excitement I forgot to take my pills a couple times, and I basically discovered that I was pregnant the night we opened the first show with me as Artistic Director. I remember giving the curtain speech and my head was spinning.
Soon after that I learned it was twins, and I cried and cried, feeling sorry for myself, worrying about how I would be Artistic Director and take on the new challenge of being the mother of twins—a sum total of four kids. But I learned a bigger lesson about what a blessing this is, because so many people work very hard to be pregnant at all, and there I was crying and feeling like a big baby about it. Somewhere in there, I just got over it, when I started realizing how dramatic this reaction was. Because it's a big thing, but it's not that big of a thing.
What stage of your career were you in when you became pregnant with Louiza? I was a company member here, and I was only out of undergraduate school maybe two years. I was a very young MFA student at the time, meaning I was younger than most of the other people in the program. It was about a year and a half into my MFA; Ryan and I had been married about a year. All of a sudden I burst into tears one day, and I wanted a baby, right then. Some people pray forever and ever to get pregnant, and I just thought about getting pregnant and I was pregnant. I'm sort of a super-ovulatory type person. What a blessing.
So, as someone who was excited to start a family, and had planned for it, did your expectations match reality? No, in my case, reality did not line up with my expectations. I've always been confident in my physical ability; I've always been strong and capable and I have a driven personality. So I was really good at being pregnant and keeping up all of those tasks. I wasn't ever sick, and I danced right up until the end. I felt great. But after I had Louiza, I'm sure I had postpartum depression. But it's just like they say: when you have PPD, you don't know you're in it. I just didn't feel like myself anymore. I felt sort of swallowed up. I had all of these conflicting emotions of loving this creature to death, more than you can ever imagine loving anyone or anything, but I also felt a little bit discontented, thinking, "Where am I?" and "What happened to me?".
I remember my childhood friend came to visit one day when I was in the worst throes of it. I couldn't put words to how I was feeling, but she just watched me crying and taking care of the baby. She was like, "I've never seen you like this…I'm kind of enjoying it." And we burst out laughing, because only your best friend will be such a bitch to say something like that. Have you felt anything like that?
Yeah. It's something you've wanted your whole life, and your expectation as an outsider is very different from what it's like when you're in the throes of it. I feel like I'm coming out of all of that right now, as Henry's just under a year. But for the first year you feel like you're flipped upside down, and you're wondering "who am I now? Am I just a mom? And where do I find the time to do the things that make me me?" Which is why I wanted to do this, to find other people who have made it out. I feel like everybody has to feel like this at some point. When you have one baby and everything's new—when you've never been a parent before—you don't realize that you won't be waking up every three hours for the rest of your life. That didn't occur to me until I had my second child.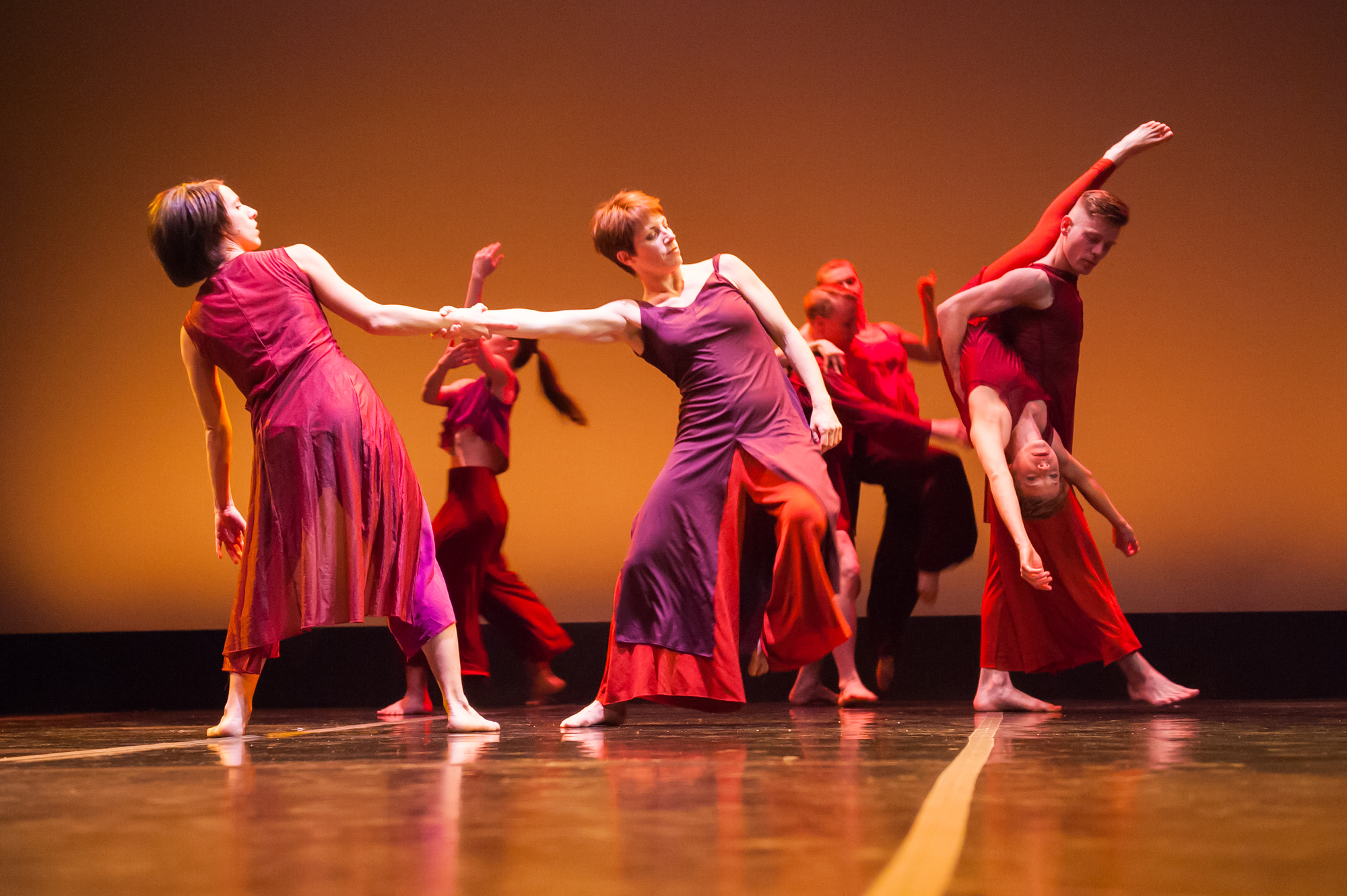 You were dancing in the company and making your own work when you had Louiza. In that first year, what were the logistics of getting out of the house, finding studio space, making it work so that you could do your art? For me, that is the biggest challenge. Before I had Louiza I was teaching at a dance studio in Mequon, and teaching at UWM, and dancing in the company at the same time. The first thing I did was shed teaching at the studio. It just so happened that around the same time I was asked to teach one more university course, so that worked out monetarily.
But it was tricky. I cried a lot dropping Louiza off at daycare. I remember before I had even had any kids, I was kind of a big mouth. When my sister went back to work after she had her baby, and I thought I knew how she felt. But being in it myself, I realized that it's such a pull to decide. I know I cried a lot because I felt guilty, like a hypocrite or something, like I was away from my baby more than I wanted to be.
"Now I feel like I shouldn't have beaten myself up so much, because no matter what, your kids know that you love them. Their habits, strengths and weaknesses are formed based on your interactions with them."
Now, what have you learned from that experience? I can really see differences in my kids' strengths and weaknesses based on my interactions with them. The twins, they love me, and I love them. And I don't know if it's just a twin thing, but they are more connected to each other than they are to me, and a pact is beginning to form between them. Louiza and I have more of a direct connection, and Natalie and I definitely have a real easy understanding, but my connection to my youngest children is different.
It's hard to explain because it's not a difference in love. It might be because they are twins, but I know they have certain strengths because I didn't do so much for them. Alex is very confident and Rita is a lot like that too in many ways. They are eight years old and they make their own breakfast in the morning. They clean up the dishes and put their clothes away. I don't think Louiza did a thing for herself until she was maybe 10, 11 or 12. Natalie was three when the twins were born and the twins were so much for me to manage that she just learned to keep to herself. She's very imaginative, quiet, and keeps herself occupied for hours.
Now I feel like I shouldn't have beaten myself up so much, because no matter what, your kids know that you love them. Their habits, strengths and weaknesses are formed based on your interactions with them.
Do you find that this is a conscious choice that you're making to continue being an artist and a mother? What does being an artist mean to you, as a role model and community leader? My husband owns a plumbing and heating business with his family, and almost once a year, I tell him that I should just quit and be a customer service person there. He always just looks at me and is like, "mm hmmm…" When the twins were babies I realized I couldn't keep the house clean and work and do everything. At the time I didn't realize I could ask the older girls to do more, and I was really ashamed. I didn't tell anyone except for my husband that we needed to hire a cleaning woman, just once a month. It'd be like $50-60 to have this lady come clean the house. So for maybe a year she came once a month when I was really out of control.
Awhile into it, I confessed to my friend Joelle Worm, "I don't want the girls to know that we have a cleaning lady. They shouldn't expect that they're going to grow up and have a maid or something." And Joelle was like, "Oh, so you'd rather your girls grow up thinking that you can work more than a full time job, and have four children, and keep the house really clean? You'd rather put that expectation on them?"
That's when I started thinking more clearly about how my kids perceive me, and what my role is as a role model to them, as an artist, or in the community. As an artist right now, I can tell you I am definitely in a big-picture frame of mind. I'm not just making shows to entertain my parents or the parents of the other dancers. My goal is to think more broad, which is why we've started doing open rehearsals at public spaces, like Colectivo and outside the Amtrak station downtown. I'm trying to think about how this can have a broader impact.
In the community and for my kids, I've started to choreograph musicals at a community theatre and at my daughter's high school. Why? Because my oldest daughter is a sophomore in high school and almost out of the house. This is something that she loves to do, and I love it, and this way she can see an artist in action, at a high caliber in terms of choreography. I'm trying to let her see the world that I'm working in. And Natalie recently played Molly in "Annie." It's been kind of fun. I want them to see into my world a little bit more, and understand why it's important.
Do you see that influence manifesting in your children at all yet? Yeah, and it freaks me out a little bit. Natalie definitely admires me, maybe the most. She really loves dancing and choreographing little dances in the basement. Or, big dances. I shouldn't call them little dances, they're big dances! She sometimes talks about wanting to be a choreographer or a dance teacher, and it takes me aback a little. Not because I don't believe she can do it, but because as you and I both know, it's not going to pay the bills.
If you think back on the body of work that you've made throughout your career, can you think of pieces where your children had a direct influence on the work? When I was pregnant with Louiza (my first pregnancy), I made a solo about that. It wasn't that great of a piece, but one thing I remember about it was that I was still trying to dance very dynamically, very physically. And parenting magazines were something that I thought were very funny, because when you're a mom-to-be, you're constantly reading all of these articles and it's kind of stifling. Throughout the piece, I would move these stacks of parenting magazines around the stage as markers of space. They were heavy to move, but I didn't feel that they were too heavy for me. My colleague Sarah Wilbur was watching me and said, "It's making me nervous watching you do that. It's going to make the audience nervous watching you because they don't know you. They don't know that you can do that without hurting the baby." That threw me for a loop a little bit.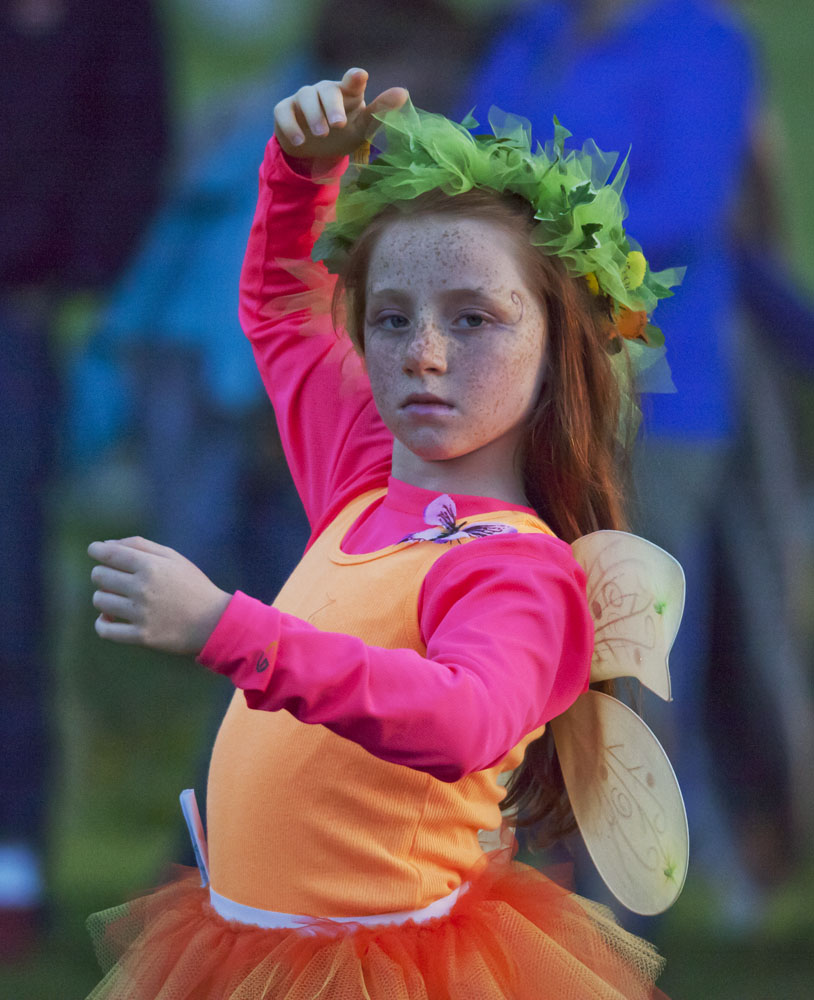 I didn't show very much when I was pregnant, and I remember being about seven months pregnant and very self conscious, because when I wore a baggy shirt you couldn't tell I was pregnant. But my moves were still very disjointed, and that made me self conscious.
Maybe two springs ago we did a show called "Fairy Queen Fantasy" and I pulled Natalie into that concert, which was really fun. The show was intergenerational, so we had adults up to age 77, and our youngest dancer was seven. Those kinds of intergenerational concerts help me as an artist to see a bigger scope of what this can mean to a variety of people. What does it mean to see a seven year old dance next to a 70 year old? I'm going to cry thinking about it, it's almost more than I can bear. And the cherry on top is that one of my own children got to be involved in that experience. Natalie saw me working from the inside, so now she can understand why I am away so much. It was also just good for her to have the experience.
"What does it mean to see a seven year old dance next to a 70 year old? I'm going to cry thinking about it, it's almost more than I can bear."
When do you feel most inspired? I feel most inspired when I let go of the pressure to be in seven places at once and be everything to everyone. I've been practicing walking into an environment and just being there. Let's say I don't have enough time to prepare for a rehearsal. I have a choice. I can walk in and be frazzled, or as I'm finishing my drive and I am about to get there, I can ask myself what I can accomplish without preparing said phrase material today. Same thing with teaching. Calm down, rely on what you know, and be in that moment. And I think I have gotten better and better at doing that with my work, and I think I am making better dances now than I have in awhile. I'm following my intuition a little more, so the dances are resonating with audiences more.
A lot of times as performance artists, teaching is our bread and butter. The performance part, at least for me as a freelancer, really is a conscious choice. I can decide whether or not to take a gig, depending on what it pays, or what kind of commitment it's going to require of me. Now it's even more difficult because I have to hire child care, and every penny counts. Every moment I'm out of the house counts. So, I'm curious, for you, as someone who makes most of her living teaching, what is your motivation to continue making dance as an artist? This is the 20th anniversary season for Danceworks. That is a landmark, because it's not about me. It's about how it will look after me. I think everyone's a little bit imbalanced in some ways, at some points in their lives. I've noticed that when I have the summers off with the kids, I get really high strung. In 2011, the year my mentor and teacher Ed Burgess died, I got especially ramped up. I was mourning. I joined this morning boot camp, this crazy morning fitness regimen. And that's when I realized, oh, I actually need to have a sweaty, physical, muscular experience at least four or five days a week in order for me to keep my shit together. So, that's one part of it. If I quit what I was doing, I would have to ramp up something else because I would go a little crazier. Also, I think that I would lose that piece of myself. The realization that I have a 15 year old daughter that is about to start driving, and she's going to leave. And I don't want to be that mother that is bitter toward her for not calling me every second. I want to have things that are important to me and valuable to me, because you're not guaranteed anything. We're not guaranteed our husbands are going to be with us. You're not guaranteed anything.
Right now it's so interesting to me not to just think about making a great dance, but a dance that can have a broader impact, how it can have more impact to more people, making more people feel valid and validated, and that's a worthy goal. Not a goal that's more important than my children, but important enough to spend some time away from them.
What advice would you give to other Mother Makers? Be able to walk into a room and decide to be in that moment. Don't think about how you should be with the baby when you're in rehearsal; don't prep for rehearsal when you're with the baby. Try to look at your schedule and organize it in such a way that you schedule an hour for prepping, an hour for laundry, etc. That sounds really anal, but that's how it really works. Look at the whole, and decide how to break it up, and really commit to invest in those moments. If you're trying your best to invest in the rehearsal process, but you cannot separate yourself from wanting to be with the baby, then maybe it's not good to do it. Be able to be in one place and enjoy it and feel like you're doing good work.