Where did you grow up? My dad is Peruvian and my mom is Iranian, and I grew up in Central and South America. I was born in Panama, and I was raised in Peru until I was eight years old. Then we moved to a suburb in Northern California called Walnut Creek, which is the extreme opposite of Peru. We arrived here with nothing, so those first few years were about rebuilding our lives. The only reason my parents picked the area was because of the public schools for me and my older sister. That was a really big adjustment for our family.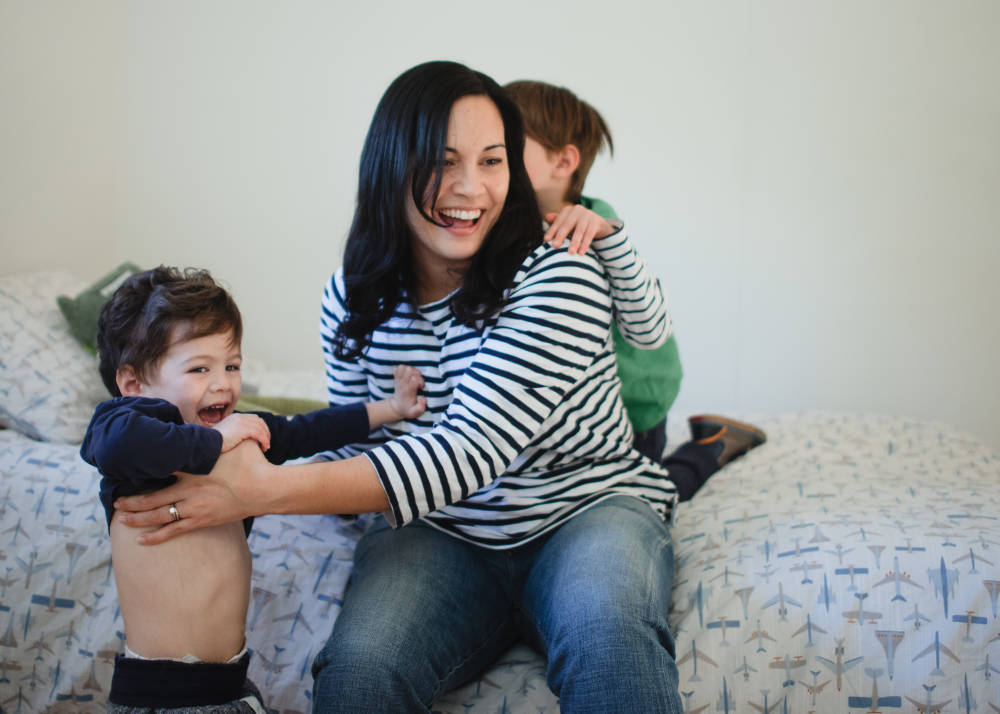 I went back to Peru for my first two years of high school. I really didn't want to go, but it ended up being a really incredible experience. Then we came back to the U.S. and I finished high school here, and went to college at the University of California, Santa Cruz. I studied creative writing in undergrad, and I started getting into theater while I was there.
There was a program through my creative writing department that went into the local juvenile hall to teach writing, so I started doing that, and then went on to do the same kind of work with women in prison. I then became an advocate for women and children in California's central valley, mostly working with migrant families and helping to run a shelter and a support group for teen moms. Most of the girls I worked with had been in and out of juvie, in and out of foster care, or in and out of gangs. It's an interesting area, because it's agriculturally beautiful, but very poor and crime infested. After doing that for awhile, I got kind of burnt out and decided that I wanted to pursue writing full time. I moved to L.A., went to the University of Southern California for graduate school, and have been in L.A. ever since, almost 14 years now.
"Our story is interesting but not necessarily unique for immigrant families."
What was the reason your parents decided to come to the U.S.? We actually had to flee. It was a very turbulent time, politically, and there was an assassination attempt against my dad. He was in finance, working for the largest bank in Peru at the time. The president nationalized the banks, so people were trying to pull their money out and get out. Of course the economy froze, inflation went up by a thousand percent, and all of a sudden a bar of soap cost ten U.S. dollars. Obviously my dad had nothing to do with it, but he became a target, and that's why we fled.
When you leave with nothing, you arrive with nothing. Our story is interesting but not necessarily unique for immigrant families. You've studied, you've become someone, you've achieved a level of success in your own country, and you come here and have to start all over again. My dad worked as a teller during the day, and then he delivered newspapers at night. My mom grew up in Iran at a time when it was very westernized (pre-revolution), so she went to French catholic school all her life and had been a French teacher in Peru. When we came here, she was working at Sears.
My sister was very studious, and I wasn't; I was very precocious. She would park me in front of the TV after school so that she could get her homework done. Otherwise she'd have to watch me and I was a very hyper kid. It's interesting because American television is how I learned to become American. I fell in love with the storytelling first. I have loved reading ever since I was really little, but that was where I learned about American culture. It's interesting that it went full circle for me, and now it's what I do.
What does your work entail now? I just finished working on a TV show, but I work in different mediums. I started as a poet; that's what I thought I wanted to do. Then I discovered theater and became a playwright. Ironically, I was going to get an MFA in playwriting, but the program at USC was a joint program through the School of Theater and the School of Cinematic Arts. I always loved film and I had to take TV and screenwriting in addition to my playwriting classes. I just sort of fell in love with it, and it actually became my strongest medium.
I'm still part of a theater company in downtown L.A. We produce all L.A. playwrights and all new works, so it's all world premieres which is really cool. It's very representative of writers from all different cultural backgrounds.
Right now I'm trying to find the balance between working in TV and theater. Depending on what kind of TV show it is, if it's cable or network or streaming, it takes up different amounts of time. It could be six months, or it could be 10, 11 or 12. I just finished a show for FX, which was basically six months, and now I'm taking a little break so I'm starting to write a new play. I'm also working on a new pilot. I'm always writing, it's just sometimes for work, and other times it's for myself and things I want to create.
How does your personal story influence your subject matter? I definitely write a lot about immigration. Politically, immigration is obviously a big topic of conversation right now, but the perspectives of immigration are really a central theme in my work. Also, almost everything I write has a strong female perspective at the center. I definitely work a lot in Spanish, but I write in both languages. I tend to create the majority of my work about the Latino experience in the U.S., whether it's the first or second generation, woman or man.
Interestingly, L.A. is the first place where I really, truly felt at home. Peru was very much my home, but as much as I love northern California and I made great friends growing up, it did feel sheltered and lacking in diversity. It was really challenging growing up; I always felt like a fish out of water. Whereas L.A. is enormous and there are people from all over, so you can go to a part of the city where all of the signs are in Spanish and I can speak Spanish. I just feel very much at home, especially where we live currently in the easternmost neighborhood of L.A. Most of my work actually takes place on this side of the city.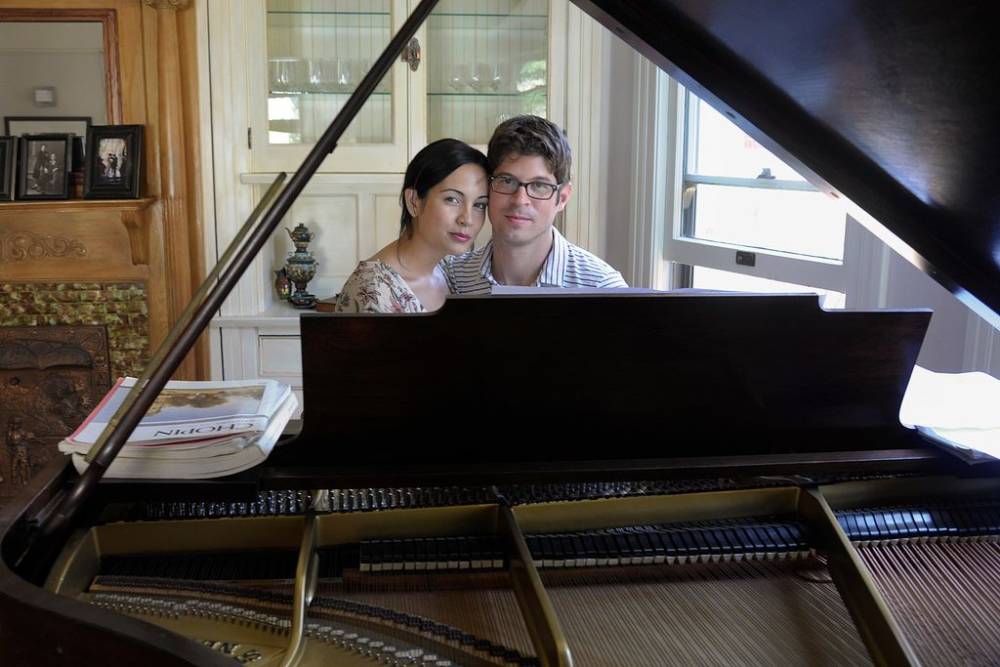 How did motherhood come into the picture for you? Did you plan to have kids? I knew that I wanted to be a mom. I knew that I wanted a partnership. I didn't know which would happen first.
I was getting to a place in my life where I thought, well, if I don't meet the right person, maybe I'll just have a kid. I'll do it on my own, and perhaps the partnership happens later. I was sort of open to it, but I knew instinctively that I did want a child. Then I met Adam, and it happened very fast. We were engaged within four months, and married within a year of meeting.
I had mostly only ever dated other artists, but never a composer. What really worked for us was that we met as artists first. There was no compromise to be made. It was like this is what you do, and this is who you are. We met at the MacDowell Colony, where we both had residencies, and it was very unexpected. I was not looking for a boyfriend. I really was there to just focus on work. As most of us do, I had been a struggling artist for so many years, working as a teaching artist, a waitress, a tutor, an assistant. I had three jobs rotating all the time. It was great, I learned so much, and I suddenly got this fellowship and I thought, oh my goodness, I have these weeks to just focus on my work, where I don't have to worry about anything and everything is taken care of.
Then I met Adam and we realized we had a mutual friend and it all went from there. It was sort of immediate. We just knew this was right, and we wanted to be together, and we wanted to have a family. We were married for a couple of years before Luca, our oldest son was born.
It was really tough for me when he was born. I now realize I had postpartum depression, which I didn't realize at the time. It was tough because we had built our life together being these two struggling artists, just scraping by and juggling multiple jobs, and then all of a sudden he was born and I had to stay home because we couldn't afford childcare. We were just so broke. Adam was teaching at University of California, Los Angeles, which is on the other side of the city, and if you know L.A. traffic, it's basically three hours round trip. He would basically be gone all day and I was home alone with this little being, and it was hard.
I had a really difficult delivery, and then the healing was hard. I developed mastitis two days after coming home, and I had trouble breastfeeding. I also got PUPPS, which is a rash that basically covers your whole body and feels like poison oak. I had pushed for like four hours. It was hard. And then you're exhausted and you have this little person who needs you. It was definitely a rough adjustment for me, and I felt very lost and really uninspired. I felt like I was just in a fog. I kept waiting for it to be lifted and it would just not go away. As a result, I didn't write for a year other than a couple of freelance copywriting gigs, but nothing creative.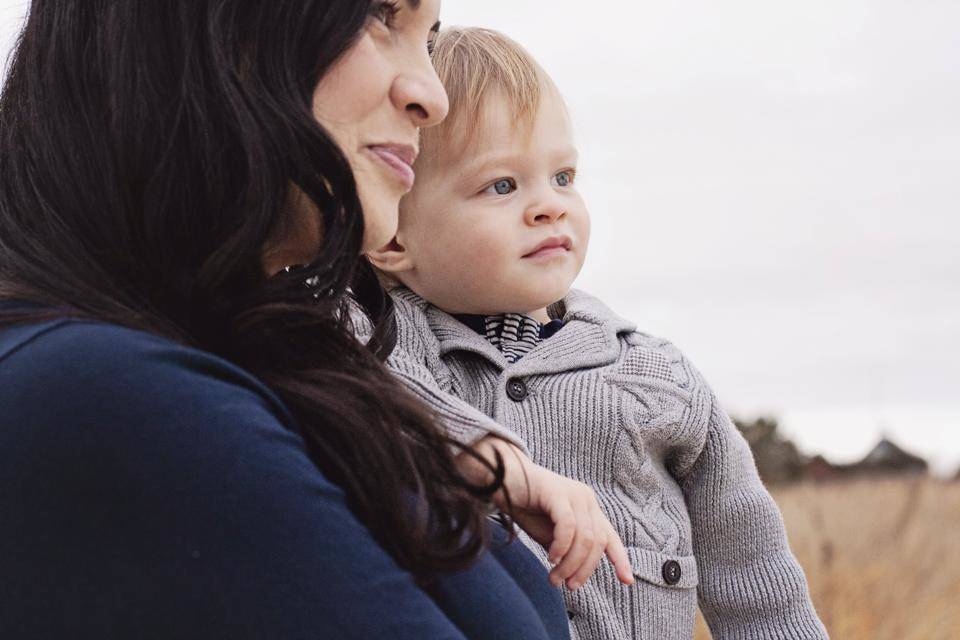 What kinds of things were going through your mind during that time? I remember having the feeling of oh, shoot, is this all I am now? Did you feel anything like that? Oh yeah, absolutely. All of a sudden my entire identity was in flux. I think for so long, it was so clear to me: I am an artist and this is just what it is. I won't have a nine-to-five necessarily, or maybe I will and then write on the side. But I was so used to patching together my life in whatever way I needed to be resourceful and also create my own work. All of a sudden I felt like there was no time for that.
It was, oh, he's sleeping for two hours. I guess I could try and write, or I could just try and nap, because I'm really exhausted. I suddenly felt like I was losing myself and my identity as a writer, and all inspiration was just gone. It was such an interesting feeling because on the one hand, I had never felt so full of love. On the other hand, I didn't feel like myself, at all. It wasn't until he was about a year old that Adam and I had a sit-down, and he asked me, "What do you want to do?" and I said, "What do you mean? I just want to write." and he said, "Right, but what do you want to do?" And it sort of hit me: I think I may want to do TV.
At that point, I had been working on my first feature, so I had had multiple fellowships through Sundance, Film Independent, and the AFI Directing Workshop for Women. I had made three shorts and I was working on this feature, and I just sort of realized that this was going to be an uphill battle. I'm going to basically have to fundraise for the next seven years to make this movie. I now have a baby. We don't have money. And TV was becoming increasingly more exciting. I was feeling inspired by it.
The inspiration and the desire to write were slowly starting to trickle in, so I went back to work part time teaching theater classes three days a week, and I started to work on my first pilot. I was like, OK, I'm just going to do this. I had a friend who I had gone to grad school with who had moved up the ladder really quickly in television, and he gave me some great advice and sent my stuff to his agent. His agent passed, but recommended that I apply to fellowship programs. Most networks have programs for writers who are just starting out, so that's what I did. That was my goal. I basically worked three days a week, worked on this pilot, and put all of my energy into applying to every single television program fellowship that I could. Then I got pregnant with my second.
What were you doing for childcare during those three days that you were working? Our friend Sage (that same mutual friend that Adam and I had) and his wife had a daughter about seven weeks before Luca was born. They were both working full time so they had a full time nanny, Silvia. So when Luca was about three months old, they knew I was in a bad place and offered to have me drop him off for a couple hours once a week. So Adam and I scraped the money together for me to do that, just to have some time each week where I could stare at the wall, or go to Target, or do whatever I needed to do!
We started leaving Luca with Silvia, and from there we did a nanny-share. Now my kids are in preschool, but she's actually starting to work for us again full time in June. We don't have any family here so this is what works for us. Silvia is incredible. She was a preschool teacher in Guatemala before coming here, so she not only is this beautiful, loving human being, but she also has all of this experience and knowledge with early childhood development and education. I feel like I could not have raised my kids without her, especially not having my mom here. She's been a integral part of our family and our lives.
When I went back to work I started dropping him off three times a week, and then when I had Leo, the little one, he took Luca's space when Luca started preschool.
Knowing what you know now, looking back at that first really tough year, what would you say to yourself? Remember that it will pass. I never really felt a lot of peer pressure growing up. I always sort of did my own thing, until I became a mom. All of a sudden I felt like there was so much shame surrounding nursing and caring for a baby. There was so much judgement, and I already felt so insecure, plus my body was healing from this traumatic experience.
Do your best to believe in yourself and remember who you really are. And honestly, just tell all those moms who are super-judgmental for whatever reason, to just fuck off. I didn't have the strength to do that. For example, when I had trouble breastfeeding, and wanted to throw in the towel. I didn't end up throwing in the towel, but if I had it wouldn't have been anyone else's business. There seemed to be so much judgment surrounding this choice. "You have to nurse. If you give your baby formula, it's like rat poison." You don't know what's happening for that particular mom. Why are you judging her, instead of giving her the actual support that she needs to be a present parent for her child? That was something that really turned me off and made me feel much more isolated. I tried to go to a support group, and I just felt like a group of judgment, and then I tried to do a mom group, and it felt the same, so I wasn't really connecting with other moms.
Eventually I did find a group for me, but it's important to not worry about what anyone says. Instinctually you know what's best for you and your kid. Just remember to be strong, and that it will pass. And in my case, I wish I had seen a doctor, but I really didn't know what was going on. I just thought, "This is how I am supposed to feel. It's this huge life change, and everything's in flux, and I guess I'll never write again. I'm just going to be a mom." On one hand you feel so blessed that you have this child, and yet you feel like you've totally lost your sense of self. It's definitely hard.
"On one hand you feel so blessed that you have this child, and yet you feel like you've totally lost your sense of self. It's definitely hard."
In our 30s we've already established our identities, so I always wonder if it hits us a little bit harder than if we had had kids younger. That's very true. I felt very secure in my life with who I was and what I was doing, but then all of a sudden for that to just shift overnight was hard. Honestly, the best thing I could have done was go back to work. Even though it poses a lot of its own challenges. This last show that I worked on was all the way in Santa Monica, so it was three hours round trip. I wouldn't get home until 8:30 at night, so I would only see the boys in the mornings and on the weekends. That was really, really hard.
Finding the balance is tricky, but once again I may not have that choice all the time. You're lucky if you are on a show that has seven seasons, but most writers are jumping from job to job. It's tricky, but I feel lucky that my partner is also an artist and his schedule can be more flexible. We can tag-team, and when he travels I scramble! We figure it out. My parents come, his parents come, and of course Silvia. It takes a village, and I'm very thankful for all of the support.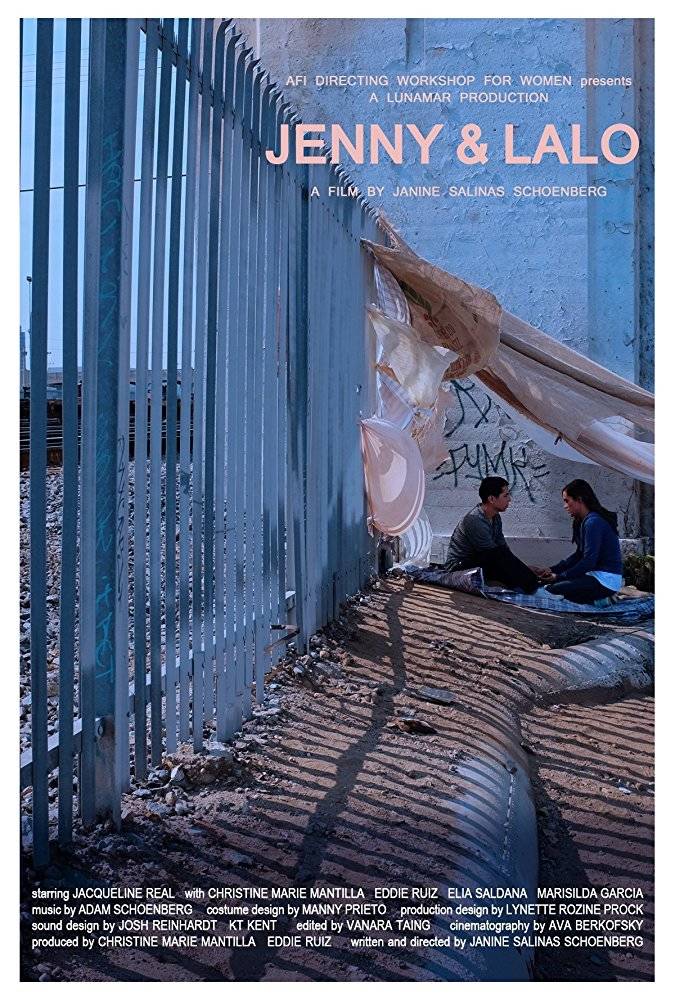 What gets you excited in your artistic work these days? I'm working on a TV pilot idea right now that I think will be mostly in Spanish. I'm really excited that Spanish language content has taken a huge shift. The stereotype used to be that Spanish language shows were only these really heightened, stylized telenovelas, but in my opinion, shows like Narcos on Netflix really changed the landscape. All of a sudden, I think people realized that there can be prestige television, really great storytelling in a different language, and that American audiences will actually watch it. I'm excited about that, and that there are all of these different ways to tell stories.
Last year, Adam and I collaborated on a song cycle for a friend of ours, a soprano. And that was really great. He has also scored my shorts, and it's fun to come up with ideas and collaborate, while also doing our own thing. We can work together, but we don't have to work together. I like that freedom. We've been working on an opera piece about immigration that I'm really excited about. We'll see what happens.
"What I love most about being a mom, besides the endless amount of love and joy, is that they always remind me to live in the moment."
What brings you the most joy as a mom? Everything! I just adore them. They are just so inspiring. What I love most about being a mom, besides the endless amount of love and joy, is that they always remind me to live in the moment. Whether I'm worried about what's to come, or something that has happened in the past, they don't think that way; they are only aware of the present moment. It's a good life lesson to try and hold on to.
I love seeing how they see the world. Both of them love books, just like I did when I was a kid, but my oldest and I are starting to have these really philosophical conversations, which I love. The best part of my day is at night, when we make up stories. I come up with characters and we create these imaginary worlds. It's their favorite thing to do!
Are you raising the boys bilingual? I am, which has actually been tougher than I thought. Both of them really only spoke Spanish until they went to preschool, and Leo still will speak in both, but Luca pretty much only speaks in English. He understands everything I say in Spanish, and he'll respond in English. It's been hard for me to keep up with that, and I have to force myself with reminders on my phone! I want to give them that; it's a gift, and it's also part of my family.
We didn't learn Farsi growing up. We didn't have any of our Persian family nearby growing up in Latin America, so my mom didn't push it. I understand a bit, but I don't speak it. My parents only speak to the boys in Spanish, even though they speak English and have been here for 30-plus years. But I want the boys to be able to communicate with them in Spanish. That's very important to me.
Was your transition with your second any easier? Oh my god, night and day. Luca was a really easy baby, just a dream infant. He was sleeping six hour stretches at six weeks. Great sleeper, great napper. And then I got pregnant when he was 13 months, which was unexpected. We thought it would take a lot longer and then it didn't. I was like, oh my god, he's not even walking yet and I'm going to have another one. What am I doing? It ended up being such a blessing, but I had a minor freakout!
When I had Leo, I ended up having a c-section because he was breech. We tried to do a version, and it didn't work. It was a really important life lesson for me: this is how this child needs to come into the world, and I need to be respectful of that. This is his journey, and he's happy how he is. And so I delivered him via c-section. I was really scared about it, because my healing process with Luca post-delivery was so challenging and I thought my c-section would be ten times worse. It was actually so much easier. I was going up and down the stairs two days later. Night and day.
The one challenging thing was that he would not latch, so I had to exclusively pump, which was a journey. You're literally pumping all day, and I went back to work full time when he was about five months old, on a fellowship through the National Hispanic Media Coalition, and then right after that I got into the ABC writing program, which was a full time commitment. I was right back in it, pumping, pumping, pumping!
"I feel very strongly that [my kids] need to watch not just Adam pursue his dreams, they also need to watch me pursue my dreams, and to watch us work together as a team to support each other in achieving those goals."
What advice would you give to other Mother Makers? I struggle with feeling a lot of guilt being a working mom. And I think as artists, we feel an extra amount of guilt because it feels indulgent to do your work. The best advice I got was from a friend whose son is already grown. She told me it's really important for your kids to watch you achieve your dreams, because they will have a better understanding of what that journey is like. And also, I feel very strongly that they need to watch not just Adam pursue his dreams, they also need to watch me pursue my dreams, and to watch us work together as a team to support each other in achieving those goals.
Be a little bit kinder to yourself when you feel guilty. If you had to miss swim class because you were working late, or you weren't home in time for bath time and the bedtime routine, it's okay. You have to make your own way in order to give your kids everything that they need.